Hi! We notice you're using an ad blocker. Please consider whitelisting Autoblog.
We get it. Ads can be annoying. But ads are also how we keep the garage doors open and the lights on here at Autoblog - and keep our stories free for you and for everyone. And free is good, right? If you'd be so kind as to whitelist our site, we promise to keep bringing you great content. Thanks for that. And thanks for reading Autoblog.
Hey again!
You still haven't turned off your adblocker or whitelisted our site. It only takes a few seconds.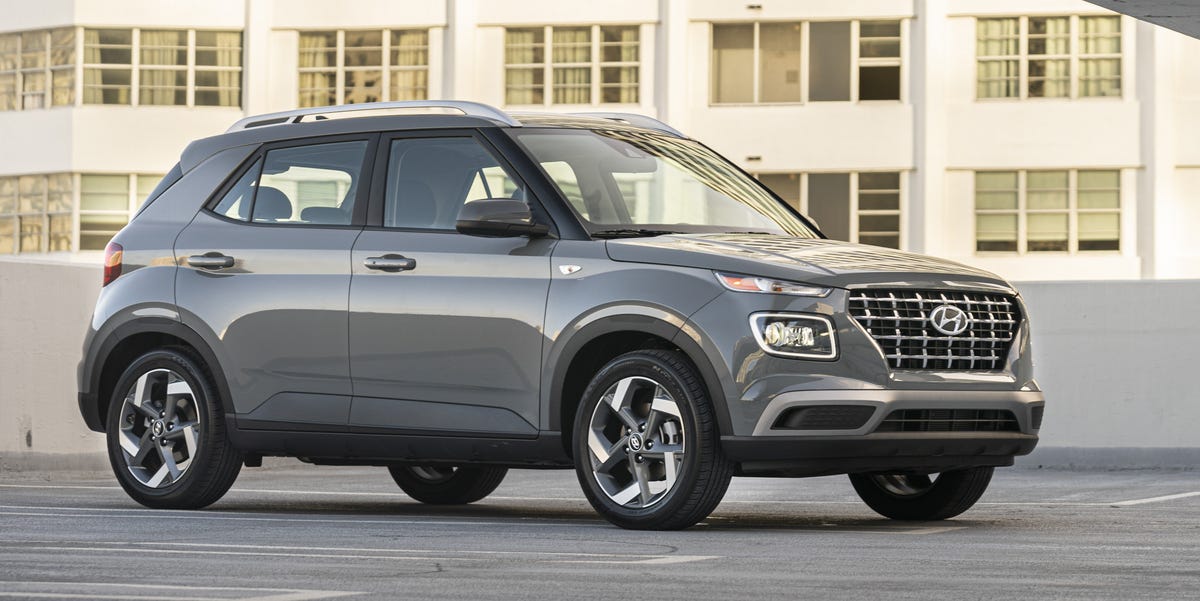 It's tough to get excited about yet another stylized subcompact crossover such as the new-for-2020 Hyundai Venue. Our lack of enthusiasm, however, has more to do with fatigue for small SUVs in general, rather than an expectation that this Hyundai wouldn't be a well-appointed and well-built product. After driving the Venue around Miami, we can say that it's both of those things, and it delivers exactly what price-conscious shoppers of lifted hatchbacks want.
Distinctly Styled, Pleasantly Appointed
At first glance, glinting in the Florida sun, the new Venue looks more exciting than it does in photos. Anonymous styling doesn't fly at Hyundai anymore, and the Venue's design stands out within its segment. The silhouette is boxy, the cladding is tasteful, and the overall look is rugged, size XS. Under that body, however, are only 6.7 inches of ground clearance, or just more than an inch more than the Hyundai Accent upon which it's based. The Venue also is not available with all-wheel drive, although it does look tougher than other front-drive subcompact utes, such as the Nissan Kicks.
Inside, the Venue is rather conventional. The layout is handsome, the switchgear is sturdy, and the material quality is excellent considering its modest starting price. At $18,470, the base SE model with the standard six-speed manual transmission is the least expensive crossover money can buy; add $1500 for the optional continuously variable automatic transmission (CVT), which is standard on the mid-level SEL ($20,370) and the top-spec Denim ($23,170) trim levels.
All models feature an 8.0-inch touchscreen infotainment system with Apple CarPlay and Android Audio. What you won't find in any Venue are a heated steering wheel, power seat adjustments, or wireless charging. Fit and finish, however, are a step above the Venue's budget-minded status. Opt for the Denim model and you get interior upgrades such as a padded armrest and leatherette upholstery with contrasting white piping, which lends it a far more attractive ambiance than you'll get in the significantly more expensive Ford EcoSport.
Our biggest gripe inside has to do with the circular temperature readout on the climate-control panel that appears to be an adjustable knob, but it isn't. The rear seat also lacks vents in the back of the center console as well as 12-volt or USB ports, so your ride-share occupants might not give you five stars. While it has more rear legroom than the Kick and Toyota C-HR and two adults can comfortably sit in back, both the Toyota and Nissan have larger cargo areas with their rear seats folded. The Nissan in particular boasts a significant cargo volume advantage, with 25 cubic feet behind its back row and 53 cubes with the seatbacks stowed. In contrast, the Venue can hold only 19 and 32 cubic feet, respectively.
Modest Motivation
Every Venue is powered by a naturally aspirated 1.6-liter inline-four that develops 121 horsepower and 113 lb-ft of torque. Unfortunately, that meager amount of twist isn't fully unlocked until the engine spins to 4500 rpm, which can make passing at highway speeds more of a challenge than we'd like. The Venue's sensitive steering and wind-catching shape also make it feel restless at higher speeds. At least the CVT does an admirable job of limiting engine droning, even when called upon for max power.
Around town, the Venue feels quicker and more confident. Its small footprint, firm suspension, and quick helm make it easy to dart between lanes. While the engine's throttle response is a bit lazy, the Venue has enough grunt to motor away from stoplights without struggling to keep up with traffic. But we do wish the brake pedal felt more linear and had a stronger initial bite.
It's no surprise that the larger Venue isn't as fuel efficient as its Accent platform-mate. The EPA estimates the Accent at 33/41 mpg city/highway, but the Venue is rated only at 30/34 mpg. The higher-riding Hyundai, however, has standard driver-assistance technology such as forward-collision warning with automated emergency braking, lane-keeping assist, and a driver-attention monitor. Blind-spot monitoring and rear cross-traffic alert are optional. Accent buyers have to skip most of those features and only get forward-collision warning with automated braking.
Give Them What They Want
Although the 2020 Hyundai Venue represents the reality of a segment that at times still has us scratching our heads, the subcompact market, like many others, has spoken in favor of SUVs, or at least of high-riding vehicles that look like SUVs. The Venue's lack of all-wheel drive may be a turn off for some and further muddies its equation versus conventional subcompact hatchback cars, which generally are more fuel efficient, better to drive, and only slightly less capacious. But virtually every volume brand today offers a wee crossover, and their collective sales numbers look to be going nowhere but up. The Venue should fit in that group well, because it hits almost all of the key points that shoppers in this space demand while demonstrating that cheap transportation doesn't have to feel, well, cheap.
Nissan had a couple of smash enthusiast hits in the 1990s with the S13 and S14 Silvia, known as the 200SX and 240SX on these shores. Before those cars came here, though, the groundwork for affordable, sporty rear-wheel-drive Nissan coupes was laid by the S10 Silvia, sold with 200SX badging here from the 1977 through 1979 model years. These cars didn't sell in huge quantities in North America, and the handful that did sell tended to rust in a hurry, so you won't see many today. I keep my eyes open for such historic machines while making my appointed junkyard rounds, though, and so this well-worn '78 200SX appeared before my camera lens in a Denver-area self-service yard a few months back.
It's rusty, oh yes, and it's crusty as well; the combination of harsh sun and snowy winter here in Colorado has been rough for this corrosion-susceptible little Datsun.
I think this car has been sitting for quite a while, but the United Airlines bumper sticker and Denver International Airport parking pass indicate that it was running as recently as 1995, when the Home of Blucifier opened for business. Before that, this car's owner may have used it to commute to the old Stapleton Airport.
In Japan, this car got the 1.8-liter L18 engine, but the North American 200SX received the 2.0-liter L20 engine made famous by the Datsun 510 on these shores. In 1978, this engine was rated at 97 horsepower, which was pretty good for a 2,323-pound car in the darkest years of the Malaise Era. For comparison's sake, know that the 1978 Chevy Camaro Z28 had a 20.5:1 lbs/hp ratio, while the 200SX had a not-so-far-off 24:1 ratio. The 1978 BMW 320i, meanwhile, had a 24.1:1 lbs/hp ratio... and it cost $9,315, while the 200SX sold for just $4,399 (or $18,100 in 2020 dollars).
The body on this car has been corroded well past usefulness, and S10 200SXs really aren't worth any serious restoration investment nowadays. Junkyard shoppers stripped most of the dash and interior components before I got here.
Still, an interesting piece of Nissan history, and it's sad to see another S10 headed to the crusher.
With a standard 5-speed manual transmission (reasonably exotic in 1978) and AM/FM stereo radio (a pricey option in most cars in 1978), the 200SX was a steal.
At the 1958 24 Hours of Le Mans, the no. 22 car was a 1958 Ferrari 250TR piloted by Ed Hugus and Ray "Ernie" Jackson, who finished in seventh place.
Their car, named Lucybelle II, has been replicated by the craftsmen at the Amalgam Collection with help from Ferrari.
Only three of models of this race-weathered classic are for sale at a price of $13,970 each.
For anybody seeking the crown jewel in a collection of scale models, here's a strong contender: this 1:8 scale model of a 1958 Ferrari 250TR. The price—nearly $14,000—is far, far out of the range of many collectors, but here's what makes it special: It is handcrafted to look exactly like the original 1958 Ferrari 250TR named Lucybelle II that won the 24 Hours of Le Mans. Yes, this model is considered "race weathered" and looks like it has just competed in the 1:8 scale model edition of the 24 Hours of Le Mans.
The original, life-size Lucybelle II 250TR was entered in the legendary French endurance race by privateer Ed Hugus and wore no. 22. Hugus and teammate Ray "Ernie" Jackson drove it to seventh place in front of a crowd of 150,000 spectators, all there to watch Ferraris, Jaguars, Aston Martins, and Porsches battle it out on the Circuit de la Sarthe.
The year 1958 was a great one for the Maranello team, as Ferrari absolutely dominated the World Sports Car Championship, had an astounding 11 privateer and factory entries at Le Mans, and, with its factory 250TR/58 driven by Olivier Gendebien and Phil Hill, ended up winning the race.
The Amalgam Collection is known for making some truly beautiful works of art when it comes to scale models. The Bristol, England, company has been commissioned by the likes of Richard Mille and Ralph Lauren to make scale-model replicas of cars in their own personal collections. This handcrafted 1958 Ferrari 250TR was designed and built with assistance from Ferrari, which allowed the Amalgam Collection to digitally scan every inch of the car in order to re-create even the most minute details.
Ferrari also provided information on original finishes, materials, archive imagery, and drawings from when the car was built and raced. Each car is hand-painted by the master craftspeople at Amalgam to achieve that race-weathered look. The result is a stunning piece of art that looks as if it had actually driven at high speed through the atrocious conditions of the 1958 race.
Amalgam is selling only three of these models, priced at $13,970. The price is warranted when you consider details such as the Testa Rossa engine, the headlights that have little pieces of tape holding the covers on, and the exhaust soot that covers the quad tailpipes. If you aren't a fan of the race-weathered look, there is also a Lucybelle II model that is clean, without a speck of dirt on its white bodywork. That one, however, isn't limited to only three models and has a lower price of $11,995.
Auctioning off the first production model of a new performance car for charity has become accepted practice, so it's not too surprising that the first saleable 2020 C8 Chevrolet Corvette would cross the auction block, and do so at the Barrett-Jackson Scottsdale sale. But the figure on the big screen when the car hammered sold, $3 million, certainly made for a show-stopping moment, even in the cavalcade of high-dollar dream machines being pushed across the big stage during prime time on Saturday.
General Motors CEO Mary Barra rode shotgun in the bright red C8 Corvette, and she spoke briefly when the car reached the stage, as did a representative from the charity, the Detroit Childrens' Fund. GM had donated the car, so the charity received the entire hammer-sale price.
Bidding opened at $200K and immediately jumped to $250K, $500K, $750K, and then $1M, when a brief cheer went up. It then powered ahead through $1.2 million, $1.5, and $1.7, to another brief plateau at $2 million. But the C8 powered ahead, eventually selling for $3 million to NASCAR team owner and noted car collector Rick Hendrick.
Mr. Hendrick does not take home the bright red Corvette that crossed the block — that car was just "representative" of the first production mid-engine Corvette, which will be built in the next few weeks. The actual car, with VIN #001, will be black on black, a 3LT fully optioned with the Z51 package, performance data recorder, GT2 seats, and more. He also gets a handsome tax deduction.
Related Video: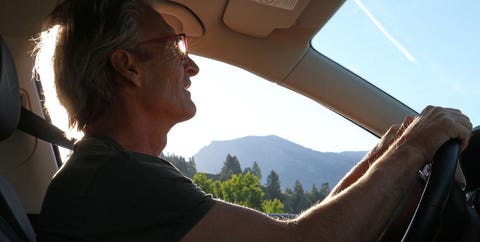 Ascent/PKS Media Inc.Getty Images
Whether you're on a business trip, a family vacation, or driving across the country, eating well while you're on the road can be an intimidating prospect.
It's easy to fall into Big Mac and KFC crispy chicken sandwich habits when fast food is so ubiquitous. Because of this, my diet was one of my largest concerns when I set out this July for what would end up being a road trip of more than four months and 15,000 miles.
I had good eating habits at home, but living out the back of my truck took some getting used to when it came to my diet.
Here's what I learned on the journey.
Your meals are only as good as your gear.
The first thing I did was create a simple but flexible kitchen setup that would work for all my meals.
I chose a two-burner tailgating stove, a backpacking stove, a 20-liter cooler (that I restocked with ice from gas stations and grocery stores), a plastic plate and bowl, a small paring knife, a small cutting board, and a rubber spatula.
I also chose lightweight aluminum pots, and a cast-iron pan that I'd be able to clean out by wiping with a paper towel.
Make breakfast easy.
I often stuck to a simple cold breakfast of yogurt and granola.
While large containers are often cheaper, they kept breaking open in my cooler. Instead I used single-serving yogurts. To make breakfast more filling I'd add granola and eat fruit that didn't need to be refrigerated. A container of strawberries is usually good for a day or two, as are kiwis, apples, and oranges.
For lunch, always go light.
Lunch is where I got most of my leafy greens in. I found it surprisingly hard to keep greens from wilting or spilling into the water of my cooler, so after a lot of wasted money on damp veggies, I decided that if I ate on the road, I would buy prepared vegetables.
Restaurants like Panera and Applebee's can be found near many roads and offer menu items heavy in roughage. Walmart also often sells affordable prepared salads.
In smaller towns without chains, I'd look for the brewery, as they often have at least one salad on the menu, plus beer.
In addition, I kept peanut butter and jelly, a loaf of bread, and cans of tuna with me at all times so that even if I couldn't get greens, I wouldn't have to eat a burger.
For dinner, opt for soup. Yeah, soup.
After long days driving, I always wanted a simple meal, so I often turned to soup. To get a filling meal, I'd start by making a cup of quinoa from the five-pound bag I kept with me. I'd eyeball the amount of water and add more as necessary. When the quinoa was done, I'd pour a can of soup on top.
I tried to buy vegetable-rich, low-sodium soups like Amy's Organic, Campbell's Well Yes!, or Progresso Vegetable Classics.
If I had a big workout, I'd add a pouch of Mono Life bone broth for more protein.
Rethink your snacks.
The hardest part about eating well on the road is having food on hand for when you're hungry between meals or have to put cooking off while you travel.
In order to avoid fast food, I kept a number of healthy snacks on hand at all times. One of my favorites was durable vegetables that didn't need to be refrigerated.
I'd eat bell peppers like they were apples, or a handful of carrots. Both could last for about a week without being refrigerated.
When my body did crave something salty or sweet, I turned to a two-pound bag of flavored almonds, or a bite of dark chocolate.
With a clean diet, life on the road doesn't feel so exhausting. By keeping to these foods I always felt ready to pull over at a neat-looking trailhead or pull down my bike for a ride.
A few simple strategies and a bit of planning can keep you feeling your best.
Just don't forget to bring hot sauce, too.
Toyota announced Friday it will move production of its mid-size Tacoma pickup from the United States to Mexico as it adjusts production strategies around North America to better consolidate vehicles built on shared architecture.
This move will make room for more production of full-size trucks and SUVs in its San Antonio, Texas, facility, which will absorb production of the Sequoia SUV from its current Princeton, Indiana facility.
Toyota said it has completed a $1.3 billion modernization investment in its Indiana operations to add 550 jobs. Toyota said there would be no reduction to direct jobs at any of Toyota's facilities across North America as a result of the vehicle moves.
The new North American trade agreement approved by the U.S. Senate on Thursday ensures that automakers will still be able to build pickup trucks in Mexico without facing new punitive tariffs.
Here's how all of the changes break down:
Toyota Texas (San Antonio)
Toyota will shift production of the Sequoia in 2022 to Texas and that plant will end production of the Tacoma by late 2021. Tacoma production will be shunted to Toyota's Guanajuato plant in Mexico. Capacity at this facility will remain above 200,000 units per year.
While we learned last April that Toyota plans to build future Tundra and Tacoma models on the same architecture, this choice seems to indicate that Toyota's strategy relies just as much on size similarity as platform commonalities.
Toyota Guanajuanto (Guanajuanto, Mexico)
Toyota has been building Tacoma trucks at its Baja California plant in Mexico since 2004. Last month, Toyota's newer facility in Guanajuato began assembly of the Tacoma. Its production capacity for the Tacoma in Mexico will be about 266,000 per year. Last year, the automaker sold nearly 249,000 Tacoma pickup trucks in the United States, up 1.3%.
The company said the product moves were to "improve the operational speed, competitiveness and transformation at its North American vehicle assembly plants based on platforms and common architectures."
Guanajuato will contribute an additional 100,000 units to pickup production once it is brought online.
Toyota Indiana (Princeton)
The largest Japanese automaker also said it will end production of the Toyota Sequoia in Indiana by 2022 as that facility focuses on mid-size SUVs and minivans.
The refurbished TMMI plant, which has added 550 new jobs so far, will help Toyota meet strong demand for the Highlander, its new mid-size SUV. It has more than 7,000 employees and has the capacity to assemble more than 420,000 vehicles annually, the company said.
Would you like to own a Ferrari, or a piece of movie history? How about a little of the latter that is pretending to be the former?
In any other year, even noteworthy auction listings popping up this week probably would have drowned in the rising tide of auto show news, but with the Detroit auto show punted to June this year, we've been inundated with some fantastic auction finds, including this Hollywood icon that was built for one of John Hughes' greatest films.
This 1963* Modena Spyder California is maybe one of the best-known Ferrari replicas in the world, and it's slated to cross the block at Barrett-Jackson Scottsdale this weekend.
It takes an eagle-eyed auto enthusiast to recognized the Bueller fakes for what they are, but the fact that they're replicas of the Ferrari 250 GT California doesn't really hurt their value. In fact, it makes it even easier to verify their provenance. Granted, real-deal 250 GTs are going for stupid money, but we find it hard to believe that a little Matthew Broderick stardust would really make much difference when examples are being auctioned off for more than $17 million.
As Road & Track points out, the other running movie replica sold for more than $400,000. Fortunately, there were three of these replica models built for the film, so the buying public is getting yet another crack at one.
Two of the replicas were runners, and the third was effectively an unladen stunt double used for the infamous scene where Alan Ruck's Cameron Frye works out his daddy issues by sending pop's precious collector's item straight through the side of their Highland Park Frank Lloyd Wright.
You know, the sort of thing your average angsty American teenager did before Twitter was invented.
The replica is not just a looker; it's a driver. It sports a 427 cubic-inch V8 rocking a four-barrel carb mated to a five-speed manual transmission and sends power to the rear wheels through a limited-slip differential.
Per the listing, this replica underwent a thorough restoration and even boasts a few upgrades over "stock." It's sitting on custom QA1 adjustable 16-position aluminum coil-over shocks mated to a four-wheel independent suspension and a set of upgraded Wilwood brakes (6-pot front; 4-pot rear) with 12-inch vented, slotted and cross-drilled rotors.
Even the body parts got some attention. The inner tubs were replaced with carbon fiber bits and custom 16-inch chrome wire wheels were added. If the carbon fiber parts alone weren't enough to qualify this replica for resto-mod status, consider that it also has a GPS-fed speedometer and a Retrosound radio with Bluetooth, two Blaupunkt amps and 14 speakers. Look closely and you may still not spot them.
The car also got the usual interior and exterior attention, and the top boot and seats were completely recovered with high-quality tan hides.
There's not much time left before this choice automobile crosses the block. Look for it at B-J Scottsdale on Saturday; it's lot number 1378.
Audi's Q5 SUV and A8 sedan get performance and efficiency gains from the addition of a plug-in powertrain option.
Sure, zero-to-60-mph times will be better, but it's the fuel-economy benefits that stand out here. The standard Q8 gets 18 mpg, while the PHEV more than triples that to 65 MPGe.
Thanks to tax credits, you might only pay $2000 more to plug in your new Audi.
It's not a surprise that you're going to pay more for a plug-in-hybrid variant of the 2020 Audi A8 or Q5, but you'll also be getting more. For an extra $10,000—or maybe much less, after tax credits—Audi promises more efficiency, more performance, and more exterior paint choices.
Let's start with the popular Q5 SUV, which finally gets an electric boost that will unsurprisingly offer more efficient driving, what with its EPA-estimated 20 miles of all-electric range and 65 MPGe when the 14.1-kWh battery runs out. If you're driving the gas-only Q8, you're looking at getting just 18 miles per gallon (combined).
The Q5 PHEV also gets what should be a noticeable acceleration boost, going from zero to 60 mph in 5.0 seconds, nearly a second faster than the non-electrified Q5. That's because, even though the PHEV and the standard Q5 share Audi's turbocharged 2.0-liter four-cylinder TFSI engine, the plug-in hybrid adds an electric motor to the powertrain between the seven-speed S tronic dual-clutch automatic transmission and the engine for a total power output of 349 horsepower and 369 lb-ft of torque. Compare that to the decent, but now less interesting, 248 hp and 273 lb-ft of torque in the gas-only model.
Both versions come with Audi's Quattro all-wheel drive and look similar enough that you'll probably have to check the badges to see which version you're looking at, unless their exterior paint is Turbo Blue or Daytona Gray, as those colors are exclusive to the PHEV (and, just to keep you on your toes, the SQ5).
The plug-in-hybrid versions of the Q5 will start at $53,895 for the Premium trim, almost $10,000 more than the Premium trim for the non-PHEV Q5, which starts at $44,295. Higher trims of the plug-in-hybrid Q5 include the Premium Plus, which costs $57,595, and the Prestige, which is priced at $61,345. Audi says that it expects Q5 TFSI e buyers will be eligible for the federal electric-vehicle tax credit of up to $6712.
A8 Plug-In Hybrid
Moving over to the sedan, Audi finally brings all of this plug-in-hybrid goodness to the new A8, too, including the 14.1-kWh battery, which in the A8 is good for an EPA-estimated electric range of 17 miles and 54 MPGe. The gasoline-powered A8 gets just 21 mpg combined. From the outside, the A8 TFSI e looks like the gas model but with a unique light signature in the front bumper.
The PHEV uses the same turbocharged 3.0-liter V-6 engine found in the A8 L 55 TFSI model, but instead of the 335 horsepower and 369 lb-ft of torque available from the gas-only powertrain, the PHEV offers up 443 hp and 516 lb-ft of torque. That compares favorably to the other gas-powered A8 Audi sells in the U.S., which comes with a 4.0-liter TFSI V-8 and produces 453 hp and 487 lb-ft of torque. Stop us if you've heard this part before, but the plug-in model runs up from zero to 60 mph in 4.9 seconds, or almost a second faster than the standard A8 V-6. It's also comfortably close to the 4.5 time Audi promises for the V-8 model.
In keeping with the price premium of $10,000 or so for the plug-in-hybrid powertrain, the 2020 A8 60 TFSI e starts at $94,995, while the non-PHEV A8 can be had for $86,195. The gas-powered A8 V-8 starts at $97,795. As for the federal plug-in vehicle tax benefits for the A8, Audi says eligible buyers can expect a federal credit of up to $6795, or a total increased cost of just over $2000.