WASHINGTON —The U.S. Senate on Thursday approved a revamp of the 26-year-old North American Free Trade Agreement that includes tougher rules on labor and automotive content but leaves $1.2 trillion in annual U.S.-Mexico-Canada trade flows largely unchanged.
The legislation to implement the U.S.-Mexico-Canada Agreement passed on an 89-10 bipartisan vote, sending the measure to President Donald Trump for him to sign into law.
The Democratic-controlled U.S. House of Representatives passed the legislation on Dec. 19 after hammering out changes to ensure better enforcement of labor rights and tighter environmental rules during months of often contentious negotiations with the Trump administration.
The Senate vote came a day after Trump signed a long-awaited Phase 1 trade deal with China, and shortly before the Senate formally began the impeachment trial of Trump on charges that he abused his power.
The U.S. S&P 500 stock index hit the 3,300 mark on Thursday for the first time, buoyed by the two trade deals, solid retail sales and upbeat Morgan Stanley earnings.
U.S. Treasury Secretary Steven Mnuchin said Trump's efforts to rebalance U.S. ties with its major trading partners were bearing fruit, and boosting U.S. economic growth.
"This historic agreement not only modernizes and rebalances our trade relationship with Canada and Mexico, but it promotes economic growth, creates jobs, and provides crucial certainty for farmers, workers and manufacturers," he said in a statement.
On Wednesday, Mnuchin told Fox News that interim trade deal with China and passage of USMCA would boost growth of the U.S. gross domestic product by 50 to 75 basis points.
Mexican President Andres Manuel Lopez Obrador on Thursday called the deal's approval good news for the Mexican economy, and predicted it would jump start new investments.
Canada still needs to approve the deal before it can take effect and replace NAFTA. It was signed by the leaders of the United States, Mexico and Canada in September 2018.
Trump made renegotiating NAFTA a centrepiece of his 2016 election campaign, calling it "the worst trade deal ever made" and blaming it for the loss of thousands of American factory jobs to low-wage Mexico.
He had threatened to cancel NAFTA outright unless Congress acted to approve the replacement deal, sparking uncertainty among business owners and putting a damper on new investment.
The AFL-CIO union federation, which represents some 12.5 million workers across the United States, estimates that some 851,700 U.S. jobs were lost to Mexico because of NAFTA.
The U.S. goods trade deficit with Mexico was $80.7 billion in 2018, compared with a $1.7 billion surplus in 1993, thanks in part to U.S. companies moving manufacturing operations south of the border.
But NAFTA also quadrupled trade among the United States, Canada and Mexico, sending it to $1.2 trillion a year by 2017, and knitting together supply chains across the continent.
Industry groups hailed the trade agreement and said it would provide sorely needed certainty to revive investment flows.
"This trade agreement will serve as a model for future trade agreements, and help grow the U.S. economy as a whole, especially the auto sector and its manufacturing supply chain," said Matt Blunt, president of the American Automotive Policy Council.
Canada's parliament does not return to session until Jan. 27, so the scheduling of a vote there remains unclear. But USMCA is expected to see little resistance in Canada, as Conservatives have said they would back the deal negotiated earlier by Prime Minister Justin Trudeau's Liberal-dominated government.
"Today the Senate will send this landmark agreement to the president's desk. A big bipartisan win," Senate Republican Leader Mitch McConnell said on the Senate floor.
Republican Senator Joni Ernst told Fox Business Network that she expected Trump to hold a signing ceremony next week.
The bill was opposed by eight Democrats -- including Senate Minority Leader Chuck Schumer -- Republican Senator Pat Toomey of Pennsylvania and presidential candidate Senator Bernie Sanders, an Independent. Senator Jim Inhofe, a Republican from Oklahoma, did not vote.
You knew it was coming: Jeep global president Christian Meunier says the company is all in for electric and hybrid versions of the classic SUVs, starting with the China-market Jeep Commander.
As seen at the CES technology show earlier in January, Jeep's U.S. electrification will start with hybrid versions of the Renegade, Compass, and Wrangler under the 4xe name.
By 2022, every Jeep in the lineup will have a hybrid or electric variant, he said.
In the several months since Christian Meunier took over the reins of Jeep worldwide, the new global president of the Jeep brand has made it clear he's focusing less on interior features and luxuries, more on technology. Predictably, as goes the entire industry, so goes the off-roading icon. Christian recently told Car and Driver that his plans for the Jeep brand in the 2020s include an aggressive plan to launch plug-in-hybrid and, later, electric Jeeps throughout the coming decade.
That's ambitious, considering Jeep only launched its first hybrid in November 2019. The plug-in-hybrid variant of the China-market Commander is an SUV of roughly Grand Cherokee size that starts at an equivalent of $44,070 after Chinese subsidies.
China's position as the largest automotive sales market in the world means the country is an oversize reason for many of Jeep's electrification plans. Cars there are taxed and classified by engine size, with larger engines becoming prohibitively expensive. Hybrids and EVs short-circuit these rules, however, so they're available to much larger swath of the buying market. Lucky for us that U.S. consumers get to benefit from these greener vehicles as well.
"As Many Electric Jeeps As We Can"
What we are getting stateside—in part because of this Chinese effort, according to Meunier—is a whole range of hybrid and electric Jeeps. "We're bringing as many electric Jeeps as we can. Next year, we will have the [plug-in-hybrid] Renegade, Compass, and Wrangler," he said. For those keeping track at home, that would be half of the Jeep models available in the U.S.; the others are the Cherokee, Grand Cherokee, and Gladiator. We showed you images of the Wrangler hybrid mule driving around southeastern Michigan last March.
Three hybrid model rollouts in a year? That's a fairly aggressive timeline, and it will be interesting to see if Jeep can hit it. So far, hybrids have certainly been a mixed bag for manufacturers. Representing roughly 2 percent or less of new-car sales in the U.S. since 2015 (and never more than 3.2 percent since 2001), hybrids have hardly captured the public's desire. However, Toyota shifted a full 25 percent of all RAV4s sold last year in the hybrid spec, so there are clearly winners in the space.
By 2022, Meunier vows that all Jeep models will have an electrified variant—which could mean hybrid, plug-in hybrid, or fully electric. While that sounds ambitious, it largely tracks with industry-wide trends and product timelines from competing manufacturers, both domestic and foreign. FCA as a whole is moving towards more hybridization, and component and technology sharing will be key to making this a quick and cost-effective rollout of electric technology.
It's important to note, though, that we have absolutely no details about any future fully electric Jeep model yet.
Meunier didn't provide any, but he expressed excitement about the prospects of off-roading in a Wrangler under battery-only propulsion. He spoke of pairing EV silence with the pleasure of being in the backcountry with the doors removed, the roof open, and the Wrangler crawling up a slick rock. To him, that would make the experience much closer to nature. Well, it does make sense if you look at it that way.
While downsizing is the order of the day in the automotive industry, Porsche is upsizing by bringing the naturally-aspirated flat-six engine to the 718 GTS range. Enthusiasts will undoubtedly see the move as right-sizing.
The 718 Cayman GTS 4.0 and the 718 Boxster GTS 4.0 will replace the existing four-cylinder-powered models, which Autoblog can confirm will retire at the end of the 2019 model year. As their name clearly implies, they receive a 4.0-liter flat-six tuned to deliver 394 horsepower and 309 pound-feet of torque. The mid-mounted six spins the rear wheels via a six-speed manual transmission. There won't be a PDK automated manual transmission available at launch, though a Porsche spokesperson told Autoblog one could eventually join the range.
Both members of the GTS duo take 4.3 seconds to reach 60 mph from a stop, and they top out at 182 mph. To put all this into perspective, the outgoing GTS models released in 2017 share a turbocharged, 2.5-liter flat-four rated at 365 horsepower and 309 pound-feet of torque when ordered with a six-speed stick, or 317 when equipped with the optional seven-speed dual-clutch automatic. They perform the benchmark zero-to-60 sprint in 3.9 seconds when fitted with two pedals, and can reach 180 mph.
Aficionados have a little less torque to play with, but Porsche doesn't think they'll mind.
"The turbo four put the car on another performance level, but in the upper echelons of the model line there's a lot of interest in the six-cylinder engine, especially in the United States," a spokesperson told us. Besides, the 4.0-liter is closely related to the 414-horsepower six that powers the flagship GT4 and Spyder variants of the 718, so it makes sense for Porsche to use it in other models if possible, the spokesperson added.
The GTS models come standard with Porsche Active Suspension Management (PASM) technology, which lowers the ride height by nearly an inch compared to other 718s, and bigger cast-iron rotors with six-piston front calipers. Torque vectoring and a mechanical limited-slip differential are also part of the equation.
Car-spotters need to keep an eye out for black trim, tinted lights on both ends, and 20-inch alloy wheels. Porsche spruced up the cabin with black Alcantara upholstery and carbon fiber trim, though other materials are available.
The standard Sport Chrono package includes Porsche's Track Precision App, which allows drivers to record track runs, and upload performance-related data (like the pedal position, the steering angle, and the racing line) onto their smartphone for analysis. For street driving, there's a 7-inch touchscreen in the center stack that buyers can upgrade with internet-connected navigation software that provides real-time traffic data.
Porsche will begin taking orders for the 718 Cayman GTS 4.0 and the 718 Boxster GTS 4.0 in the summer of 2020. Pricing information will be released in the weeks leading up to their on-sale date, but we estimate their price tag will fall right under $90,000. For context, the four-cylinder-powered models start at about $80,000.
Related Video:
When official EPA range numbers for the 2020 Porsche Taycan Turbo came out, the news hit like a ton of bricks (or batteries, same difference). That's all Porsche has? 201 miles? Yep, that's what $153,510 will buy you. Compared to the Tesla Model S, that number is shockingly off base. However, the Taycan is a proper sports car that'll hold up on track, unlike the Model S, which is slanted toward street driving. There's also an argument to be made in defending the range figure itself, as folks rarely drive more than 201 miles in a day. And if you have over $150,000 to spend on a Taycan, you surely have enough spare cash to get yourself a very nice gas engine car that'll take you on those longer trips.
That news the other week was just about the regular Taycan Turbo, though. Now, EPA ratings are available for the Taycan Turbo S. Just as one might expect, the faster of the two Taycan Turbos is also less efficient. It gets a rating of just 192 miles on a full charge. That's nine miles fewer than the Turbo. The last thing anybody wanted to see was less range, but that's what happens when you add even more performance. The Turbo S is quicker, has more horsepower and torque, comes standard with larger wheels and also adds an assortment of performance handling equipment. All this combined can be attributed to the lower range number.
The Turbo S is also slightly less efficient than the regular Turbo, coming in at 68 MPGe. That makes it the new leader in the clubhouse for the least efficient electric car on sale today, besting the Taycan Turbo's 69 MPGe figure. Having the least efficient electric car out there isn't an enviable position to be in, but we're not surprised that it's a Porsche.
For comparison's sake, the Tesla Model S Performance is rated at 97 MPGe, significantly more efficient than the Taycan Turbo S. It also boasts 134 miles more in total rated range, coming in at 326 miles. Picking between the two will force you to determine your priorities in an EV, and it will also assume an empty check, as the Turbo S is selling for $187,610 at launch.
Related Video: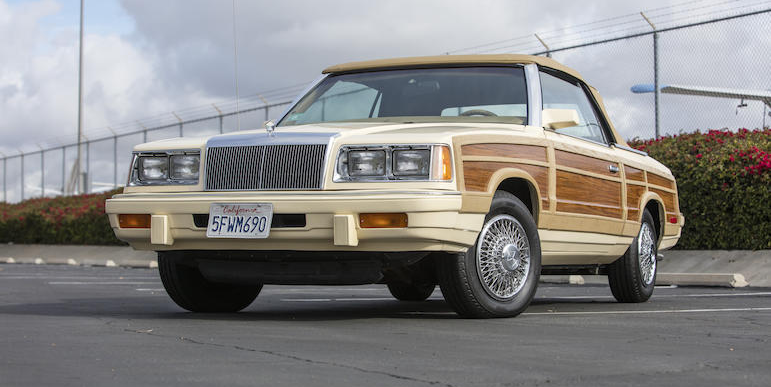 In a 1982 commercial promoting the LeBaron, Chrysler CEO Lee Iacocca famously declared, "If you can find a better car, buy it." A big boast, to be sure, but Iacocca had a lot to be proud of. Cars riding on its front-drive K-platform—like the LeBaron—saved Chrysler from death, helped the company pay back a government bailout in short order, and made a celebrity out of Iacocca. Now, keep all of this in mind when you consider this car here.
It's Iacocca's personal 1986 LeBaron Town & Country convertible, and it will be auctioned by Bonhams in Scottsdale, Arizona, on Thursday, January 16. If you can find a better car, buy it.
While it's unclear how long the late Iacocca owned this particular car, it's remarkably clean. There are just over 20,000 miles on the odometer, and Bonhams notes that unusually for a K-car of this era, there's no sign of rust. Even the digital gauges work just like they did 34 years ago. The LeBaron Town & Country convertible is rare, too. Just 1105 were built, and 501 in 1986. Fewer had the optional 2.2-liter turbo four-cylinder, as well.
Apparently you can put a price on provenance like this. Bonhams estimates Iacocca's LeBaron will fetch between $20,000 and $25,000 when it crosses the block Thursday. To resurrect an old Seinfeld trope, it's unclear if this car was also owned by a Jon Voight at any point.
Bentley is closing the latest Mulsanne chapter with 30 examples the Mulsanne 6.75 Edition by Mulliner, celebrating the 61-year-old V8 that first appeared in the 1959 Bentley S2. Once those 30 cars have been built, the name retires for the second time — after being used on a flagship sedan from 1980 to 1992 — and the Flying Spur takes over as the carmaker's top-tier offering. Starting with the 530-horsepower Mulsanne Speed, the 6.75 Edition adds gloss black and bright chrome jewelry, including a dark tint for the Flying B hood ornament, Mulliner radiator, and exhaust finishers. There are also chrome badges, bright machined faces with black pockets for the 21-inch, five-spoke wheels, and welcome lighting that flashes the special edition name. Under the hood, the normally silver intake cover gets dressed in black, and the engine number plaque bears the signature of brand CEO Adrian Hallmark instead of the engine builder.
The interior can be specced in four single-color hides, either Beluga, Fireglow, Imperial Blue, or Newmarket Tan. All are automatically contrasted with silver — silver-painted veneer, silver seat piping and silver sheen that shows through the ventilated thrones, an instrument panel in high-gloss Grand Black, and door trim in Dark Engine Spin Aluminum. Other touches to mark the occasion are ventilation controls designed to look like the engine oil cap, cutaway drawings of the engine on the gauges and clock face, and more 6.75 Edition stitching and badging.
The carmaker pointed to the end of the 6.75-liter V8 four years ago, but that was when there were plans for a successor to be powered by a new V12. Times having changed, the Flying Spur will lead the way with its 6.0-liter W12 and 4.0-liter V8 engines sourced from Volkswagen, and a hybrid model coming for 2023.
Bentley didn't mention a price for the Mulsanne 6.75 Edition, because of course. But the 2020 Mulsanne Speed starts at $342,300. Start there and add money.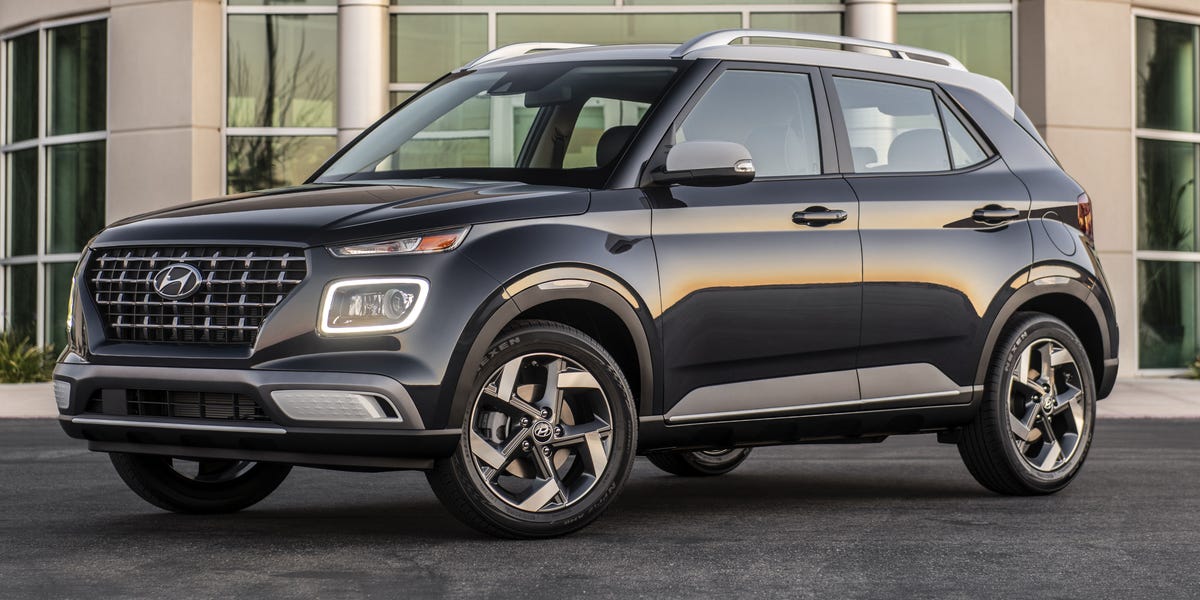 We configured our ideal version of the 2020 Hyundai Venue, the cheapest crossover on the market.
This littlest Hyundai crossover is available in three trim levels: SE, SEL, and Denim.
The SE model is best for buyers on a budget, but the Denim might be the best value.
Fun fact: The V in Hyundai Venue stands for value. Okay, not really. But it's plausible, because the Korean automaker's newest and littlest crossover became the most affordable of its kind when pricing was released late last year. With a sticker price that starts at $18,470, the 2020 Venue costs less than all other subcompact crossover SUVs. It also has an array of desirable standard and optional features that make it even more attractive compared with pricier alternatives such as the Ford EcoSport and the Mazda CX-3 that cost several thousand dollars more.
Unlike the Ford and Mazda, however, the Venue is front-wheel drive only. That means it's more comparable with the Nissan Kicks and Kia Soul, which both also start under $20,000 and don't offer all-wheel drive. We spent some time on the Hyundai consumer site configuring our ideal version of the Venue.
Model We'd Choose
The 2020 Venue is available in three distinct trim levels: SE, SEL, and Denim. We'd choose the top Denim trim. We know it may seem contradictory that we just spent that last couple paragraphs bragging about the Venue being the cheapest crossover on the market and then bypassed it for the most expensive model. But, please, hear us out.
The base SE is a great option for buyers who want a small and stylish SUV on a budget. It shares the same 121-hp 1.6-liter inline-four-cylinder engine that powers every model, and it's the only one that comes with the six-speed manual transmission. A continuously variable automatic transmission (CVT) is optional on the base Venue and standard on the other two.
The only problem is that the SE lacks some of the fancier features that are only available on the SEL and the Denim. The SEL also has better standard equipment than the L-less model. But to get the best options on the SEL, Hyundai requires buyers to purchase both available packages, which cost $2900 combined. That action makes the fully loaded SEL $100 more expensive than the top-of-the-line Denim model. Say what?
Standout Standard Features
White roof with matching exterior accents
Leatherette upholstery with heated front seats
Blind-spot monitoring and rear cross-traffic alert
Leather-wrapped steering wheel and shift knob
Other than a handful of accessories, the Denim model doesn't have any options or packages. Instead, it comes standard with all the best content, such as an 8.0-inch touchscreen infotainment system with Apple CarPlay and Android Auto capability, 17-inch wheels, LED headlights and taillights, and keyless entry with push-button start. It also gets style points for having the coolest-sounding trim name. While its exclusive white-painted roof means it doesn't come with a sunroof—only the SEL model has that option—the unique aesthetic helps the Denim stand out. It's also the only version with leatherette upholstery and a denim-blue exterior paint color. With a total price of $23,170, our fully loaded 2020 Venue has all the cool tech and creature comforts that shoppers want.
At the 2020 Tokyo Auto Salon, a customization show that is kind of like SEMA but definitely not the same, manufacturers promote what is available and explore what's possible. Mazda brought a variety of vehicles to the show, but none more intriguing than the Mazda Motorsports Miata, Mazda3, and CX-5 concepts. The trio has race-inspired graphics, as well as a slew of visual and mechanical changes.
The three vehicles have a core pack of changes, then each one has its own signature pieces to create some differentiation. The roadster, hatchback, and crossover have height-adjustable suspensions, upgraded brakes, MazdaSpeed tow hooks, circular number body decals, new wheel nuts, Alcantara steering wheels and shift knobs, special heel plates, MazdaSpeed six-point harnesses, and MazdaSpeed sport seats. The Miata and 3 have Fujitsubo stainless mufflers, while the CX-5 has a slightly different exhaust.
The Roadster appropriately has the most involved individual upgrades. It has a body kit with front, side, and rear alterations, and it sits on RAYS ZE40 17x7.5J wheels wrapped in Potenza RE-71R 215 / 45R17 rubber with beautiful white lettering. It also has a Cusco roll bar, a MazdaSpeed rear spoiler, a MazdaSpeed strut bar, and a MazdaSpeed lower arm bar. Inside, the door trim, decoration panel, shift boot, center console lid, and parking brake boot are draped in Alcantara. An aluminum pedal set is adds a final touch of polish.
On the Mazda 3 hatchback, the aero kit is specifically noted to be "Signature Style." Mazda also upgraded the strut bar and lower arm bar, and threw on Rays ZE40 18x7.5J wheels in Potenza RE-71R 215 / 45R18 tires, also with white lettering. Black mirror caps, a scuff plate, and a sports pedal set complete the concept.
On the CX-5, Mazda made it sportier but also added some crossover-focused features, too.. It has Mazda-styled aero, an Auto Exe sports muffler Rays G25EDGE F1 20x8.5J wheels, Bridgestone ALENZA001 255 / 45R20 tires with white lettering, and a new wheel nut set. It also has a scuff plate, premium floor mats, a premium luggage mat, and sports pedals.
For now, these are only concepts, with no word as to whether anything similar could hit Japanese markets, let alone U.S. shores. A Mazda engineer previously said a MazdaSpeed3 wouldn't happen, but the company is reportedly considering a 3 with a 250-horsepower 2.5-liter four-cylinder engine.
Related Video:
Honda is showing an S2000 prototype at the Tokyo auto salon tuner show to celebrate the car's 20th anniversary.
The custom S2000 is based on an AP1-generation car (1999–2003) but has an updated exterior, suspension, and audio system.
The Tokyo auto salon started on January 10.
UPDATE 1/13/20: Honda has released more images of the 20th Anniversary S2000 prototype at the Tokyo Auto Salon, revealing its interior and more of the exterior.
To celebrate 20 years of the revered S2000, Honda is resurrecting the car as a custom prototype full of exclusive parts that make it look a bit updated. The car is on display at the Tokyo auto salon, and we can only hope that this is a sign that the 9000-rpm screamer will one day make a comeback.
This custom S2000 is based on a car from the AP1 generation (1999–2003), fitted with a modernized bumper, side sills, fenders, and spoiler along with an updated suspension system. The mirrors and windshield surround have been painted black, and the car sits on a set of 17-inch Advan RZ2 wheels.
The interior could is mostly unchanged: the red seats look to be the same as or perhaps only slightly different from the ones in the original S2000. Honda does say that it has an updated audio system, though, and a large, modern touchscreen appears in the center of the dash. Since this is a prototype, these exterior bits could potentially become available for customer purchase—maybe even in the U.S.
This isn't the first time Honda has brought an S2000 back from the dead to the Tokyo auto salon. In 2013, Honda brought the chromed-out S2000 Modulo Climax to the show, but we'll be the first to say that car wasn't as attractive as this one will be.
This story was originally published in December 2019.