Ford Motor Co.'s Lincoln luxury brand began taking orders for its first locally produced model, the Corsair crossover, launching a renewed, multi-year plan to boost flagging sales by building more vehicles in China.
The Corsair, produced at Ford's joint venture with Changan Automobile Co. in the southwest China municipality of Chongqing, is available in front-wheel drive and four-wheel drive.
The starting price of the front-wheel drive version is 248,000 yuan ($35,632) while that of the four-wheel drive variant is 305,000 yuan, according to Lincoln's China unit.
It is powered by a 2.0-liter turbocharged gasoline engine paired with an eight-speed automatic transmission.
The vehicle is 4,615 mm long, 1,887 mm wide and 1,630 mm tall, with a wheelbase of 2,711 mm.
The locally built Corsair will hit showrooms in March, Lincoln's China unit said.
Lincoln disclosed plans in 2018 to launch a locally produced model in China in each of the following three years.
Local production allows automakers to avoid paying China's 15 percent levy on imported cars and light trucks in addition to modifying vehicle exteriors and interiors to suit local tastes.
Lincoln sells six imported models in China – the Navigator SUV, the Aviator, Nautilus and MKC crossovers, and the Continental and MKZ sedans.
In the first three quarters of 2019, Lincoln's China sales dropped 15 percent to 33,692, well below the market's top luxury brands, Mercedes-Benz, Audi, BMW, Lexus and Cadillac.
Ford Motor, which only discloses quarterly sales, hasn't released Lincoln's China sales for the fourth quarter of 2019.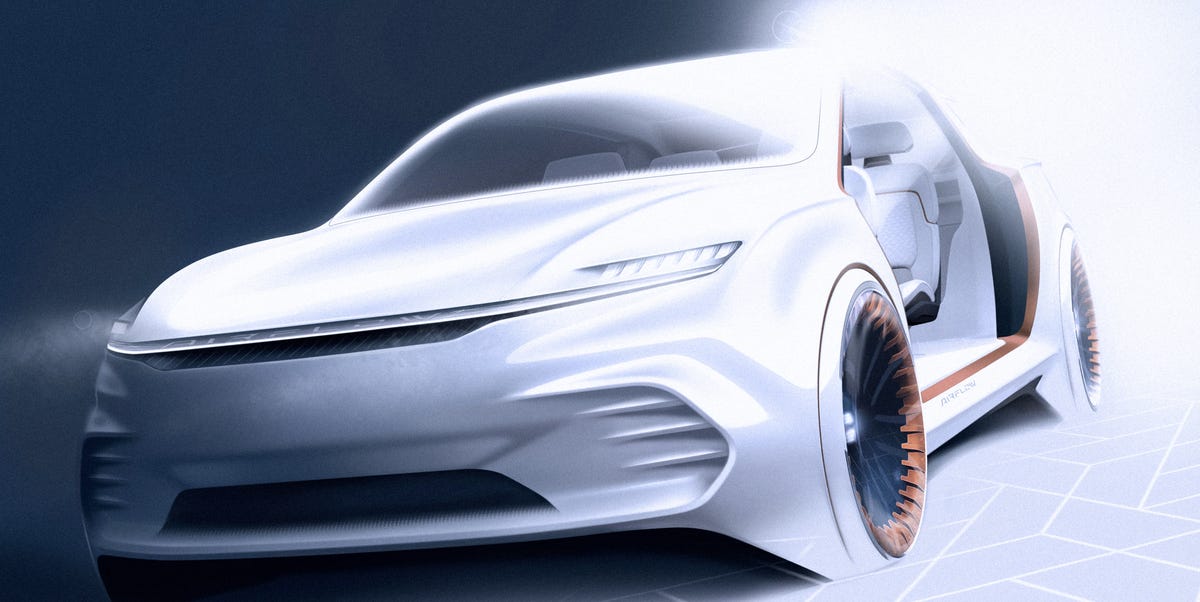 An old-school concept that's not meant for production, Fiat Chrysler's Airflow Vision focuses on two things.
First, the interior, with user experience based on multiple screens and menus that FCA believes will make sense to drivers and passengers.
Second, the exterior, which is cool and serene and at least hints at what FCA might do in the future.
Even though CES, the annual technology show in Las Vegas, is undoubtedly forward-looking, Fiat Chrysler apparently thinks a shimmer of the past is the right way to go. FCA will show off a new "sculptural design concept" there next week. Interestingly, its name takes more than a little from the Chrysler Airflow, which was itself more than a little futuristic when it was produced back in the 1930s.
The Airflow Vision concept tries to do a few things at once, but most important is the fact that it's not trying to preview a new production vehicle. While FCA's description of the concept includes a nod to the realities of a powertrain—the Airflow Vision concept uses the same dimensions and flat load floor as the Chrysler Pacifica PHEV, apparently—this is a concept that is focused almost entirely on the way the interior and exterior feel and work.
First, the Airflow Vision concept tries to understand how people driving and riding inside premium vehicles will want that experience to feel in the coming years. FCA's designers have revamped the user experience (UX) and put it front and center in the concept. FCA says the UX uses "multi-layered, high-contrast graphics and thoughtful details" in order to keep the look clean and sophisticated. There are multiple display screens and tons of personalization opportunities inside the Airflow Vision, which allows each person inside to swipe and interact with the information the vehicle is displaying. FCA says the suede and leather materials that make up the Airflow Vision's interior help offer a "first-class travel experience" and a "serene environment." There are also crystalized textures throughout the vehicles to help the transition from interior to exterior. That's all well and good, but if there's not a "De Soto Airflow" Easter egg somewhere in all of those UX menus, we'll be severely disappointed.
The Airflow Vision's exterior isn't quite as removed from future production possibilities as the inside, with FCA saying the exterior proportions and overall clean design "[hint] at the future of premium design." As with its predecessor nameplate, aerodynamics are important, but the overall focus is more on the muscular shape and the kinds of words today's automotive designers like to use: athletic profile, wide stance, dramatic persona.
The Airflow Vision is finished off in a body color called Arctic White and an underbody in Celestial Blue. The unquestionably cool wheels are meant to evoke the elegant internal mechanical elements inside electric motors and mechanical watches. Those are things that work, even on a fantastical concept vehicle.
WEST RICHLAND, Wash. — Some people spent their New Year's Eve trapped on a Washington state highway after tumbleweeds blocked their route, authorities said.
YakTriNews reported that the Washington State Patrol announced via Twitter at about 6:30 p.m. that night that State Route 240 was closed in both directions near West Richland.
Trooper Sarah Clasen told KAPP-KVEW that vehicles were trapped in a pile of tumbleweeds that stood up to 15 feet (4.57 meters) tall.
The state Department of Transportation used snow plows to clear the scene.
Trooper Chris Thorson said it took about 10 hours to clear the road, which opened again around 4:30 a.m. Wednesday.
Thorson says five cars and one 18-wheel semi truck were trapped in the tumbleweeds. No injuries were reported.
"People were still stuck at midnight and rung in the new year trapped under the weeds," Thorson said.
Thorson said Wednesday that troopers found one abandoned car that was trapped in the tumbleweeds at daylight but no one was inside.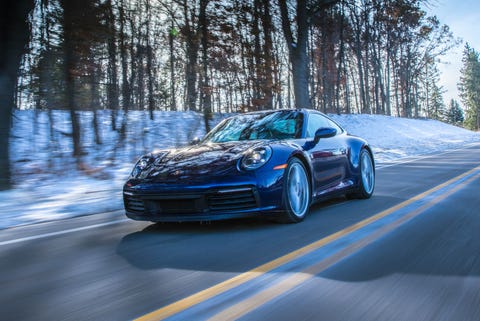 A.J. MuellerCar and Driver
Christopher Bullock couldn't have known his thought was incomplete when, in 1716, he wrote, "'Tis impossible to be sure of anything but death and taxes." Back then, the invention of the automobile was still 170 years off, and it would take another eight decades after that for the horseless carriage to evolve into the Porsche 911. In 2020, however, we know with as much certainty as death and taxes that Porsches are very, very expensive.
We realize this is not a novel observation. Porsches have always worn high prices. But occasionally a car comes along and sticks a thumb squarely in our eye with a price that we can't ignore. The 2020 Porsche 911 Carrera 4S is one of those, although it wasn't the $121,850 base price or even the $140,730 as-tested price that captured our attention.
Here's what got us: Stepping up from a 911 Carrera S to the all-wheel-drive Carrera 4S costs $7300. That extra outlay buys you all-wheel drive and, well, that's it. There is no standard-equipment difference between the S and the 4S beyond the all-wheel-drive hardware and a gas tank that holds an extra 0.7 gallon. Elsewhere in the auto industry, both mainstream and luxury brands usually charge between $1000 and $2500 to upgrade from a two-wheel-drive vehicle to the all-wheel-drive model.
In the last 911 generation, spending the extra money for an all-wheel-drive 911 also bought wider fenders. This so-called widebody gave a 4S model wider hips than the standard 911, but not quite as expansive as those on the Porsche 911 Turbo and GT3 RS. That was then. For the 992 generation, there's only a single width, at least until the new 911 Turbo comes along.
So, you don't get a different body, which makes traction-based performance the sole reason to buy a modern Carrera 4S. Thankfully, Porsche abides. The electronically controlled clutch-pack coupling can send as much as 40 percent of the torque to the front axle. Helped by the extra front grip, the original four-season sports car doesn't have to withdraw into a winter hibernation. With the right tires, it will continue to accelerate hard in any weather, provided the snow doesn't stack too high. (The rear-drive models fare just fine in winter as well with the correct rubber.)
Mostly, though, the experience of driving the Carrera 4S is the same as driving a rear-wheel-drive 911. It accelerates hard, stops short, corners sharply, and generally does everything with the same precision. Get behind the wheel of a 911, and its imperturbable competence worms its way into your brain, feasting on rational thought. Instead of asking, "How much does it cost?" you'll start thinking, "How can I afford it?" Sell your family's fourth-generation vacation home. Siphon off your kid's college fund. Steal from the collection plate. All of these are sane ideas after some quality time in a 911.
There is one tangible benefit to buying the 4S, too, even if it is remarkably small. Porsche is always minding the pecking order of the more than 20 911 variants in its lineup, and so your extra $7300 earns you the bragging rights of a 4S badge on the back instead of a mere S. Despite a 139-pound weight penalty, the 4S neatly trims a tenth of a second off the rear-wheel-drive S's sprints to 60 mph, 100 mph, and through the quarter-mile, and that advantage only increases on wet or snow-covered roads. The 443-hp twin-turbo flat-six, eight-speed dual-clutch automatic transmission, and all-wheel-drive system all feed a ruthless launch-control program that turns air and gasoline into effortless and repeatable performance. Is 2.8 seconds to 60 mph better than 2.9 seconds? Objectively, yes. Is it worth $7300? We're uncertain about that one.
Roughly two and a half years since the concept was revealed, Genesis has finally revealed its first production crossover, the 2021 Genesis GV80. At least its design has been revealed, since mechanical and equipment details are still yet to be announced. The company did reveal what the "V" stands for, though: versatility.
On the whole, the GV80 looks almost exactly like the concept. It has the same formal SUV shape, almost like a Bentley Bentayga, but not as overwrought. It retains the concept's upswept window line and large D-pillar. At the front is the signature Genesis grille that recently appeared on the redesigned G90. It's actually a little larger than the concept's. The production GV80 also picks up marker lights on the fenders that continue the design of the headlights just like the new G90.
We also get our first look at the GV80's interior. It has a low dashboard with a thin, unbroken air vent that stretches the length of it. The short, wide infotainment screen sits on top of the dash, and the center console rises up and over part of the dash where a set of climate control buttons rests. The center console has a low-profile shifter knob and an infotainment control knob. The steering wheel is a somewhat unique design with one big spoke across the middle.
The GV80 will go on sale in South Korea in January, with other markets following. We expect the company will have more details on engines, equipments and such close to the on-sale date. We know it will use the same platform as the Genesis sedans with rear-wheel drive as standard and all-wheel drive as an option. It will surely have the same twin-turbocharged V6 available in all the Genesis sedans as well as the Kia Stinger GT. Whether any other engines, such as the turbocharged four-cylinder from the Stinger and G70 will be offered remains to be seen.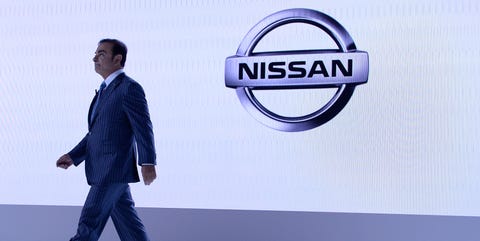 Takashi AoyamaGetty Images
Former chairman of the Renault-Nissan-Mitsubishi Alliance Carlos Ghosn has been reported as arriving in Lebanon, the country where he grew up, after flying there on a private plane.
Ghosn was not supposed to leave Japan prior to his trial on three sets of charges of financial irregularities.
Ghosn released the statement below via email, as reported by Bloomberg News, claiming his "basic human rights" have been violated by Japanese authorities.
UPDATE 12/31/19, 8:40 a.m.: Various publications are claiming Carlos Ghosn effected an escape from Japan by hiding inside a musical instrument box, which was transferred to the airport and onto a private plane. Gulf News, citing reports on Lebanese TV, said a "paramilitary" group came to Ghosn's house "in the guise of a band for Christmas dinner," and they hid Ghosn inside one of their equipment boxes when they left the home at the end of the evening. We will add details as they become available.
Details are sparse and the companies are not yet providing any official comments, but it appears the former chief of Nissan and Renault, Carlos Ghosn, has managed to leave Japan and has made his way to Lebanon. Ghosn was arrested in Japan in November 2018 (and again three more times since then), and it is unclear if his departure from Japan was due to an agreement with authorities or something more cinematic.
However, Ghosn's statement on the matter, as reported by Bloomberg News and others this evening, appears to be the latter. "I am now in Lebanon and will no longer be held hostage by a rigged Japanese justice system where guilt is presumed, discrimination is rampant, and basic human rights are denied," he was quoted as saying. "I have not fled justice—I have escaped injustice and political persecution."
Ghosn is believed to have landed in the Lebanese capital of Beirut on Sunday on a private flight from Turkey, according to French business newspaper Les Echos. The Wall Street Journal says Ghosn arrived in Beirut Monday and has confirmed with a source that Ghosn has left Tokyo, where he had been under house arrest since April 25, 2019. CNBC says that Ghosn violated his house arrest to leave the country.
In 2018, Japanese authorities arrested Ghosn for allegedly underreporting his income. Nissan has alleged that Ghosn used company assets to purchase luxury apartments in Brazil and Lebanon, as well as funneling money to a Saudi businessman to cover a personal debt. Ghosn was born in Brazil but grew up in Lebanon. He is a Lebanese citizen (and also holds French citizenship), and when he was first arrested, in November 2018, the Lebanese government said it would stand by him. The caretaker Lebanese foreign minister to Japan at the time of Ghosn's arrest issued a statement that read: "Carlos Ghosn is a Lebanese citizen who represents one of the Lebanese successes abroad and the Lebanese foreign ministry will stand by him in his adversity to ensure he gets a fair trial."
After his initial arrest, Ghosn spent over 100 days in jail, with the court calling him a flight risk at that time. Ghosn was released in the spring on a bail of around $9 million and was then put under house arrest. Before his house arrest started in April, Ghosn posted to Twitter that he would "tell the truth about what's happening." He then claimed he was the victim of backstabbing and has denied any allegations of wrongdoing. One of the conditions of his house arrest was that he had to stay in Japan to stand trial. A source told the Wall Street Journal that Ghosn was "tired of being an industrial political hostage."
For now, Ghosn's Twitter account is silent about his location and situation, but the WSJ cited a source saying the world can expect an announcement from the international man of mystery via press conference in the coming days.
Mazda's first production-bound electric car, the MX-30, relies on a 35.5-kilowatt-hour lithium-ion battery pack for power. That's relatively small, but the Japanese firm argued it's exactly what the model needs to let motorists drive electric while keeping their environmental footprint in check.
Christian Schultze, head of Mazda's European research and development center, told Automotive News Europe the MX-30's battery is responsibly-sized. He explained engineers took a variety of factors into account when debating kilowatt-hours, including how much energy is required to build the pack, how much electricity is needed for a full charge, and the environmental impact of replacing the battery, which Mazda expects could be necessary after the MX-30 has covered about 100,000 miles.
Sticking with a smaller pack yields total CO2 emissions on par with a turbodiesel-powered Mazda3. In contrast, using a 95-kilowatt-hour battery (which is close to what Tesla's bigger models use) would have increased the MX-30's life-long CO2 output considerably by requiring more energy to build, and needing far more electricity to achieve a 100% charge.
We're not quite sure that math or battery longevity assumption hold up under scrutiny. In any case, small is the direction Mazda decided to go. The trade-off is that the MX-30 (pictured) is expected to drive for about 124 miles between charges, and that figure was achieved on the hugely optimistic WLTP testing cycle; real-world mileage will be lower. That's hardly a jaw-dropping number, and the crossover doesn't qualify for the coveted long-range label, but Schultze told British magazine Autocar it's more than enough to cover the daily transportation requirements of the average European motorist, which stands at a total of 31 miles. That's significant, because Europe will be one of the MX-30's key markets.
Deliveries are scheduled to begin in early 2021. Mazda hasn't announced whether it will sell the MX-30 in the United States, or if it will wait until it has a longer-range electric car to enter the segment.
SHANGHAI — Tesla started delivering Model 3 electric cars built at its Shanghai factory just under a year after it began work on the $2 billion plant, a record for global automakers in China, and said it would ramp up deliveries from next month.
The American electric vehicle maker marked the start with an event on Monday where 15 Tesla employees received cars they had purchased, one of whom took the opportunity to propose marriage to his girlfriend after getting his new set of wheels.
The China-made Model 3 sedans are priced at 355,800 yuan ($50,000) before subsidies. Imported Model 3 vehicles start at 439,000 yuan for the longer-range version, while the standard range plus model costs under $40,000 in the United States.
The Shanghai plant, up and running in just 357 days, is part of Tesla's plans to bolster its presence in the world's biggest car market and minimize the impact of the U.S.-China trade war.
The automaker, which previously imported all the cars it sold in China, had said it wanted to start deliveries from the Shanghai plant before the Lunar New Year beginning on Jan. 25.
"From now onwards China-made Model 3 vehicles will start running on China's large streets and small lanes," Tesla Vice President Tao Lin said at the delivery ceremony which was attended by employees and Shanghai government officials.
China General Manager for the Silicon Valley carmaker Wang Hao said Tesla plans to ramp up Model 3 deliveries in January.
The Chinese government has been supportive of the factory, the first wholly foreign-owned car plant and a reflection of Beijing's broader shift to open up its auto market.
CHINA PUSH
Tesla has taken a different approach to the Chinese market, the world's biggest for electric vehicles with 1.3 million new-energy vehicles sold last year, as is evident from its marketing blitz in the country that is quite unlike anywhere else.
The company and its flamboyant billionaire CEO Elon Musk openly disdain marketing, but in China Tesla has offered racing events and showroom parties.
It is also building service centers and charging stations across China to assure customers of standardized after-sales service, Tesla's senior executives said, confirming a Reuters report on the plans published last month.
The automaker will double the number of service centers and fast charging stations in China next year, and plans to more than double its after-sales workforce to 1,500 from about 600 currently, the executives added.
Wang also told reporters the plant had achieved a production target of 1,000 units a week, or around 280 cars a day, and that sales for the China-made sedan had so far been "very good".
Related Video: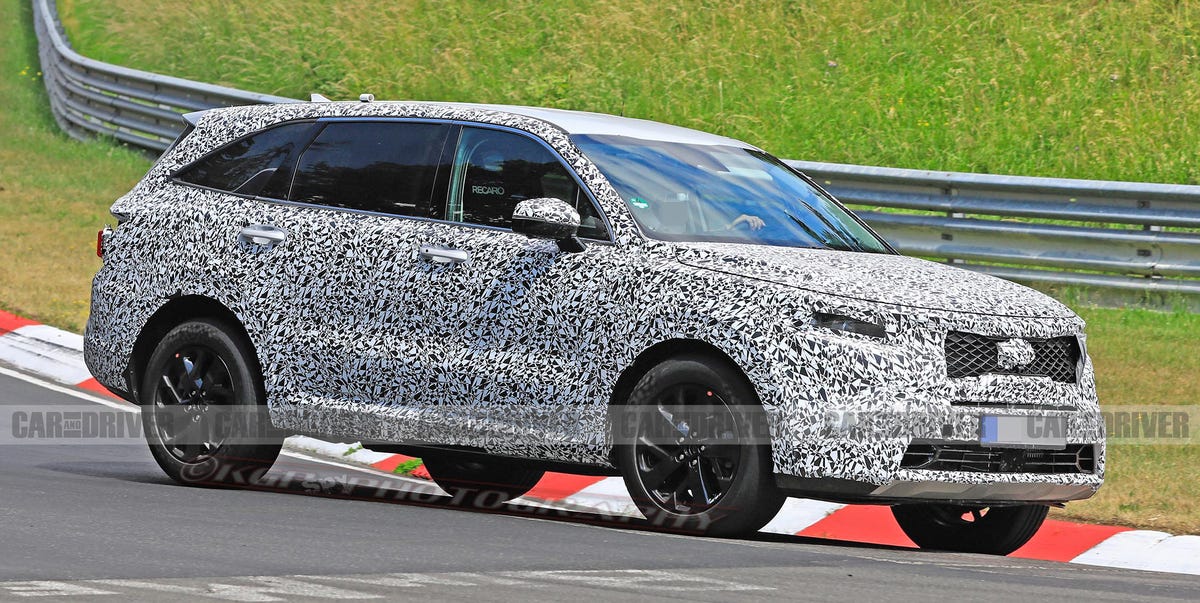 The next-generation Kia Sorento mid-size crossover will be available with both hybrid and plug-in-hybrid powertrains.
We've already seen spy photos of the redesigned Sorento, which will be related to the Hyundai Santa Fe.
Expect to see the redesigned model arrive in mid-2020 as a 2021 model.
Kia is planning to add both conventional hybrid and plug-in-hybrid powertrains to the Sorento mid-size SUV, according to Emilio Herrara, Kia Europe's chief operating officer, who confirmed these new models in an interview with Automotive News Europe. The Sorento hybrid and plug-in hybrid will arrive in 2020, Herrara said, in conjunction with the crossover's impending redesign.
We've already spied a prototype for the next-gen Sorento (pictured), giving us a hint at its updated styling. These multiple hybrid variants will make it a relatively rare proposition in the mid-size crossover segment. The only other similarly sized nonluxury models currently available as hybrids are the Ford Explorer and the Toyota Highlander, and the only nonluxury plug-in-hybrid SUV for sale in the U.S. is the Mitsubishi Outlander PHEV.
Herrara did not share any details about the hybrid drivetrains, but we expect that both the hybrid and plug-in-hybrid systems will use a four-cylinder gasoline engine rather than a V-6 for better fuel efficiency. Neither Kia nor its corporate cousin Hyundai has yet offered a hybrid version of a vehicle this large, so we imagine this system will be beefed up for SUV duties compared with the hybrid systems available in vehicles like the significantly smaller Niro crossover and Optima hybrid sedan.
The redesigned Sorento is likely to arrive within the next few months as a 2021 model, although it's not clear if the hybrids will launch concurrently with the nonhybrid models for the U.S. market.