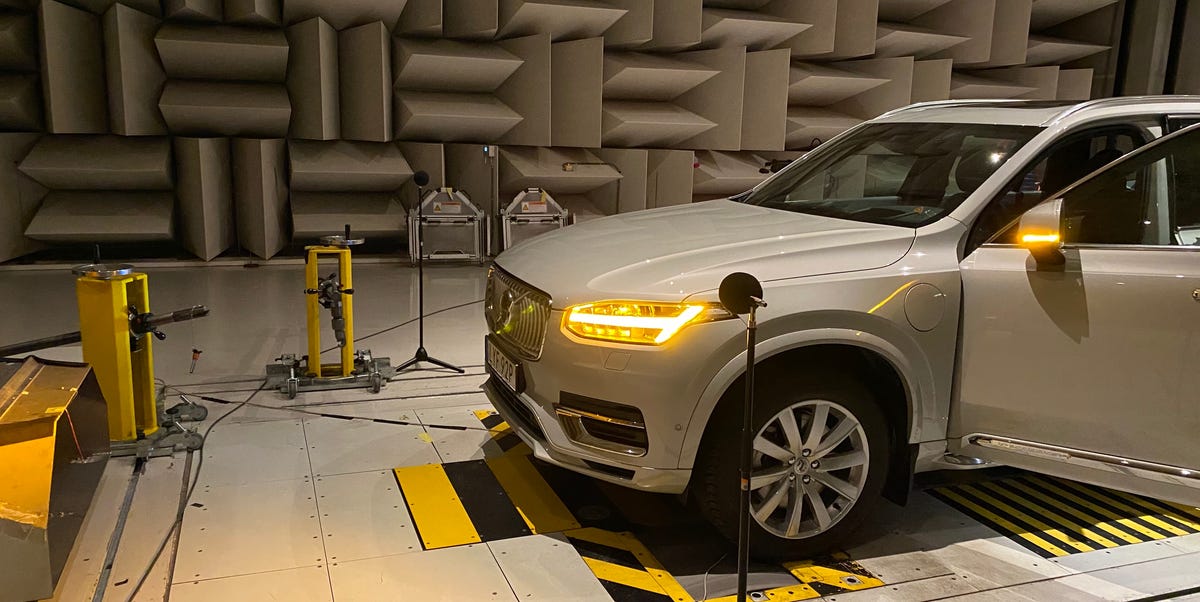 The upcoming Volvo XC40 Recharge EV will make a low-speed noise that started as a human voice.
The turn-signal sound in current Volvos started as the sound of a stick breaking in two.
Volvo says 300 sticks were snapped before the right sound was found.
At its headquarters in Gothenburg, Sweden, Volvo's Active Sound Experience is building the noises that issue from current and future cars. During a tour of the facility, sound designer Frederick Hagman demoed the noise that the upcoming XC40 Recharge EV will make while it's stopped, moving slowly, and driving in reverse. He also shared a tidbit about the current noise heard in Volvos every time you use the blinkers: it's the sound of a stick being broken in two.
The stick in question was either from a spruce or fir tree located in a forest about 60 miles from Volvo HQ. Hagman said Volvo's team went into the forest and recorded about 300 sticks breaking to get the source audio file needed for the blinker. After returning and listening to all the sticks breaking to find the right one, Hagman said, they then layered the sound and adjusted its pitch up and down to create the two noises.
"We wanted something which was more kind of full-body," Hagman said.
Finally, the sound designers slowed the timing between the clicks to a more calming rate of about 150 beats per minute. All for something Volvo drivers hear before turning or changing lanes.
Volvo has made a huge push toward sustainability; Hagman even noted, in jest, that the sticks the automaker used were already dead and gathered from the forest floor. But it also helps that a dry, dead stick has much more of a crack while breaking than one right off a tree.
That sort of natural source material for a sound is also the base for the automaker's upcoming EVs. For the XC40 Recharge and other electrified Volvos, the noise the vehicles make while standing still is a vocal sample. As with the stick sound, the original audio has been adjusted and layered. In this case, the sound resembles a slowly pulsing choral ensemble that's meant to be relaxing. It's very subtle and only meant to be heard from about six feet away.
While the vehicle is moving forward, a slight hum is created. Its gets louder as the vehicle speeds and cuts off at about 18 mph. In reverse, that same sound is accompanied by a sort of electric heartbeat beeping. It's not nearly as annoying or loud as what you'd hear from a truck or a piece of construction equipment. One person likened it to sonar.
All of these noises are created out of the desire to reduce the sound pollution of vehicles as much as possible while still emitting audio that warns pedestrians, bicyclists, and other drivers of the approach of a vehicle. The desire is to not startle but to grab attention.
As more and more EVs show up on roadways—each with its own unique low-speed sound—parking lots and residential areas will soon have an orchestra of competing alerts. How well those alerts work compared to the rumble of a combustion engine is yet to be seen. What we do know is that somewhere in a Swedish forest, there's a tree that birthed a turn signal click, and that's about as Volvo as Volvo can get.
Chevrolet recently hosted media for first drives of the 2020 C8 Corvette. Among the novel discoveries related to the most important Corvette launch since the original Corvette, the Detroit Free Press dove into the lengths GM engineers went to in order to hide their work on the seismic product. When it came time to create the vehicle that would justify the thousands of hours of computer simulations that set performance targets, the Corvette engineering team hid its first mule under the bodywork of a Holden Maloo ute codenamed Blackjack. Built in 2014 over eight months, the hand-formed fiberglass panels and C7 Corvette A-pillars and windshield were attached to a prototype aluminum C8 Corvette chassis milled from solid chunks, individual pieces farmed out to various GM outposts.
The two-seater cabin was fitted with C7 Corvette furniture, while the ute's bed hid a C7 Corvette's 6.2-liter V8 mated to a Porsche double-clutch transmission. The high-rise wing on the back sent cooling air to the engine through holes in the wing stanchions, and was used to create lift instead of downforce in order to balance the lift created at the front of the car. Blackjack served test drivers for two years at GM's proving grounds in Michigan and Arizona, testing shifts often held overnight to avoid sight even by other GM employees. To prevent spy photographers in helicopters from seeing the car during daytime drives, the team fashioned a custom car cover and practiced unfurling it and covering the car as soon as they heard the copter's rotors. The drills paid off, engineers called on to protect the car from airborne snoops at least 12 times.
Head over to Freep for pics of the Maloo and a bunch more fascinating details, such as the tale of Corvette godfather Zora Arkus-Duntov racing Porsches at Le Mans and winning while working for GM, the "What Would Zora Do?" wristbands, and the "flying car mode" that continues to send power to the wheels when the Corvette goes airborne on track so racers don't lose time upon landing.
Related Video:
If you'd like to try your hand at driving for Uber and/or Lyft, but don't have access to a vehicle, we have plenty of resources for you. Both companies offer a variety of vehicle options. And there are lots of third-party companies popping up all over the country that are creating even more options for drivers. But first, let's take a look at some serious mistakes drivers can make when it comes to getting a car for rideshare driving.
Pitfalls
Without a doubt, the biggest mistake we see drivers making is when they get trapped into a long-term commitment to a car that's too expensive. Many drivers overestimate what they can make doing rideshare driving, and they underestimate how many hours it will take to make it. A lot of drivers have gotten trapped into lease and rental contracts where they ended up having to work 14-16 hours a day just to make the payments. The worst is when drivers get into multi-year agreements that work out fine right now, but a few months down the road Uber and Lyft lower driver pay, making it harder and harder for them to make the payments.
We don't want to see that happen to you, so our best advice is don't get into any commitment that's longer than a year for a vehicle if your sole purpose for using the vehicle is to drive for Uber and Lyft. That's because you never know when Uber and Lyft might lower their rates and make it nearly impossible for you to make the payments that were initially very doable.
We also recommend that you rent, lease or borrow a car that you can get into for no more than a 30-day commitment and try rideshare driving for a month before making any commitments longer than that. Many surveys have found year after year that Uber and Lyft lose half of their drivers every year, so it's really not something people should make a long-term commitment to until they've really put some time into it checking it out.
You should also test it out for at least 30 days so you'll have a much better idea how much you should be willing to spend on a vehicle. Don't rely on what other local drivers tell you about how much they make. Drivers are often less than truthful about that, as they have many different reasons to mislead others. They may tell you they're making more than they are so you won't think they were dumb for getting into this business. They might tell you they're making less than they are hoping to discourage you because they don't want more competition on the road from other drivers. Some may tell the truth, but many have better reasons to mislead you.
Once you find out how much you can make, we recommend looking for a car deal where your weekly payment will be less than half of your average income during your test-drive weeks.
We're still seeing a few lease deals where drivers are being charged up to $700 a week for a vehicle. We've seen this in New York for the luxury high-end SUVs. If you drive five days a week that comes to at least $140 per day. You'd need that car to consistently pump out at least $300 a day for that to begin to be worth your time, but with the very low rates Uber and Lyft are paying today, even for SUVs, it would take around eight to 10 hours of driving each day just to cover your car costs. Even if you drove seven days a week, this would cost $100 per day and take pretty close to a full 10 hours of driving to cover, and that's before you start to make anything for yourself.
To put it another way, it is estimated that drivers earn on average between $13 and $16 an hour nationwide. So, let's say you're earning about $15 an hour, and you're renting a car that costs $700 a week and you plan to drive 50 hours a week. You can see, you're not going to make very much. The cost of your car comes to $14 an hour — which will leave you with a measly $1 an hour profit.
But if you look for a more modestly-priced vehicle, like a Toyota Camry or Volkswagen Jetta for say around $185 per week, and drove the same 50 hours as above, the car cost would only nick $3.70 off your hourly pay.
The benefit to renting or leasing a car for rideshare driving is that all your costs are included in your weekly or monthly payments. There will be no surprise maintenance or repair costs — as long as you partner with a company that covers those things — and most of them do. So while the weekly or monthly cost will be a little higher than what you would pay if you purchased a vehicle, you won't have any surprises at the end of the day.
Car options
You basically have three options when it comes to getting a vehicle for ride-hail driving. You can purchase a car, or lease or rent.
When all is said and done, it will cost you just about the same whichever way you go. The difference is when you pay and how easily you can get out of the deal of you have a change of heart. If you purchase a vehicle, you'll pay the biggest part of the cost on the tail end when you sell it. That's when you'll feel all the depreciation those miles put on your car. But if you lease or rent, you'll actually be paying that depreciation cost every week, as you go, which means less money for you now.
Obviously, getting out of a purchase is a lot harder than ending a short-term week-to-week rental. Traditionally, a lease is nearly as hard to get out of as a purchase, but today there are a lot of companies offering short-term leases specifically designed for rideshare drivers. These leases are usually for just a year, compared to two and three years for a standard traditional lease.
Hyrecar is a peer-to-peer car rental service designed specifically for rideshare drivers. Car owners can advertise their vehicles on the service and local Uber and Lyft drivers can book the cars through the website. It's like Airbnb, but for cars. Hyrecar takes care of all the necessary rideshare insurance, but of course you have to have your own personal auto insurance as well.
The rates generally run from between $150 and $300 a week. Hyrecar is a great way to test the waters for any length of time you like because you can rent for a single day or for a week or month — whatever suits your needs. However, since you are renting from individual car owners, there is sometimes friction between the renter and the owner. For instance, you may find the car you want to drive but the owner is only renting it out for a week when you might want to keep it for a month. These kinds of mismatches in supply and demand can cause significant problems in using this service.
Hyrecar is available pretty much nationwide.
This company partners with Uber and has a whole program devoted specifically to Uber drivers. You must be approved to drive with Uber to rent from Fair and you must be at least 21 years old. Prices start at $130 a week and include unlimited mileage, routine maintenance, roadside assistance, vehicle registration and warranty. This is an open-ended lease option, not technically a rental. However, you can end it at any time with no penalties so functionally it works much like a rental.
While they say you can begin renting for $0 down, there is a $185 refundable security deposit and they will do a soft credit check.
Fair is available in select markets.
For Lyft drivers, there is Lyft's ExpressDrive and it works much like Uber's Fair. Both companies offer various carrots and sticks for using their rental program. While the rules and incentives frequently change, they tend to tie drivers into working only for the company they rent the car from. If you rent from Uber's Fair, you'll fair better if you stick to driving only for Uber. That's because the more you drive for them, the more bonuses and incentives you'll get toward the car rental fees. While both companies allow you to drive for the other with these rentals, they do everything in their power to keep you driving only for them.
With Lyft's ExpressDrive, everything is paid for: rideshare insurance (in addition to your own personal auto insurance, which is always required), routine maintenance, licensing and registration, etc. They also include roadside assistance should the car break down on the road. You can return the car anytime after seven days. So, you are required to initially make a seven-day commitment but after that, you're free to let it go any time.
ExpressDrive has limits on how many personal miles you can drive, although they offer unlimited mileage while signed into the Lyft app. They also have various requirements, such as Miami drivers being required to give 20 Lyft rides every seven days while they're renting the car.
Uber also partners with Getaround to offer cars by the hour. Starting at just $4 an hour, you can hop in and hop out whenever you have a couple of extra hours to drive. This service is available in select cities, including Atlanta, Boston, Denver, Los Angeles, Philadelphia, San Francisco Bay Area and Washington D.C.
If you drive a lot of hours, a weekly rental is probably better suited to you. Weekly rentals are $239 per week, and if you commit to four weeks at a time, $219 a week.
You can pickup a Getaround vehicle by using the Getaround app. Please note that Getaround also does regular car rentals to non-Uber drivers. If you're driving for Uber you have to select a car from the "Drive with Uber" section of their app. Those are the only cars in their stock of vehicles that are available for Uber drivers.
Related Video:
Environmental activists have announced they're calling for a ban on purchases of new gasoline-powered vehicles priced over $50,000 in the city of San Diego.
To get the measure on the ballot for a vote in November, they will need 76,500 verified petition signatures, which the group behind the action, Breathe Free America, says it will start collecting in March.
The city clerk, though, says it recommends groups usually start a year before the election to get everything collected and delivered in time.
It's still early days, but there's a move afoot in San Diego to ban anyone from buying a gasoline-engined car that costs more than $50,000 inside city limits. If you live in the city but want to be sneaky and buy your pricey fossil-fuel ride somewhere else, you'd have to pay a new 2.5 percent use tax for the privilege if this plan comes to fruition.
That's a big if. For now, this proposal is nothing more than a notice of intent to circulate a petition to make these rule changes happen. A group calling itself Breathe Free America is behind the initiative. The group says that it will soon begin collecting the 76,500 verified signatures it will need to get the proposal, called the Clean Vehicle Initiative, on the November 2020 ballot. The group says San Diego "could become the first city to start banning gas cars and start a nationwide movement," which explains the group's non-San-Diego-specific name.
The Clean Vehicle Initiative would ban the "sale, leasing, or transfer of any personal-use vehicles valued at over $50,000 pre-tax" while exempting fully electric and fuel-cell vehicles. Any vehicles primarily used for commercial purposes, government vehicles and some special use vehicles would also be excluded from the ban. It would also only apply to vehicles manufactured after January 1, 2021. San Diego already has one of the higher EV adoption rates in the country, according to the International Council on Clean Transportation.
Breathe Free America says the new 2.5 percent use tax would raise up to $30 million for the city and that it will start gathering signatures throughout San Diego in March.
That may not be enough time, according to a public relations officer for the San Diego city clerk, who told Car and Driver that it usually recommends groups start collecting signatures for ballot proposals a year before an election. The deadline for the city to receive all of the verified signatures and to file them with the registrar of voters is 88 days before the election, or August 7. The clerk said that the city did have a group contact them about filing this petition, but nothing official has been submitted to the city clerk's office at this point.
As for why Breathe Free America wants to ban the sale of higher-price-tag gasoline cars, the group's website says that this initiative "would reduce CO2 emissions by 18,000 metric tons in the first year alone." As a city that has some of the worst air quality in the country, the initiative "would be an opportunity to improve the air quality and health of everyone in the community," according to the activists.
Who Are These People?
Breathe Free America is not keeping its mission a secret—its slogan is "Reject Extinction"—but the people involved are not eager to reveal themselves. There are no social media links or contact information provided on the Breathe Free America site, and the website's domain name is protected by the WHOIS Privacy Service. Submitting an email address to the group so far has only resulted in getting a confirmation email. Perhaps once the signature collection process gets rolling, more details will become available.
BARCELONA — Ferrari Formula One boss Mattia Binotto said on Friday he was less optimistic about his team's pace than he had been in testing last year and rivals were faster than them.
Champions Mercedes have been impressively quick in the first week of testing at Barcelona's Circuit de Catalunya while Ferrari, their closest rivals last year, stood out on Friday for an engine problem that halted Sebastian Vettel.
On Wednesday, the first day all of the 2020 cars were out on track together, Ferrari's Charles Leclerc managed only the 11th fastest time.
Vettel was sixth and Leclerc eighth on the Thursday timesheets.
Leclerc said afterwards that Ferrari were taking a different approach after last year setting the pace on the test track but then having their hopes dashed in the opening races.
"The others are faster than us at the moment, I believe," Binotto told reporters on Friday.
"How much faster I think it's really difficult to judge. We will go through all the data in the next days, but I don't think we are as fast as them at the moment."
He was speaking after Mercedes' Valtteri Bottas had lapped three tenths off his pole position time from last year's Spanish Grand Prix, which remains an all-time track record.
Teammate Lewis Hamilton, aiming to equal Michael Schumacher's record seven titles this year, was fastest on Wednesday.
Racing Point, whose car looks like a pink painted version of last year's Mercedes, have been fast and reliable while Red Bull's Max Verstappen has been noticeably cheerful after a prodigious number of laps.
"Do we have any concerns? Certainly yes, when you are not as fast as you would like to be," continued Binotto. "But I think it's really too early to define them and to understand.
"So these three days for us have been very important because at least we have collected all the data now to have a clear picture and better understanding."
Providing some hope for Ferrari fans desperate for the team's first title since 2008, when they won the constructors' championship, Binotto said the season was long and all was not lost.
"I think there will be time to recover eventually," he said. "I think Ferrari will be a beater if you consider the overall of the season. Will Ferrari be a beater already in Australia? Maybe not."
Ferrari won three races last season, two of them with Leclerc, but let other good chances slip through their fingers through mechanical failures or driver error.
The season — which could be a record 22 races if the Chinese Grand Prix is reinstated later in the year after being called off due to the coronavirus — starts in Melbourne on March 15.
There are three more days of testing in Barcelona next week.
Related Video:
It's rare to see a major automaker "retire" a brand, as GM called the abrupt demise of Holden earlier this week. The century-old Australian brand is set to be shut down by year's end. These types of events date back to the dark days when GM was forced to shutter Pontiac and Saturn and watch Saab struggle along. But Holden's closure is happening in a different era for the auto industry and largely absent any great external forces, such as a worldwide economic crisis requiring government bailouts.
Instead, Holden's demise, despite the sudden announcement, could best be described as death by a thousand cuts amid a slow-burning regional decline for its parent automaker.
While the decision to shutter the brand might have come as a surprise to those not following the Australian auto market closely, Holden production on the continent had ended about three years ago, with GM relying on its other factories in the region to produce Holden models for export to Australia and New Zealand. The move to shift production outside Australia was made back in 2017, one that indicated the brand itself was on shaky ground. But even before 2017 Holden had been on shaky ground for some time.
GM's official statement made only a perfunctory effort to obscure the depressing nature of this event in corporate-speak, in a statement titled "GM Accelerates Transformation of International Markets."
Given that title alone, it might have been difficult to tell it was an announcement that GM would rapidly close down a brand that has existed since the middle of the 19th century, first as a saddle-maker, and later as an automaker long considered the official ambassador of Australia's auto industry.
"General Motors is taking decisive action to transform its international operations, building on the comprehensive strategy it laid out in 2015 to strengthen its core business, drive significant cost efficiencies, and take action in markets that cannot earn an adequate return for its shareholders," read the opening paragraph.
But what financial considerations had led to the actual decision to close the brand by the end of the year?
GM Holden's last boss, Kristian Aquilina, indicated to Australia's Motoring that the investment required for a turnaround plan was too great, and the return on investment was not seen as being substantial enough to pursue.
"In this investment cycle, we developed an ambitious investment—an investment proposal to turn around our current performance and to see Holden flourish in this market, not just survive," Aquilina told Motoring.
"And over a number of months, GM undertook an exhaustive analysis of that plan; together with our parent company we chased down every conceivable option, every strategy, every plan . . . We looked under every rock," he added.
While it's still difficult to get a detailed picture of the all the forces that Holden would have had to overcome, one very visible cost of maintaining Holden, even with production outside the country, was the investment required to produce right-hand-drive versions of GM vehicles for Australia's consumption. And that's given the likely expectation that no models would be unique to Australia — they were not unique for quite some time, in fact—with the lineup representing a mix of U.S. and Asian-market models sold under Chevrolet, GMC and Buick brands.
Motoring reports the cost of engineering right-hand-drive versions of these models would have largely fallen to Holden because it offers vehicles aimed primarily at left-hand drive markets; all models, including the Holden Acadia (GMC Acadia), Holden Commodore (Buick Insignia), Holden Equinox (Chevrolet Equinox), Holden Trailblazer (based on the Chevrolet Colorado pickup), have largely been produced in right-hand-drive form for Australia and New Zealand, but the majority of their production was aimed at other markets. Of course, merely closing Holden is also expected to cost $1.5 billion in Australian dollars.
In effect, it would have been too expensive even to offer badge-engineered, right-hand-drive versions of GM vehicles produced for other global markets.
If there is one parallel that could be made to other GM brands shuttered a decade ago it's that by their last years they were rebadged versions of something else. If you recall, Pontiac relied on Holden models in its twilight years, Saturn models were mostly Opels/Vauxhalls, and Oldsmobiles were thinly disguised versions of other GM cars made for the U.S. market. Not even Saab escaped badge engineering, offering its own version of the Chevy TrailBlazer and Subaru Impreza. The jury is still out on which of those two made a less convincing Saab, but the last couple of years it existed, the brand managed to roll out an original-looking 9-5 and was just a couple of weeks into production of the 9-4x crossover, just a few hundred of which were produced.
Holden's postmortem is still being written, and it's still early to pinpoint the moment in time that was the brand's point of no return. But it likely happened long before production had left Australia, and Holden was forced to rely on GM models manufactured elsewhere, for other markets, just as it had with other GM brands that were closed down earlier in this century.
LAS VEGAS — Let's forget for a moment that there's ever been a Corvette. That there are no expectations for where the engine should be, the type of suspension used, the quality of the interior or the type of people who stereotypically buy one. It's within this vacuum we're going to consider the 2020 Corvette Stingray as it pulls up resplendent in highlighter yellow, its seat belts and interior stitching to match. Smartphone cameras come out, necks crane, people notice, and in a place where such things are important no less: the valet stand at the Cosmopolitan, the classiest and coolest hotel on the Strip. For a high-priced sports car to truly succeed, even if it's relatively low-priced for its capabilities, drawing such attention from outside the car enthusiast community is vital. This is where the Porsche 911 transcends, attracting enthusiasts drawn to its specs and track prowess, while also luring luxury buyers for its style, the Porsche badge and simply the way it makes them feel. This is the standard for the 2020 Corvette.
The C8 makes it easy to consider it with such a blank slate. This really is an entirely different car than the one it replaces for reasons beyond its engine placement and coil-over shocks in lieu of transverse leafs. Sliding into the snug seat dropped to the floor, the view ahead is filled with pavement rather than hood; the view behind is atrocious, filled with glare, bodywork and the 6.2-liter V8 displayed like a showpiece through 3.2 mm of glass. Firing it up is less histrionic than you might expect given its size and position just behind your ear, and the push-rod engine settles into a distinctive tick-tick-ticking at low RPM that you couldn't hear if it were mounted forward of your toes.
The interior surrounding you, and I do mean surround, is unlike anything on sale today or ever. It makes a bold statement that this car is different, special and will be remembered. The sail panel rimmed with climate buttons rises from far aft on the center console to greet an 8-inch touchscreen aggressively angled toward the driver. A thoughtful wrist rest sits below allowing you to fix your hand in place when using the touchscreen while also concealing the rotary drive mode selector below. For the driver, the overall design is brilliantly encompassing and brings full meaning to the word cockpit. For the passenger, you feel like you're in a sidecar. At least it's a nicely adorned sidecar, as most surfaces are covered in either leather or a convincing substitute depending on trim level. The plastics are acceptable for a price range north of $60,000, and Chevy says that if something looks metal, it is metal. Colorful interior options ensure a degree of customization that's a must in the high-priced automotive bauble stratosphere.
Pulling away from the Cosmopolitan, several significant bumps prove the value of GM's latest iteration of its magnetically controlled adaptive suspension (FE4 in Chevy code speak). There's much to be said about its ability to constantly adjust itself and firm up around a track, but it's the suppleness it shows around town and on the freeway that makes it worth every penny. That, plus the pleasantly weighted steering, minimal noise and brilliantly smooth new eight-speed dual-clutch gearbox that blurs through shifts in easy driving like a regular automatic, makes the C8 a kitten to drive. Looking for a weekend toy that can actually go places? This can be it. Two functional trunks help on that front, too.
Putting a small block V8 in a mid-engined car is unusual when every other car with such a layout is turbocharged, revs to a screaming limit or is a hybrid. For the Corvette faithful, this is a must. In our vacuum, it's characterful and provides requisite uniqueness. Boasting 495 horsepower and 470 pound-feet of torque with the optional Z51 track package's performance exhaust (490 hp and 465 lb-ft standard), the new LT2 engine is derived from the old LT1. Though it has old-school pushrods, it also has new-school variable valve timing, direct injection, cylinder deactivation and a standard dry-sump oil system that defies the laws of physics by keeping the engine sufficiently lubricated up to 1.25 lateral g.
With so much torque on hand, there's enough low-end grunt that you're planted in your seat and shifting isn't frequent, but as it reaches its peak at 5,150 rpm, it doesn't arrive with the same immediacy as a turbocharger or electricity provide. On the other hand, throttle response is exceptional, a credit to natural aspiration. It all comes with a deep, guttural warble (admittedly "accentuated" by speakers) and a dual-mode performance exhaust that's far more noticeable outside than in – good thing the removable roof panel is standard.


The C8's steering lacks the fingertip delicacy and communication of the similarly priced and mid-engined Porsche 718 Cayman, but the rack-mounted EPS is consistently weighted and precise. It's also quicker than before (a ratio of 15.1:1 versus 16.25). You're closer to the front wheels in a mid-engined car, and true to form, you can feel the C8 tuck neatly into turns at your feet while the rest of the car pivots around your backside. The steering wheel itself has drawn guffaws for its goofy shape, but its diameter is tiny and its unique shape satisfies the goal of providing leg clearance and maintaining an unencumbered view of the instruments and the road ahead.
The guffaws should really be directed at the downward-pointing spokes that oddly meet your hands at 4 and 8 o'clock. After several laps of the Spring Mountain Motorsports Park track, my right wrist began to ache from repeatedly moving in an atypical way. Moving up to the usual 3 and 9 alleviated this, but there are no grips there.
Through the constant radius sweepers of Spring Mountain, the 2020 Corvette demonstrated its superb balance and ably allows you to set your steering angle and manage the car's trajectory with the sharp throttle. Grip is plentiful, but unlike a high-powered, front-engined sports car, it doesn't feel like the admittedly fat 305/30ZR20 rear tires are doing most of the work keeping you right way round. It feels more natural and balanced, the result of having 60% of the car's weight over the rear axle.
The Corvette Stingray we drive at Spring Mountain, pictured above, is equipped with the Z51 track package. It adds an electronic limited-slip differential, larger Brembo brakes with four-piston monobloc calipers, enhanced cooling, Michelin Pilot Sport 4S tires, a specific axle ratio, the performance exhaust, front splitter and two-piece rear spoiler that together add up to 400 pounds of downforce, and the track-tuned FE3 suspension (the base is FE1 and there is no FE2) that alters the springs, sway bars, dampers and electronic calibrations. You can enhance all of that with the optional $1,895 FE4 magnetic suspension, a bigger wing and a pair of upgraded seats. While we didn't get a chance to try the $1,495 mid-grade GT2 seats, we'd recommend trying out the $1,995 top-of-the-line Competition Sport seats before placing your order — both of your Autoblog test drivers are on the slender side and found the seat bottom uncomfortably pinchy. The standard GT1 seats (pictured below) were fine in that regard and still provide adjustable side bolsters that kept us sufficiently in place on the track. The low roof and roll structure also caused headroom issues for this pair of 6-foot-plus drivers, especially with helmets on the track.
Much has been made that the C8 is not available with a traditional manual transmission, but it doesn't have a traditional automatic, either. Frankly, both would be out of place in what is effectively a mid-engine supercar capable of blitzing from zero to 60 in 2.9 seconds. On the track, the new eight-speed dual-clutch automated manual developed by GM and Tremec is smart enough to shift at the right time most of the time, but there were nevertheless a few odd downshift choices and moments when pulling a paddle was needed. That virtually never happens when using the most aggressive settings of Porsche PDK or Mercedes AMG's automated manual, but this is a critique concerning degrees of excellence. GM and Tremec should be applauded for their effort.
So too should the Z51 package's fat Brembo brakes that took lap after lap of pounding while maintaining their reassuring pedal feel. That pedal itself is also nicely placed for left-foot braking, which can't be said for Porsche's.
There are a few other odds and ends that should make the C8 competitive beyond its performance and relevant for those outside the typical Corvette-buying realm. GM's latest rear-vision camera is standard and, given the typically terrible mid-engine rear visibility, absolutely necessary. The standard removable roof panel means the Corvette is always a convertible, even if you don't get the actual 2020 Corvette Convertible that will include a now-rare retractable hardtop (it arrives later in the year). The steering wheel can be heated, and all seat options can be heated and ventilated. There are 10- and 14-speaker Bose stereo choices with snazzy metal speaker grilles, the high-resolution touchscreen that controls them is easy to use, the color head-up display is visible through polarized sunglasses, and the 12-inch all-digital instrument display changes its design depending on the drive mode selected. The optional $1,495 front-end suspension lift matches what you can get in a 911, Lamborghinis and other high-end sports cars prone to the ravages of driveways and in-road drainage ditches, but it goes further by uniquely working with the in-car GPS to remember where those spoiler-scraping nuisances are and automatically lifting the next time. If there's a glaring omission, it's the lack of adaptive cruise control as well as forward collision mitigation.
In other words, the expected gizmos are in place, and after spending two days considering the C8 in the fresh light such an entirely fresh take deserves, Chevrolet has indeed created a Corvette that can appeal to those beyond the usual Corvette clientele. Actually, if it's reminiscent of anything, it isn't a previous Corvette, it's the original Acura NSX. That too was a mid-engine sports car, but different than everything else. It had a decently sized trunk, a surprisingly comfortable ride, a unique interior and a price tag that undercut competitors. My head even grazed its roof roll structure, too. Perhaps Corvette loyalists won't like the sound of that comparison, and it's perfectly conceivable they'll prefer the more traditional C7, but for the Corvette to survive to see C9 and C10, pressing the reset button was necessary to draw in new people. Will it and how many? That remains to be answered, but at least the Cosmo's valet stand provides a glimmer of hope.
Related Video: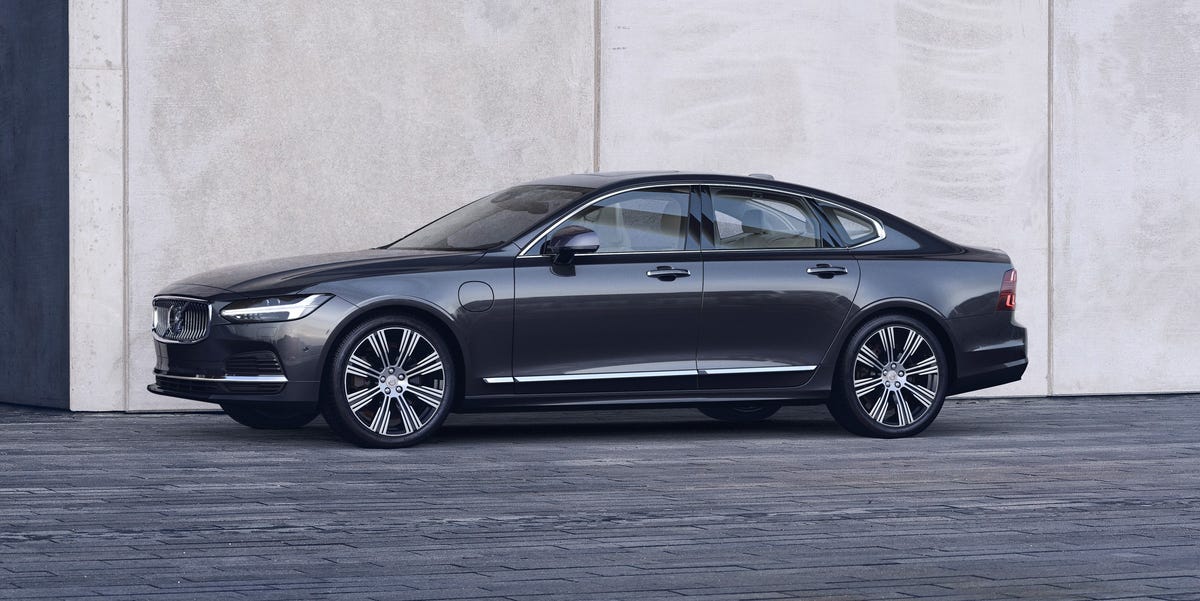 Overview
The Volvo S90 is an elegant, uniquely Scandanavian luxury sedan that offers a distinctive personality in a field of German competitors. Rather than sporty handling and big power, it trades on comfort and serenity thanks to its plush interior and comfortable ride. We also find its minimalist design to be particularly attractive inside and out. While we don't have full U.S. details on the updated 2021 model, we think the two engine choices will continue from before: a T6 model with a turbocharged and supercharged inline-four, and a T8 plug-in-hybrid that adds an electric motor for more power and a bit of all-electric driving range. Plenty of driver-assistance features are on hand to back up Volvo's reputation for safety.
What's New for 2021?
The S90's styling is ever so slightly updated for 2021. You'll be hard-pressed to spot the new front bumper, revised fog lights, updated wheel designs, and reshaped rear spoiler, but they serve to modernize the car's look a bit. There are also new features including an upgraded Bowers & Wilkins sound system, wireless smartphone charging, and USB-C charging ports in the rear.
Pricing and Which One to Buy
T6 AWD: $53,000 (Est.)
T8 eAWD: $66,000 (Est.)
Volvo has not yet released trim-level information for the 2021 S90, but we'd guess that the Momentum, R-Design, and Inscription trim levels will continue. We'd choose the Momentum for its value equation, as it's nicely equipped for the money.
Engine, Transmission, and Performance
The base powertrain is a turbocharged and supercharged four-cylinder and is called T6. Our T6 Inscription test vehicle ran from zero to 60 mph in 5.9 seconds—but it's not the hottest S90. The 400-hp plug-in hybrid T8 version debuted last year and it blasted down our test track, matching results of the six-cylinder BMW 540i xDrive (4.5 seconds) in our zero-to-60-mph testing, but out on the road we noticed some occasional hiccups when driving the hybrid powertrain. Give the S90's gas pedal a sharp input and there's a momentary delay, followed by an abrupt moment of acceleration as the gasoline engine kicks in to assist the electric motors. Handling is surefooted, but the trade-off is a ride that hardly feels like terry cloth. Rough stretches of road transmit more vibrations into the cabin than in more softly sprung competitors. The steering has a weighty feel, but it isn't as direct or as precise as it should be, which erodes the S90's perceived athleticism.
Fuel Economy and Real-World MPG
Out on our real-world highway fuel-economy test route, the T8 hybrid delivered 32 mpg, outperforming the T6 Inscription model we tested by only 1 mpg. It should be noted that we were unable to utilize the S90's 21-mile electric-only range during this highway drive as the system engages the gasoline engine automatically at highway speeds.
Interior, Comfort, and Cargo
The S90's cabin is by far its most impressive feature. A mixture of high-end materials—open-pore wood, genuine leather, brushed metal, and finely grained plastics—come together in a cohesive and undeniably modern space. The 14-way power-adjustable front seats in our Inscription test vehicle were all-day comfortable and should fit all body shapes. The S90 lacks features we've come to expect in this segment, though. A manual steering column makes a surprising—and disappointing—appearance, as nearly all of the Volvo's rivals offer power adjustments. The S90 sedan will meet the needs of most drivers, and models with the folding rear seatback offer a cavernous cargo area. Have even more gear to cart around? Check out the V90, the S90's wagon-bodied sibling.
Infotainment and Connectivity
The S90 is as connected as any of its rivals, and it relies heavily on its infotainment touchscreen to control many of its functions. All S90s feature a 9.0-inch infotainment touchscreen mounted in the center of the dashboard. To adjust simple functions such as the heated seats or the optional head-up display, the user must interact with the system. This is becoming par for the luxury-brand course, and some systems are more user-friendly than others. The S90's system is easy enough to use, but the driver will have a learning curve before feeling comfortable enough to make changes on the go. The S90 offers Apple CarPlay and Android Auto connectivity as standard, allowing users to easily interact with their smartphones.
Safety and Driver-Assistance Features
An incomplete set of crash-test data from the National Highway Traffic Safety Administration and the Insurance Institute for Highway Safety makes it hard to judge the S90's safety. But its long list of driver-assistance features is impressive, and Volvo offers most of it as standard equipment. Key safety features include:
Standard automated emergency braking with forward-collision warning
Standard lane-keeping assist
Standard adaptive cruise control
Warranty and Maintenance Coverage
Volvo offers a class-standard four-year warranty and includes all scheduled maintenance for the first three years. Genesis offers longer warranty coverage for owners of its G90 sedan, but it's the outlier in the segment.
Limited warranty covers 4 years or 50,000 miles
Powertrain warranty covers 4 years or 50,000 miles
Complimentary scheduled maintenance is covered for 3 years or 36,000 miles
The 2020 Jeep Wrangler Unlimited, aka the four-door JL, is the most family friendly version yet of Jeep's iconic off-roader that for the vast majority of its existence has been about as far away from "family friendly" as you can be. Anything you can drive around with the doors removed usually isn't the best choice for hauling around Junior. That said, the latest version is vastly more comfortable and refined, with a driving experience no longer evoking such responses as "Holy cow, this steering is spooky" and "Ouch." This is my first extended experience with the new Wrangler, and color me impressed.
So, for passengers, the Wrangler Unlimited really can be a perfectly pleasant road trip companion (my father-in-law has repeatedly driven his JL Unlimited from Los Angeles to Portland and still frequently declares it the best car he's ever owned). But, as this is a luggage test, how much luggage and stuff in general can you bring along for the trip? Let's find out.
According to the specs, the four-door Unlimited has 31 cubic feet of space behind its back seat, which is a massive increase from the two-door's 13. Perhaps it's not surprising that so few people buy the two-door now. That 31-cu-ft number would put the Wrangler in the middle of the compact SUV crowd. A Jeep Compass is smaller at 27.2, while the Honda CR-V is 37.6. A Kia Sportage is basically equal.
That said, as you can clearly see, this is a much different space than what you'd find in a crossover. The space is taller and boxier (good!), but then it's narrower because of the wheel wells (bad!) and has those prominent structural supports (weird!). Remember, that boxy roof is removable and doesn't really do squat if you go ass over teakettle.
But before we get to the luggage ...
Allow me to open the swing gate into all my bags artfully arranged for the picture at the top of this page. That's never happened before, but then nothing has a cargo area aperture like this one.
With the bags out of the way, I discover there are two detents available when opening the swing gate. This is an excellent feature.
Also note that the Jeep grille is referenced inside the swing gate. Oh Jeep with your easter eggs. I dig'em. For those who don't, lighten up, Francis.
Oh, and one more note. You open the swing bit first then open the glass. This is the opposite of other swing-gate SUVs — I can only think of the original Honda CR-V at the moment, but I'm sure there are more. Comment away!
Underneath the cargo floor you'll find this decently sized bin to stow away your jewels. Or, you know, whatever.
OK, on to the actual luggage of the luggage test. As always, I use two midsize roller suitcases that would need to be checked in at the airport (26 inches long, 16 wide, 11 deep), two roll-aboard suitcases that just barely fit in the overhead (24L x 15W x 10D), and one smaller roll-aboard that fits easily (23L x 15W x 10D). I also include my wife's fancy overnight bag just to spruce things up a bit (21L x 12W x 12D).
So everything fit, but it was a squeeze in that formation, and to be honest, if the bags were full, I'm not sure it would all fit. Also, keep in mind there's actually less space remaining than it seems because of the swing gate hinge and its locking mechanism thingy pod (give me a break, it's a Friday). You see below how much space you lose.
Now, in this formation, everything fit far more easily.
However, it's not fully taking advantage of available space. If it looks like fancy bag will fit laterally between the roof pillars ...
... It will! As such, that's going to free up some space for other stuff. Let's go to the bonus outdoor activity equipment bin.
So there you have it, this is close to max. This is all the regular luggage plus a Graco Pack 'N Play and a small duffel bag. Note that the smallest roller is standing upright against the gate, which is a first for these tests. Again, keep in mind the amount of space that had to be left vacant for the gate mechanisms. In total, far less than the Toyota 4Runner, but still pretty good.
It should also be noted that all of these bags just go to the top of the seat backs. Your visibility is unencumbered, and nothing's going to fly forward into the cabin. For the record, the Jeep Grand Cherokee has 36.3 cubic feet of space behind the back seat, but given that boxy is better, I'd wager that the Wrangler Unlimited can hold as much or more.
Related Video: