The 2020 Honda Civic Type R gets a number of updates over the previous model, plus a wild special edition, but one that Honda just announced is actually for your phone. The company is launching a phone app called LogR that will record vehicle data when you're at a track.
The app connects with the car's on-board computer to display and record various, well, data. The most basic function is as an auxiliary instrument panel displayed on the infotainment screen. It can show oil, water and intake temperatures, oil and boost pressure, and lateral and longitudinal g forces.
Then there's the lap time function that lets you pick a start and finish point based on your car's GPS and will automatically record laps. Besides the time, it will keep track of your throttle, braking and steering inputs through the lap and even show the course. These laps can even be replayed on your phone.
There's also a function that will rate you on those different driver inputs. The idea is that higher scores come from smoother, and presumably faster, driving.
The app will launch in spring, and it will be available for iOS and Android. The app only works with the 2020 Honda Civic Type R.
Related Video: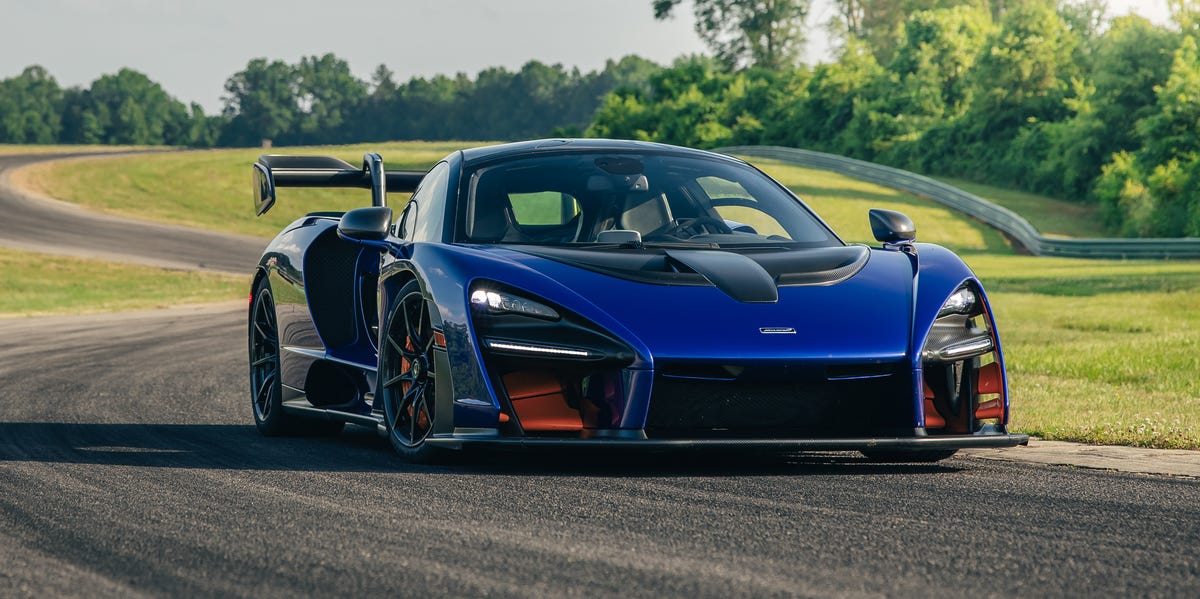 Overview
McLaren's engineers claim that the Senna is the most direct and responsive car that they've ever built, and it's been crafted specifically to set new benchmarks at the track. Named after storied Brazilian Formula 1 driver Ayrton Senna, this hypercar eats up pavement with blistering speed and focused intensity. The base-model Senna is street legal, but its bellowing engine note and complete lack of cargo space make it clear that this beast is most at home on the racetrack. The fact that the car's production numbers are very limited suggests that its value will, over time, appreciate beyond its million-dollar starting price. Therefore, one could argue that the Senna offers more than just a supremely thrilling driving experience; it's also a good investment.
What's New for 2020?
For 2020, McLaren adds the GTR to the Senna lineup. The Senna GTR is built solely for track use, and it's even more performance-oriented than the base model.
Pricing and Which One to Buy
Base: $1 million (est.)
GTR: $1.2 million (est.)
Although there are two trims in the lineup, the base Senna is your only option if you plan on driving this car on the road. The Senna has a staggered wheel layout, with 19-inch rims in front and 20-inch wheels at the rear. All models come with an audacious wing spoiler, and the car's multitude of functional intakes and vents give its sheetmetal the look of a faceted gemstone. Each headlight features 21 LEDs, with four LEDs dedicated to the main beam and five to the high beam. The headlights are adaptive, and 12 LEDs help to create this feature. Airbags and an infotainment system are standard on the base model, but they're missing in action on the GTR. To reduce curb weight, climate control is not included, but it can be added at no extra cost. The Senna GTR comes with just a driver's seat, but a passenger seat is available at no extra cost.
Engine, Transmission, and Performance
The base model is motivated by a twin-turbocharged 4.0-liter V-8 that generates 789 horsepower and 590 lb-ft of torque. With the GTR, this engine is tuned to deliver an additional 25 horsepower. All models are equipped with a seven-speed dual-clutch automatic transmission that sends power to the rear wheels. The McLaren Senna is built for speed, and it has the track times to prove it. In our testing, a base-model Senna sprinted from zero to 60 mph in just 2.8 seconds. This coupe is equipped with a Race mode that lowers the suspension by 1.5 inches in front and 1.2 inches in the rear. This mode also switches the car's dampers to their most performance-oriented setting. A car such as this needs brakes that are up to the task of keeping it in check, and the Senna is nicely equipped in this area. During our track test, we brought the car to a standstill from 70 mph in just 136 feet. There's one more thing you need to know about the Senna: It's very, very loud. The car's tire noise, wind rush, and engine roar combine to make time spent within its cabin a punishing experience for the eardrums.
Fuel Economy and Real-World MPG
Mileage for the 2020 McLaren Senna is estimated at about 14/18 mpg city/highway. That's better mileage than you'll get with the Bugatti Chiron. That car's fuel economy tops out at 9/14 mpg.
Interior, Comfort, and Cargo
The McLaren Senna has room for two: a very lucky passenger and an even luckier driver. It comes with dihedral doors that hinge forward and upward, exposing a portion of the roof. The car's bucket seats give buyers a choice of three padding thicknesses. A high shelf sits behind the driver and passenger. It's the only space that offers in-cabin storage, and it can accommodate two helmets and two racing suits. Switchgear such as the electronic door releases, window switches, and keyless ignition are located on the headliner. Forget about your grocery bags or carry-on luggage for that weekend getaway. The Senna doesn't have a trunk, so there is zero cargo space.
Infotainment and Connectivity
The Senna's infotainment system features a floating screen that adds modern flair to the cabin. An optional seven-speaker Bowers & Wilkins sound system is offered as well as navigation. McLaren Track Telemetry is optional. This feature can be used at the track to map out a session and analyze each lap.
Safety and Driver-Assistance Features
The 2020 McLaren Senna hasn't received an overall crash-test rating from the National Highway Traffic Safety Administration (NHTSA) or the Insurance Institute for Highway Safety (IIHS). As is commonly the case with hypercars, the Senna is missing key driver-assistance technologies. Features such as a blind-spot warning system aren't available. Key safety features include:
Standard backup camera
Standard parking sensors
Warranty and Maintenance Coverage
McLaren's limited and powertrain warranty coverage is identical to the protection offered by rivals such as Ferrari and Lamborghini. However, complimentary scheduled maintenance isn't offered. Ferrari owners, in contrast, enjoy seven years of complimentary scheduled maintenance.
Limited warranty covers 3 years or unlimited miles
Powertrain warranty covers 3 years or unlimited miles
No complimentary scheduled maintenance
Transcript: One of our favorite minivans is getting a refresh. The 2021 Chrysler Pacifica gets a face lift and all-wheel drive. All-wheel drive is an option on Pacifica for the first time since 2004. The option will allow for more cargo flexibility and better traction. FCA rerouted the exhaust and tweaked the gas tank to accommodate the AWD system. The Sto 'n' Go second-row seats will still fold-into-the-floor. The interior has some noteworthy changes too like a 10.1-inch infotainment display, standard on all Pacificas, and the Uconnect 5 operating system with upgrades to Amazon Alexa integration and wireless Apple Carplay and Android Auto. The optional FamCam helps you keep an eye on passengers in the rear seats. The 2021 Pacifica is powered by a V6 engine making 287 hp and 262 lb-ft of torque.
Buckle up everyone, Autoblog is jumping into the live stream game. Every Tuesday and Thursday we've been going live at 2 P.M. EST to play all kinds of racing and driving games on Twitch and Youtube.
So far we've played:
And we'll be swapping in as many as we can throughout the year.
We've also got a rotating cast of your favorite Autoblog editors popping in and out at all times, giving us some behind the scenes info on stories they're working on, opinions on cars they've driven, and even some hot takes on breaking news.
If you're familiar with live streaming already and want to hang out, then come join us in the Twitch chat, spam the now infamous Autoblog Dorito emote any time anything ridiculous happens and get stoked with us when our stream gets raided.
If you have no idea what any of that means but you like cars and you like games then don't let that intimidate you, feel free to just sit back and watch the stream like any other video.
If you're looking to do some streaming yourself, here is our setup:
Xbox One X
Nintendo Switch
Logitech G920 Racing Wheel
StreamLabs OBS
Nightbot.tv
AverMedia Extremecap U3
Logitech HD Pro Webcam C920
Shure SM7B Mic
Cloud Lifter CL-1 (for the mic)
Apogee Quartet (audio interface)
We recently started doing merch as well! You can check out our shirts, mugs, and more here at our Redbubble store.
Looking forward to seeing you in the chat!
Autoblog is a participant in the Amazon Services LLC Associates Program, an affiliate advertising program designed to provide a means for sites to earn advertising fees by advertising and linking to amazon.com. These deals are available through our affiliate partnership with Amazon.com. Deals are subject to Amazon's schedule and availability.
By the end of the year, General Motors' Holden brand will be no more as the company exits New Zealand and Australia, in addition to withdrawing Chevrolet from Thailand.
The move comes as GM is focusing its efforts on future technologies, including electrification and autonomous vehicles.
GM is betting big on electric, aiming to offer 20 different full-electric vehicles by 2023.
General Motors is bringing its Holden brand to an end by 2021 as it withdraws from Australia and New Zealand, in addition to pulling Chevrolet out of Thailand, the company said in a statement over the weekend. The manufacturer is looking to limit exposure to challenging overseas markets and focus its efforts on investing in autonomous and electric technologies. GM expects the overhaul to cost $1.1 billion.
Holden, an iconic Australian brand, got its start in 1856 as a saddlemaker before transitioning to cars in 1908. General Motors bought the company in 1931. For nearly a century, the company under GM ownership produced utility vehicles but, to Americans, may be best known for powerful, muscular sedans such as the Monaro and the Commodore.
Holden has been on a downward slope, posting its lowest sales since 1954 in 2019, including a 50 percent decrease in sales in the last two years. From a peak of 217,882 sales in 1998, Holden sales fell in 2019 to about 43,000 units.
As a part of the transition, GM is selling its manufacturing plant in Thailand to China's Great Wall Motors. Since its bankruptcy in 2009, GM has been downsizing, which included pulling Chevrolet out of Europe in 2013 and selling its Opel and Vauxhall brands to the PSA Group in 2017.
"I've often said that we will do the right thing, even when it's hard, and this is one of those times," GM CEO Mary Barra said in a statement. "We are restructuring our international operations, focusing on markets where we have the right strategies to drive robust returns, and prioritizing global investments that will drive growth in the future of mobility, especially in the areas of EVs and AVs."
GM has been focusing its efforts recently on electrification. Just last month it announced it would be spending $3 billion investment for production of various electric vehicles and an autonomous one. Of that investment, $2.2 billion is set aside to convert the company's Detroit-Hamtramck plant to one devoted to building electric vehicles. The manufacturer is planning to offer 20 electric vehicles in its lineup by 2023 and recently announced that one of those vehicles would be an all-electric Hummer.
General Motors said that with changing priorities, keeping Holden running was not feasible especially with the investments necessary for a "highly-fragmented right-hand-drive market." Holden ceased production in its last Australian factory in 2017, becoming an all-import brand in 2018.
"After comprehensive assessment, we regret that we could not prioritize the investment required for Holden to be successful for the long term in Australia and New Zealand, over all other considerations we have globally," GM international operations executive Julian Blissett said in a statement. "This decision is based on global priorities and does not reflect the hard work, talent and professionalism of the Holden team."
Ryan Newman (6) lands on his roof after crashing and crossed the finish line that way at the NASCAR Daytona 500. / Associated Press
DAYTONA BEACH, Fla. — Another year, another Denny Hamlin win in the Daytona 500.
And Joe Gibbs still has the team to beat in NASCAR.
Hamlin won his third Daytona 500 on Monday, becoming the first driver since Sterling Marlin in 1995 to win "The Great American Race" in consecutive seasons. His win last year was a 1-2-3 sweep for Joe Gibbs Racing and kicked off a yearlong company celebration in which Gibbs drivers won a record 19 races and the Cup championship.
Hamlin joined six Hall of Fame drivers as winners of three or more Daytona 500s. He tied Dale Jarrett — who gave JGR its first Daytona 500 win in 1993 — Jeff Gordon and Bobby Allison. Hamlin trails Cale Yarborough's four wins and the record seven by Richard Petty.
This victory came after just the second rain postponement in 62 years, a visit from President Donald Trump, a pair of red flag stoppages and two overtimes. As he went door-to-door with Ryan Blaney for the finish — the 0.014 margin of victory was the second closest in race history — Ryan Newman took a wild ride along the track when he was crashed trying to hold onto the lead.
Newman's car flipped several times and crossed the finish line on its roof, engulfed in flames.
___
Kia has released a few official photos of the 2021 Sorento weeks before its scheduled debut at the Geneva auto show.
The interior is the top-grade trim with a brand-new screen layout and special air vents.
Sales should start by the end of this year.
The first interior photos of the upcoming Kia Sorento are good. Very good. The car world now expects modern Korean vehicles to exude class, and the Sorento—currently a bit ovoid and dull—is the latest Kia to shed a less desirable skin.
We saw the new Sorento undisguised a couple of weeks ago when a spy photographer shot one in California driving for a photo shoot. Kia just released these four official studio photos ahead of the crossover's debut in Geneva in a couple more weeks. The tan-and-black combo is appealing on its own, what with the two-tone steering wheel and quilted stitching on the seats.
But most striking are the vertical air vents that echo the Mustang-like taillights. They're a little fatter and very rhomboidal. Each arches outward over the dash with more concentric rhombuses directing the airflow. From Mercedes-Benz's swiveling circles to Audi's full-width strip, air vents may be the hottest detail in new car design. The Sorento has some of the best we've seen, and we see a lot.
They're offset by rectangular door handles and thick, long door pulls that echo the larger Telluride (also, spot the heated/cooled seat toggle switches on the center console, another Telluride touch). What's refreshing is that the Sorento, unlike every Volvo and BMW on sale, is not a scaled-down version of a larger, more expensive model. It looks remarkably clean sheet. The double wide screens—12.3 inches for the instrument cluster, 10.3 inches for the infotainment—blend as one seamless unit. That this look debuted for the 2014 S-class and is now on a Kia seven years later is middle-class progress, baby.
Kia hasn't provided any other details, but expect these screens to head to the Telluride—which uses an analog instrument panel—sooner rather than later. We're also digging the hot-pink icons and the blue ambient lighting peeking out of the door trim like illuminated fish scales. While this interior is representative of the highest trim, it's a fair estimate that base and midlevel Sorento trims will look and feel pretty good.
Check back in early March when we can sit inside this car for ourselves.
To understand the 2021 Kia Seltos, you first have to consider its soul, the Kia Soul. Between the fun-and-funky styling and the compact, practical body style with tons of cargo room, the car that has defied traditional segment labels for a decade (and won an Autoblog comparison test) is a great all-around daily driver for folks who don't want something that's obviously a crossover. There's just one problem: A lot of people really, really want crossovers.
With this in mind, Kia decided to see if the Soul could be made more like one of them. Now, the simplest way to do that could've just been to introduce an all-wheel-drive Soul derivative, but somewhere along the line, the Korean automaker's product planners decided that would've been a half measure. They considered the fast-growing small crossover segment too hyper-competitive to simply trot out some half-assed Soul "Cross Country" model. Well, besides the X-Line.
Instead, the 2021 Kia Seltos was born, a completely different vehicle in its own right, yet one that wears its soul on its sleeve by packing subtle hints to that trademark styling and some of its interior options.
If offering all-wheel drive as standard helps cement its identity as a crossover, then the fact its all-wheel drive system comes with a locking center coupling truly seals the deal.
In fact, despite our best efforts, we could find only one glaring omission in its CUV bona fides — towing capability. It has none. Sure, Kia offers a "Lifestyle Hitch" accessory for the Seltos, but that's only good for plugging in something like a hitch-mounted bike rack. Those with jet skis, you're out of luck.
Trying to further pigeonhole the Seltos quickly becomes difficult, as the baby crossover space is so crowded with new entries in search of a niche that it's almost impossible to strictly define how it is segmented.
You could easily count 20 vehicles of varying size and capability as competitors for the Seltos, from the front-wheel-drive-only Nissan Kicks and Toyota C-HR to the off-road-ready Jeep Renegade. Sister company Hyundai's Kona and smaller Venue could be considered, too, and then there's the Soul for those who don't need all-wheel drive and obvious crossover image.
Among them all, Seltos falls on the larger end of this evolving spectrum of subcompact "utility" vehicles. Its wheelbase is actually about an inch longer than that of the Soul and the Hyundai Kona (both of which check in at 102.4 inches) and more than 4 four inches longer than that of the baby Venue.
If you're familiar with Kia's smaller vehicles (or Hyundai's), you'll be unsurprised to learn that the Seltos can be had with both a 2.0-liter naturally aspirated four-cylinder paired to a CVT (Kia calls it "IVT" for "Intelligent Variable Transmission") or a 1.6-liter turbocharged four-cylinder mated to a seven-speed dual-clutch gearbox. All-wheel drive is effectively standard on all but one model, the S, which comes only with the 2.0-liter engine and CVT.
The 2.0-liter engine makes 146 horsepower and 132 pound-feet of torque. As you'd expect from any small crossover, the base-engined Seltos is reasonably frugal, with EPA fuel economy estimates of 27 mpg city, 31 mpg highway and 29 mpg combined with AWD. The front-drive Seltos S is a bit better at 29/34/31.
The turbo 1.6-liter ups output to 175 horses and 195 lb-ft, while only suffering to the tune of 25 mpg city, 30 mpg highway and 27 mpg combined. Kia probably could have gotten away with offering the Seltos exclusively with the weaker engine (plenty of competitors certainly have no problem with that), but the grunty turbo engine is welcome in the heavier AWD models, which top out just north of 3,300 pounds. Only the aforementioned S model with FWD comes in under the 3,000-pound mark.
What does this translate to on the road? Kia's test vehicles were exclusively equipped with the turbocharged engine and AWD. Having 175 horsepower does not a rocket ship make, but the Seltos is reasonably quick. We were never concerned about highway merges or passing maneuvers, even in wide-open Texas, where every type of road transition is treated like an invitation to a drag race by all parties involved.
When the roads get twistier, the Seltos behaves less like the Soul that inspired it and more like the crossover that it is. It exhibits more perceptible body roll in the corners, and its tires are clearly intended to foster efficiency rather than sporty dynamics. This may read like a lukewarm appraisal, but we actually found the Seltos quite pleasant to drive. There's essentially no wind noise even at Texas highway speeds, and while we spent the vast majority of our time on road surfaces that would charitably be described as sub-par, the tires didn't seem particularly noisy, either. We'll reserve final judgment on that until we can evaluate the Seltos in familiar terrain.
Inside, the Seltos shows more of its shared Soul DNA. The small hatchback's "sound-connected mood lighting" (we like "party mode" better) made the jump to the Seltos, and the Bose speakers also sport a cool fractal design that is both interesting and attractive.
The front seats offer decent adjustment ranges and were reasonably comfortable for the duration of our time behind the wheel, while the back bench has plenty of standard leg- and headroom along with the added bonus of standard reclining rear seat backs. Those aren't a given in this size of SUV. Even with the rear bench in its most upright setting, a 6-foot-2 driver could sit behind his preferred front seat position.
Behind that second row, you get 26.6 cubic feet of cargo space, which would make it larger than all the sub-compact SUVs. That figure is only a few cubes shy of Kia's Sportage, but the tables actually turn when you drop the back seat flat. The Seltos has 62.8 cubes to the Sportage's 60.1.
Our SX test vehicle hit the register at $29,010, including destination, which isn't exactly cheap, but it's loaded with features. True, dual-zone climate control and a heated steering wheel aren't among them, but you still get a 10.25-inch touchscreen, integrated navigation, perforated leatherette seats, adaptive cruise control with automatic stop and go, and Kia's semi-autonomous highway drive assist, which behaves like most mainstream semi-self-driving suites, requiring only a light touch on the wheel when you're on the freeway.
It's bleaker in the lower end of Seltos lineup, and buyers may find themselves compelled to option up into better-equipped trims. The base-model LX ($23,110) comes standard with all-wheel drive, but is woefully devoid of advanced safety features, coming with only a rear seat occupancy reminder and government-mandated tech such as a rearview camera and lots of airbags.
Stepping up to the S doesn't actually cost you anything apart from all-wheel drive (it carries the same $23,110 starting price), but counters that by adding lane departure warning, lane keeping assist, automatic high beams, forward emergency braking and a host of other extras that include fancier trim. Kia had one of these on hand, and apart from the smaller, 8-inch touchscreen and a few blank switch plates in the center console, the S doesn't come off as an economy car. Its cloth feels durable and sports an attractive pattern, bolstering the cabin's appeal.
Options throughout the line are few, as features are largely doled out within the trim levels that also include a turbocharged S and mid-grade EX. Notable among those options are multiple two-tone paint packages ($345) and a sunroof. Unfortunately, you can't get them together. Kia says this is a production constraint and hopes to make it possible to combine the two down the road.
Also potentially in the pipeline is a Seltos X-Line variant. Like the Soul X-Line, it would be an off-roady appearance package rather than an actual answer to more rugged entries from Jeep and Subaru. Kia says this is still in the exploratory phase, but we'd be shocked if it's not introduced within the next year or two.
All in all, the Seltos is an attractive, competent package and a compelling draw for those who want a vehicle that's obviously crossover with a small footprint and all-wheel drive. And if the latter isn't a must, you can save some money and gas by sticking with the front wheels. Kia expects the Seltos will draw buyers from both the entry-level and the empty-nester ends of the spectrum. By our measurement, it's economical enough to attract the former and comfortable enough to satisfy the latter. It's a baby crossover with the soul of a Soul. What's not to like?
Related Video:
As dangerous as the virus is, there's little chance the U.S. vehicle supply will be affected in the near term.
It's a massively different story in China, with plant shutdowns happening there and now spreading to South Korea and Europe.
This could all change, depending on how soon the virus is brought under control.
The number of coronavirus cases in China keeps climbing, with the number of infected people reaching 63,000 on Friday afternoon and the death toll almost hitting 1400. The coronavirus, now officially called COVID-19, has disrupted a huge part of China's economy, including the auto industry.
The main issue, of course, is people's health. But there's no getting around the fact that this massive outbreak will have effects beyond hospitals and doctors' offices. The Chinese government kept businesses, including many factories, closed well beyond the usual two-week shutdown for Chinese New Year. The global auto industry is already feeling the effects of those closures. This week, Fiat Chrysler Automobiles announced a pause in production at its plant in Serbia that makes the Fiat 500L. And Hyundai closed some facilities in South Korea earlier this month because it could not get enough parts from China and could faces a bigger challenge in supplying the Palisade SUV for the U.S., since that model is built in Korea. If there are further parts delays, it's not impossible that some customer deliveries could be delayed. Hyundai did not respond to Car and Driver's request for comment on this topic.
Some automakers, including Honda and French conglomerate PSA, pulled employees out of China, and many restricted travel to the country. The situation could be worse for companies building electric vehicles, since many battery cells are made in China, if the limits on people leaving their homes remain in place.
Getting components shipped out of China might be a problem, too. Cathay Pacific, for example, said it will reduce the capacity of its passenger and cargo flights in and out of mainland China by 50 percent until the end of March. Even if all the shipping lanes reopen, if the factories remain closed there won't be enough parts to ship to where they need to be.
Even with all of these disruptions happening in China, the industry's general "build here, sell here" production strategies mean car shoppers in the U.S. should not notice anything different in the near term. Currently, the only models built in China and exported to the U.S. are the Buick Envision and the Volvo S90. This gives automakers that did respond to our queries the confidence to sound a general all-clear, at least for now.
Automakers Think They Can Avoid Disruptions to U.S. Production
"It's too early to estimate downstream operating or financial effects of the coronavirus," T.R. Reid, Ford's director of corporate and public policy communications, told C/D. "China is obviously a huge supply source for the U.S. and the rest of the global auto industry. That said, Chinese New Year wasn't that long ago, and the national downtime is built into schedules. There's also some general slack and flexibility in the supply chain. What, where, and when things will play out from here still aren't clear."
"There really hasn't been any impact on U.S. car shoppers," said James Cain, GM's senior manager of communications. "The vehicles we build in China are nearly all sold in China. Our U.S. production hasn't been impacted so far. And with China production at OEMs and suppliers starting to restart this week, the risks of production impacts outside of China are lessening."
Nissan, VW, and Toyota all told C/D there is no reason for U.S. shoppers to worry just yet. VW, like many automakers that sell cars in North America, uses a robust supplier base from the U.S. and Mexico for the products produced there for this market. The only VW car that comes from outside the USMCA zone right now is the Arteon, and it's produced in Emden, Germany. Nissan said it is planning to restart China production at the earliest on February 17, at its Huadu and Dalian plants. Due to supply shortages of parts from China, Nissan carried out "temporary production adjustments" (meaning production was slowed, but not totally stopped) at its plant in Kyushu, Japan, on February 14 and will do so again on the 17th. "At this time, our U.S. supply chain is operating normally, and we do not anticipate any significant impact to our vehicle supply," the company said.
Volvo says it will restart production in China as soon as the situation and local government restrictions allow. Volvo expects a "negative effect" on production and sales in China, but a company spokesperson told C/D the problems should be limited. "Our outlook for the full year is continued global growth. As for production in Europe and the U.S., we have not seen any impact so far but we're working closely with our suppliers to avoid disruptions," the spokesperson said.
Even FCA remains optimistic that production of the 500L will resume shortly. "We are in the process of securing future supply of those affected parts, and production will be restarted later this month. We do not expect this change in scheduling to impact the total production forecasted for the month," the company said in a statement.