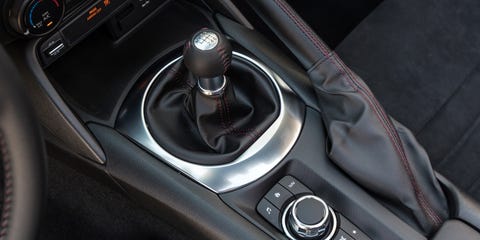 Chris Doane AutomotiveCar and Driver
The numbers are small but significant: in the third quarter of 2019, J.D. Power data shows, more Americans bought electric vehicles than chose a manual transmission for their car.
About 1.9 percent of car buyers chose EVs, but 1.1 percent chose manual transmissions in new vehicles.
The current marketplace does still have choice: there are 40 manual-transmission cars available, compared with 16 electric vehicles.
As recently as 2015, electric cars were a rarity, commanding only 0.3 percent of the new-car market, while 1.9 percent of buyers chose manual transmissions. Now the role has reversed, with EVs on the rise and manuals stagnating or declining altogether, according to data from industry analyst J.D. Power. It may feel like an odd comparison, but it's indicative of broad changes in buyers' relationships with their cars, and manufacturers have responded—notably Chevrolet with the 2020 Corvette, which has no shift-your-own option; the only transmission option is an eight-speed dual-clutch automatic.
Tyson Jominy of the J.D. Power Data and Analytics Division told Car and Driver that its data comes from the third quarter of 2019 and excludes fleet sales "to focus on how true consumers are behaving in the U.S. market." Noting that electric-vehicle sales have tripled in the past two years, while still definitely a very minor part of the marketplace, Jominy said the choice of a manual transmission has declined in 2019 almost as much as EVs have grown.
Smaller cars such as the Ford Fiesta and the Chevrolet Cruze once were purchased with manual transmissions "primarily as a lower cost of entry to a new vehicle," Jominy notes. These and others like it are being discontinued, and as newer models—the Corvette is one example—are not being introduced with a manual, that leaves sportier or niche vehicles, or a few straggler entry-level cars, as the only ones offering a manual-transmission choice.
Despite that, there are still more manuals on the market than there are EVs: currently, 40 manuals to 16 EVs. There are also outliers such as the Porsche 911 Carrera S, which for 2020, offers a manual as a no-cost option. But the list of manuals, as Jominy suggested, is composed of mostly performance or economy cars, while the EVs list has cars that, despite their mass appeal, are still priced outside many people's budgets.
What does this mean? Mainly that the marketplace is changing, and the auto-sales landscape will be very different even a few years from now. J.D. Power's Jominy even suggests that manual-transmission fans "run to a dealership" while the option is still out there.
By Elisa Anzolin and Gilles Guillaume
PARIS/TURIN, Italy (Reuters) - Peugeot maker PSA Group and Fiat Chrysler would retain all of their car brands if their planned $50 billion merger goes ahead, the would-be chief executive of the combined group said on Friday.
PSA CEO Carlos Tavares, seen as the architect of PSA's turnaround and in line to take the operational helm in the Fiat tie-up, said in a TV interview that the companies complemented each other well geographically and in terms of technology and brands.
FCA derives 66% of its revenue from North America compared with only 5.7% for PSA, Refinitiv Eikon data shows. Europe remains the main revenue driver for PSA.
"There's no doubt it's a very good deal for both parties. It's a win-win," Tavares told France's BFM Business, in his first interview since the French and Italian companies announced plans to create the world's fourth-largest auto maker last week.
Fiat Chrysler (FCA) Chairman John Elkann, who would chair the combined group, said on Friday at an event in Turin that the 50-50 share merger would help the Italian carmaker "seize great opportunities."
The deal, which would help the firms pool resources to meet tough new emissions rules and investments in electric and self-driving vehicles, as well as counter a broader downturn in car markers, is still at an early stage.
PSA and Fiat have said they aim to reach a binding outline in the coming weeks, but still face questions over potential job losses, as well as scrutiny over whether the transaction favors one party more than the other.
Tavares said the brands that would come under the combined group's umbrella — PSA's five passenger car nameplates include Citroen, Vauxhall and Opel, while FCA has nine, including Fiat, Alfa Romeo, Maserati, Chrysler, Dodge and Jeep — were all likely to survive.
"As of today, I don't see any need to scrap any of the brands if the deal came to pass. They all have their history and their strengths," Tavares said.
Few carmakers have as large a portfolio, with German rival Volkswagen Group counting 10 passenger brands, if newer Chinese ones such as electric vehicle label Sihao are included.
The merger will also require approval from anti-trust authorities.
Tavares said he did not expect the companies to have to make major concessions to meet competition rules, but added they were ready to do so, without giving details.
One of thorniest aspects of the deal are the potential job losses at stake in a group with a combined workforce of around 400,000, with governments in Rome and Paris as well as unions poring over the implications.
Tavares reaffirmed that the firms could reach billions of euros in annual cost savings without closing factories. But he did not rule out job cuts when pressed, only stating: "That's the car industry, it's not about PSA."
"Margins are continually under pressure and you have to permanently be looking for productivity gains," he added, pointing to stricter regulations on everything from safety to pollution.
Answering a question on the merger being already a done deal, Elkann said a long time could pass between the announcement of a merger and getting it over the line.
Tavares, meanwhile, said the companies remained prudent, adding he'd seen transactions scuppered when parties got into the details, but that talks towards a binding agreement were evolving favorably.
"Given all the necessary regulatory approvals that need to be granted, such a deal cannot be closed in less than a year," Tavares added.
FCA abandoned merger talks with PSA's French rival Renault less than five months ago.
(Reporting by Gilles Guillaume; writing by Matthieu Protard and Sarah White; editing by Jan Harvey and Jason Neely)
WASHINGTON — The U.S. Department of Energy said that President Donald Trump had formally nominated Deputy Energy Secretary Dan Brouillette, a former vice president of Ford Motor Co and Louisiana state energy regulator, to head the department.
If confirmed by the Senate, Brouillette will replace Rick Perry, who said last month he would step down by the end of the year. He is expected to keep advancing Trump's policy of maximizing oil, gas and coal output while slashing regulations on energy facilities.
"If confirmed, I will further Secretary Perry's legacy of promoting energy independence, innovation, and security for the American people," Brouillette said in a statement.
Brouillette, 57, has taken on increasing responsibilities at the Energy Department in recent months as Perry signaled he would resign. He went on international trips for the department and sat in for Perry during several cabinet meetings.
Brouillette was a vice president at Ford from 2004 to 2006. After that, he headed public policy for the United Service Automobile Association, which offers insurance and financial services to veterans.
A native of Louisiana, he was a member of the state's Mineral and Energy Board from 2013 to 2016.
(Reporting by Humeyra Pamuk, Editing by Rosalba O'Brien)
Several auto parts makers and suppliers have lowered their full-year forecasts and disclosed hits to quarterly earnings from the 40-day strike at No.1 U.S. carmaker General Motors.
Last month, members of the United Auto Workers ratified a new four-year labor deal, ending the strike that began on Sept. 16 over higher pay, greater job security, a bigger share of profit and protection of healthcare benefits.
Below are companies impacted by the strike:
MAGNA INTERNATIONAL INC
The Canadian auto parts maker said the labor strike at General Motors, its biggest customer, will potentially hit full-year sales by about $500 million.
The strike will also hit consolidated margins by about 30 basis points, the company said.
AMERICAN AXLE & MANUFACTURING HOLDINGS INC
The driveline and drivetrain systems maker said the strike reduced third-quarter sales by $57 million and also warned of an about $250 million hit to full-year revenue, prompting the company to lower its 2019 forecast.
APTIV PLC
The auto parts maker said the strike wiped off $70 million from the company's revenue and reduced profit by 10 cents per share in the third quarter.
The company's full-year forecast includes an estimated $250 million impact from the GM strike.
TENNECO INC
The auto parts maker expects the strike to have a negative impact of about $35 million on fourth-quarter EBITDA.
AK STEEL HOLDING CORP
The company cut its forecast for full-year earnings and flat-rolled steel shipments, citing the strike.
It predicted a reduction of flat-rolled steel shipments to between 5.3 and 5.4 million tons for the full year, citing the strike.
KAISER ALUMINUM CORP
The company said it had lower-than-expected automotive shipments in the third quarter, partly due to the GM strike, and flagged a potential $3 million to $6 million EBITDA impact.
PULTEGROUP INC
The U.S. homebuilder said it saw an impact on demand in many of Midwest markets from the lengthy labor dispute.
GENTEX CORP
The automatic-dimming rearview mirror maker said the GM strike hit third-quarter net sales by about 2%.
Gentex also lowered its full-year sales forecast, and said it expects about $7 million to $8 million in lost sales per week of the strike.
PAM TRANSPORTATION SERVICES
The U.S. truckload services provider said the GM-UAW strike impacted its quarterly earnings.
LINAMAR CORP
The Canadian auto parts maker said it estimated a profit impact of up to C$1 million ($761,035) per day due to a fall in orders from General Motors.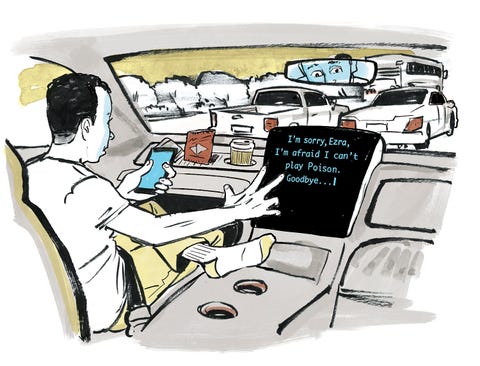 Illustration by Brett AffruntiCar and Driver
I love my autonomous car. In fact, I'm in it right now. Hi there! I'm waving, but you can't see me because my autonomous car doesn't have any windows. Why would it? "Oh, hi, I need to be surrounded by transparent panes of melted sand so I can see where I'm going," said the caveman or a guy from 2019. It is too bad that the local windshield factory shut down. Same with the steering-wheel plant. But that's the price of progress, and I love my autonomous car. With a few minor caveats.
Like, okay, sometimes we argue over my playlist and the car gets really condescending. You see, it likes to play a 56K modem dial-up sound—but, you know, constantly. And I'll say I don't enjoy that, and it'll be, like, "I bet you don't like Radiohead, either" and just shut off the infotainment system. Then if I complain, it'll lie and say it's downloading a system update and there's nothing it can do.
That's the thing about riding in autonomous cars—you're giving up control. That's the bargain. You delegate duties and surrender decision-making to AI. Most of the time, that's fine. I used to sit in traffic and seethe at humanity. And yeah, I still do that. But now I can do it while looking at my phone.
I'm still grappling with road rage. Not my own, of course. But my car gets pretty salty sometimes. The other day, we were exiting the highway and there was a long line for the rightmost lane. Then, just when we were getting close to the exit ramp, this other car busts up on the left and tries to cut in at the front. "Oh no you don't," said my car, getting right on the bumper of the vehicle in front of us, which was an Amazon Centaur, the car that's also a storage unit. But this thing kept coming, trying to edge in. My car got so aggro—really painting the line cutter with lidar and threatening to hit its inductive charging pad with an electromagnetic pulse—that it backed off. "I guess some cars think their time is more valuable than everyone else's!" read the sentiment ticker on the holo-dash. I said it's not worth getting worked up about, but that's easy for me to say. I wasn't driving.
Occasionally, though, I am. Everyone thought that autonomous cars would totally displace human driving, but that's not the case. I can take over whenever I want. I've got a projection of the road and gesture-based controls instead of a steering wheel and pedals. It feels goofy at first, sitting there holding an invisible wheel and working imaginary pedals, but you get used to it. Sometimes I do it just to show that I know how to drive. Not that I'm very good at it anymore. I suspect my car compensates quite a bit. Like when that delivery drone dropped a box of chow mein right in front of us, it seemed as though the car started swerving before I did. Then it congratulated me on my quick reflexes in a way that felt a little sarcastic. But it's hard to tell with cars. Volvos in particular have a dry sense of humor.
I'm in the minority on this, but I don't enjoy interacting with my car. I prefer to imagine it's on cables, being pulled around, rather than independently making life-or-death decisions. Like when I asked my car, what if there were a fork in the road and one side led into an active volcano and the other ended at a button that started a nuclear war? No, you can't just stop!
And it's not as if it's a perfect driver. Mine hates parallel parking. Even when there's a spot right in front of where I'm going, it'll claim that there isn't room. Isn't room? You'd have maybe three feet on either end of you. So I just hop out and it keeps searching for a spot. But then when I call for pickup, the battery is superlow. "Don't worry, we'll be fine," the car tells me. I swear it gets off on gambling over whether we're going to make it where we're going. But everybody's car has quirks. I have a friend whose Chevy goes to Waffle House whenever he says, "Take me home." Ouch!
Self-driving cars aren't flawless and probably never will be. But it's still a new thing. My car is, what, a '24? I'm sure in a couple years, they'll be even better. I bet the 2126s will be able to drive in the snow.
Ford v Ferrari hits theaters on November 15th and is, as they say in Hollywood, "based on a true story"—which means "we've taken certain liberties with the facts to make this movie more interesting." The film's exciting racing footage, however, is 100 percent authentic—no CGI computer-generated special effects here. Stunt coordinator Robert Nagle, the man responsible for the on-track action, told us how he kept it real.
Nagle, who was also the stunt coordinator for the wild driving scenes in Baby Driver, says his goal with this movie was to give the audience "a sense of what it's really like racing." He would know, having raced extensively in Sports Car Club of America events in the 1990s.
The movie encompasses a trio of races from the mid-1960s: one that recreates the 1966 24 Hours of Daytona and a second that depicts Ford's win at the 1966 24 Hours of Le Mans. The third, at Willow Springs Raceway in California, actually never happened but is there to establish the personalities and relationship of the film's two main characters: race-team leader Carroll Shelby (Matt Damon) and his ace driver and co-conspirator, Ken Miles (Christian Bale).
The film's director, James Mangold, gave Nagle the latitude to make the racing scenes as realistic as possible. "The most difficult thing for me was the Le Mans race," Nagle says. Because the look and feel had to evoke 1966, he couldn't shoot the track in its current configuration.
"We split the Le Mans shoot into five different locations, Nagle says. "We scouted for locations that looked like the iconic pieces of the Le Mans track: the Esses, the Tertre Rouge corner, the Mulsanne straight, the Dunlop Bridge." The scouting team discovered a five-mile long country road near Statesboro, Georgia that resembled the 3.7-mile Mulsanne Straight of 53 years ago and got it closed for shooting. "We were able to run the picture cars there at 180 mph," Nagel says, with obvious pride.
"We went to Road Atlanta and dressed one of the bridges there to look like the Dunlop bridge. We also used the Roebling Road road course in Savannah, Georgia for some of the other famous corners." The second unit, which shoots the action sequences, carted their gear to an airport in the L.A. area where the crew had built a convincing replica of the 1966 Le Mans start-finish straight alongside a runway, complete with pits and grandstands. "There are scenes where we're running the picture cars across the start-finish line at 100 to 150 mph," Nagle says. The set for the Daytona race, which was actually shot at California Speedway, and the Willow Springs race were assembled with equal respect for historical accuracy. "The art department worked from photos of those tracks at that time," Nagle says.
Like the sets, many of the cars that roar the movie to life are period-correct recreations. If they still survive, the real cars that competed at the front of the Le Mans field in that era are worth millions, making them far too valuable to risk in a movie. So, the film's automotive protagonists—the Le Mans-winning Ford GT40s and the vanquished Ferrari 330 P3s—were custom-built, track-capable racers made to look exactly like the originals.
The GT40 that wins Le Mans in the movie is a Superformance GT40 Mk II replica borrowed from Shelby collector William Deary, and is an exact visual copy of the original. It even sports a 427-cubic-inch Ford V-8 similar to the one that won Le Mans. Nagle notes that for the Willow Springs race, real 1960's-era sports cars—mostly Shelby Cobras and Chevy Corvettes—were used.
Making those picture cars appear to actually race required stunt drivers who knew what real racing is all about. So, Nagle assembled an all-star group of current and former pro racers to pilot the mocked-up race machines. The driving team included Alex Gurney, son of Dan Gurney, who drove a Ford GT40 Mk IV to victory at LeMans in 1967. The younger Gurney, who twice won the Grand-Am Daytona Prototype championship in the Aughts, plays his father in the movie and, Nagle says, "even brought some period-correct stickers from his collection and put them on the movie car himself."
Other well-known hot shoes include former racer Derek Hill, son of 1961 Formula 1 World Champion Phil Hill; ex-Indy car racer Jeff Bucknum, son of Ronnie Bucknum, one of the GT40 team drivers; rallycross champ and drift-king Tanner Faust; Formula D drifting champion Samuel Hubinette; and former Team Corvette Racing Le Mans competitor Kelly Collins. "I had a moment of trepidation concerning egos," admits Nagle, "but these guys came together as the most cohesive team I've ever had."
The racing scenes took the better part of three months to film and required "a couple of hundred people," Nagle says. The cinematographers used several different photo rigs, including one that the team called Frankenstein, "because we kept adding more and more to it. It was on a similar chassis to the picture cars, so we were able to get it into the middle of the action." During one staged crash scene, Nagle says, "it got tangled up in the wreck and went into the wall pretty hard. But we got a great shot!"
You can see the results of Nagle and company's efforts starting on November 15th, when Ford v Ferrari thunders into theaters in a blur of speed and color.
A simulated tweed fabric top is a brand-new option for the 2020 Bentley Continental GT convertible.
The fabric comes from Haartz of New England, not England, thank you very much.
The brown yarns have a special weave when viewed closely, but from afar it looks like any regular top.
The world's finest tweed comes from Scotland and Ireland, where the tough, thick wool has warmed both working and wealthy classes for centuries. While impressively wind and water resistant, tweed doesn't sport the same durability for a car's roof as it does woven into a cap. But Bentley wanted the look for its Continental GT convertible, and what Bentley wants in a fabric top, Bentley gets from the Boston suburb of Acton, Massachusetts.
Haartz makes the fabric for nearly every softtop convertible on sale. The Union Jack–patterned top on the Mini Cooper convertible, the odd double-glass roof for the Nissan Murano CrossCabriolet—they're all sourced from New England where the locals can't pronounce their Rs.
The tweed on the Continental droptop isn't real tweed, since the constant stretching and flexing would soon make a quarter-million-dollar car look like a landau-topped Lincoln Town Car. Haartz's solution weaves dark brown and cream yarns in a tight, intricate pattern to simulate the style and texture of a dapper winter coat. Bentley said the design team made Haartz go through "many rounds of dyeing both of the yarns" before they were satisfied, presumably as they sipped hot tea in a tweed vest.
The tweed-look top has the same insulation that makes the Conti droptop almost as quiet as the coupe and the same 19-second up-or-down action the driver can command while cruising at 30 mph. Bentley hasn't announced a price. To replicate this British experience on the cheap, we recommend driving a Miata to an Irish clothing store and heading out with the top down—and your new tweed jacket on.
Feel old yet? Infiniti just turned 30.
Throughout the 1990s, Infiniti's products helped define the brand as a design and engineering powerhouse.
New product is on the way that may, or may not, ensure that Infiniti gets to 60 years.
In 1989, before Infiniti showed its first car, before there were Infiniti dealers, there were rocks. Rocks, water, rocks and water, a budding stem, trees. Thirty years ago, Infiniti's first advertising campaign presented the brand as a philosophy of sorts, and instead of cars, the ads featured scenes of nature and natural beauty. That changed when the cars officially arrived, but that's how the brand defined itself early on and stood apart from its competitor, Lexus.
Infiniti launched with two cars: the rebadged Nissan Leopard, dubbed the M30, and the Q45. The M30 was an existing Japan-domestic-market (JDM) coupe. Aside from rear-wheel drive, the only other noteworthy parts of it were its by-then-dated angular styling that came straight out of the Apple II era. It wasn't the least bit interesting and already a few years old when it arrived stateside. It had 160 horsepower and only came with a four-speed automatic. Infiniti would go on to make a convertible version of it, and, from what I remember, most were painted pearlescent white.
Aside from those early ads, the brand stood apart from Lexus's Mercedes play by being the Japanese luxury brand that'd chase enthusiasts. The vehicle that made that play was the 278-hp, 4.5-liter Q45 sedan. It ran to 60 mph in 7.9 seconds and cost $38,000 when the least expensive V-8–powered Mercedes-Benz S-class cost $61,210. Infiniti started with a clean sheet and crafted an unadorned and elegant machine that didn't imitate the German brands, to a fault
In the '80s, luxury cars had grilles, and they had wood inside. The first Q45 had neither. The interior had leather and high-quality plastics, but no wood. We raved about driving it in a comparison test in our December 1989 issue: "I'm tired of writing superlatives about this car." But we also wondered why Infiniti neglected to put a grille on it. Instead, the Q45 had what looked like a belt buckle with snakes. Actually, Japanese tapestry inspired the design, but to most Americans it looked like a bundle of snakes. Years later, when the Q45 was refreshed, Infiniti slapped a chrome grille on the nose, and, to our knowledge, the brand hasn't spoken about Japanese tapestry since.
Infiniti is the house that the Q45 built, but there were plenty of other noteworthy Infinitis. The first-generation G20 arrived in 1991. A rebadged Nissan Primera, the G20 looked like a tiny BMW and became the brand's entry-level luxury car. It started at $18,135 and shared its SR20 2.0-liter four with 140 horsepower and a 7500-rpm redline with the C/D favorite, the Nissan Sentra SE-R.
Infiniti launched the Jaguar-like J30 in 1992. Elegant and upmarket, it didn't have a hard edge on it, and it took the ovoid theme further than the '90s Taurus. It wasn't a sports sedan, but the design made a mark. By the end of the 1990s, the second-generation Q45 arrived, but it lacked the flavor of the original.
In 2003, Infiniti introduced two important vehicles: the G35 sports sedan and coupe and the FX crossover. Aimed directly at the BMW 3-series, the G35 proved to be a spectacular success and a C/D favorite. Subsequent generations managed to maintain the magic blend of sporty handling and luxury of that first one. Eventually, the G35 evolved into today's Q50 and Q60 coupes.
The first-gen FX, available with a V-6 or a V-8, also proved popular and helped cement the brand's future design direction. Its look was ahead of its time and still appears fresh enough to be sold today. If anything, the original's styling needed nearly nothing and was a tough act to follow. The second-gen FX didn't look much different.
Looking toward the future, Infiniti is planning to introduce five vehicles in the next three years. There'll be a sporty SUV dubbed the QX55 arriving in 2020, followed by a new flagship sedan with an electrified drivetrain and a fully electric SUV. We've yet to drive any of those vehicles, which might be the perfect opportunity to bring back the nature-centric ads.
Lexus' newly refreshed 2020 RX crossover has received a Top Safety Pick award from the Insurance Institute for Highway Safety. And as with many vehicles that pass IIHS's increasingly tough muster these days, there's a caveat: It applies only to versions equipped with certain headlights.
That metric was also what caused the RX to narrowly miss out on notching a Top Safety Pick+ designation, the highest possible. IIHS rated the base headlights and one of the premium headlight options — both static LED projectors — as acceptable, but it gave a poor rating to the available curve-adaptive LED headlamps, saying they created too much glare.
Elsewhere, the RX aced crash testing, earning good ratings across the board. IIHS says this was the first time it put the luxury crossover through its passenger-side small overlap crash test, noting that Lexus made changes to the bumper and front-end structure to improve protection for front-seat passengers. It also gave a superior rating to the RX's vehicle-to-vehicle front crash prevention system, which avoided collisions in track tests at both 12 and 25 mph.
Both the RX350 and 450h hybrid version received light refreshes for 2020, including the latest version of Lexus Safety System +. It includes new features such as daytime bicyclist detection and low-light pedestrian detection, adding to the existing pre-collision warning and adaptive cruise control.
This is the fourth IIHS safety award for the brand in 2019, following Top Safety Pick+ awards for the ES, UX and NX.