DETROIT — Ford Motor Co.'s profit last year plunged by more than $3.6 billion, weighed down by slowing U.S. sales, the cost of a botched SUV launch and some big pension expenses.
The Dearborn, Michigan, automaker said it made $47 million in 2019, down from a $3.68 billion profit a year earlier. For the fourth quarter the company lost $1.7 billion, or 42 cents per share, hit by $2.2 billion in one-time pension costs.
Excluding one-time items, Ford made 12 cents per share for the quarter, falling short of Wall Street's expectations. Analysts polled by FactSet predicted 17 cents per share.
Quarterly revenue fell 5% to $39.7 billion, about even with Wall Street estimates.
Shares in the No. 2 U.S. automaker plunged 9.4% in after-hours trading, shaving more than $3 billion off the company's value. In comparison, electric carmaker Tesla closed up nearly 14%, pushing its market cap to $160 billion, more than four times the size of Ford's $36.4 billion.
"The results were not OK in 2019," Ford Chief Financial Officer Tim Stone told reporters at the company's headquarters outside Detroit.
"As I look to 2020 and beyond, I'm very optimistic," he said, while cautioning that Ford's lower guidance does not yet account for the potential impact of the coronavirus outbreak in China.
In an after-hours call with financial analysts, Chief Executive Jim Hackett was more blunt about the challenge of balancing Ford's protracted turnaround efforts with its continuing work on future technology, including electric and self-driving cars.
"I don't think this company can keep straddling the old and new worlds forever ... This company has to change," Hackett said.
Hackett blamed the drop primarily on the flubbed launch of the new Ford Explorer SUV at its factory in Chicago.
New Explorers came off the assembly line with multiple problems and had to be shipped to a Detroit-area factory for repairs.
Hackett also referred to higher warranty costs during the year, especially for a flawed six-speed automatic transmission in the Ford Focus compact car.
He said the Explorer production is now fixed and the SUVs are selling well.
"Our leadership team is determined to return to world class levels of operational execution," he said.
He said 2019 was a year of restructuring for the company as it downsized its white-collar workforce and shifted its products to higher-growth, higher-margin SUV and truck segments while exiting lower-growth sedans.
The company also announced that blue-collar workers represented by the United Auto Workers union will get profit-sharing checks of $6,600, based on North American pretax profits of just over $6.6 billion.
Material from Reuters was used in this report.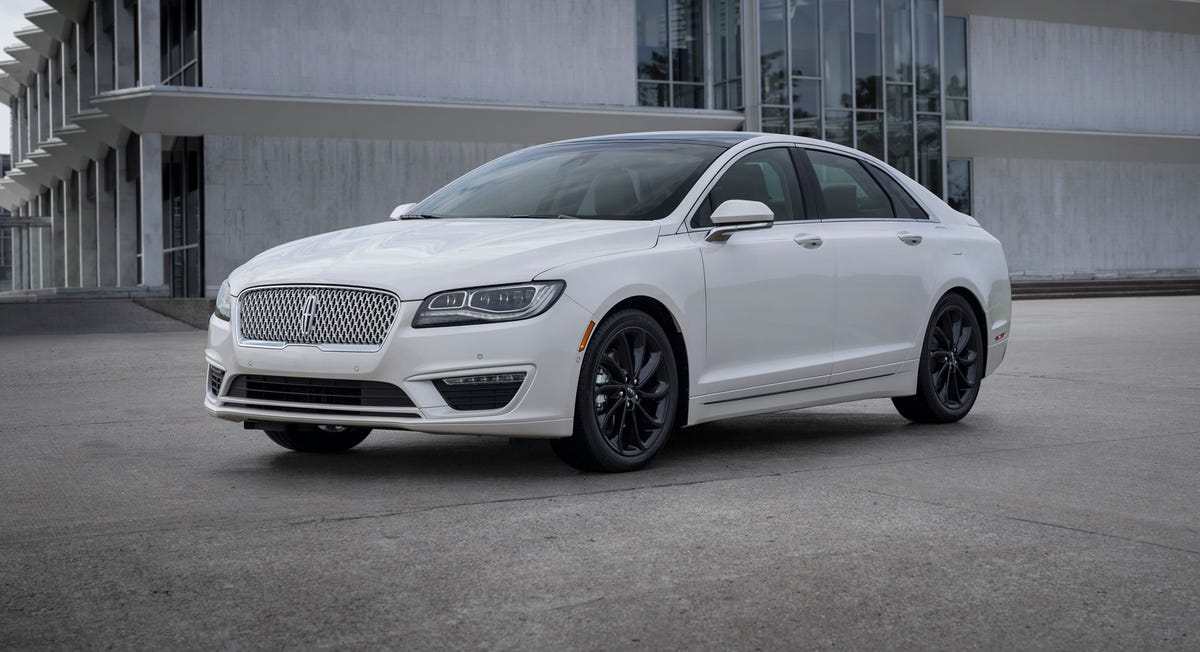 Overview
Lincoln has turned its attention to developing electric vehicles and flashy SUVs such as the all-new Aviator, but it still builds upmarket sedans such as the 2020 MKZ. Well, at least for now. While those looking for a sharp-handling entry-luxury car should keep searching; those who want a comfortable cruiser with desirable features and options should keep reading. Lincoln instills the aging MKZ with enough style to endear fans of the brand. It also offers all-wheel drive, a potent twin-turbo V-6, and a frugal hybrid version. The standard four-cylinder engine is unremarkable. Every 2020 MKZ is equipped with a cozy cabin and generous driver-assistance technology; we only wish the whole experience were as compelling as the automaker's other offerings.
What's New for 2020?
Lincoln is expected to discontinue the MKZ after the 2020 model year. However, the company makes small changes before its official send-off. The sedan receives new paint colors that include Empire Blue, Red Carpet, and Silver Radiance. These replace Blue Diamond, Crystal Copper, Ingot Silver, and Ruby Red. The Monochromatic package gets new 19-inch wheel designs and a body-color upper grille. Finally, Lincoln adds lane-keeping assist to its suite of standard driver assists.
Pricing and Which One to Buy
Standard: $37,745
Reserve: $43,495
Hybrid Reserve: $43,495
Since we really like the MKZ's optional twin-turbo V-6, we have to choose the Reserve model. The engine upgrade costs an extra $3000 and all-wheel drive tacks on another $3000 if you want it. However, we're not fans of the latter's torque-steer tendencies, so we'd stick with front-wheel drive. That allows us to enhance the interior with the Luxury and Elements packages that together add the highly adjustable Multi-contour front seats with massage functions and heated/ventilated cushions. The combo also includes snazzier LED headlights and the 20-speaker Revel Ultimate audio system. The Monochromatic appearance package, which only comes in Infinite Black or White Platinum paint, is also required with those two selections. Although it brings black 19-inch wheels and body-color exterior trim, shoppers can skip those color schemes and keep the options by choosing among the other extra-cost colors.
Engine, Transmission, and Performance
There are two gas-engine choices; there is also a Lincoln MKX hybrid. The base engine is a 245-hp turbo four-cylinder that will likely satisfy most buyers with both its good highway fuel economy and its easy power delivery. Hot-shoe drivers will appreciate the optional twin-turbo V-6 engine that makes 350 horsepower in front-drive models and 400 horsepower with all-wheel drive. With the V-6, the MKZ is hilariously overpowered and heavy throttle inputs tug aggressively at the front wheels (a phenomenon known as torque steer) in front-wheel-drive models; ordering all-wheel drive not only increases the engine's power output, it also reduces that sensation somewhat. The hybrid model is far less exciting—it comes with a non-turbo four-cylinder, an electric motor, and a continuously variable automatic transmission (CVT)—and in our testing, delivered a languid zero-to-60-mph time.
Fuel Economy and Real-World MPG
The EPA estimates the front-drive, four-cylinder MKZ will earn 20 mpg in the city and 31 mpg on the highway. Adding all-wheel drive doesn't affect its city rating, but it does reduce its highway number by 2 mpg (29 total). The more powerful V-6 versions have estimates of 18 mpg city and 27 highway (front-drive) and 17/26 mpg city/highway (all-wheel drive). Those looking for the most efficient MKZ will want the hybrid model (front-drive only) that has ratings of 42 mpg city and 39 highway. While we've only tested an MKZ with the V-6 and all-wheel drive on our 200-mile fuel-economy route, it earned 26 mpg on the highway in that real-world test.
Interior, Comfort, and Cargo
Inside the standard MKZ you'll find a cabin that's nicely finished but no more special than what you'll find in a high-end Fusion. The standard front seats are comfortable and supportive, but the available Multi-contour seats offer truly luxurious levels of body coddling. However, they're only optional on top-of-the-line models with the Luxury package. Stepping up to the Reserve trim also adds the upscale features that make it worthy of the Lincoln nameplate, such as leather upholstery, genuine wood trim, ambient interior lighting, a power-adjustable steering column, a power-operated trunklid, and illuminated doorsill plates. The sedan's interior cubby storage is largely average, with the benefit of several cubbies in the center console. We managed to fit six carry-on suitcases in the trunk of the nonhybrid model. While we haven't tested the hybrid MKZ, its battery pack reduces trunk volume from 15 cubic feet to 11 cubes.
Infotainment and Connectivity
An 8.0-inch touchscreen infotainment system is standard across the range and comes with Lincoln's Sync 3 operating system and Apple CarPlay and Android Auto integration. Reserve models come with integrated navigation and two extra USB ports on the back of the center console for rear-seat passengers. Those who spring for the pricier model also unlock the option to add the more sophisticated 20-speaker Revel Ultima audio system.
Safety and Driver-Assistance Features
The 2020 MKZ earned a five-star rating from the National Highway Traffic Safety Administration (NHTSA), but it wasn't named a Top Safety Pick by the Insurance Institute for Highway Safety (IIHS). Lincoln also provides various standard and optional driver-assistance technology. Key safety features include:
Standard forward-collision warning and automated emergency braking
Standard blind-spot monitoring and rear cross-traffic alert
Available adaptive cruise control
Warranty and Maintenance Coverage
Lincoln's limited warranty matches most luxury competitors, and the company's powertrain coverage even exceeds rivals such as Audi and Volvo. While Lincoln only provides complimentary maintenance for its most glamorous models, the coverage does exceed what BMW offers.
Limited warranty covers four years or 50,000 miles
Powertrain warranty covers six years or 70,000 miles
Complimentary scheduled maintenance is covered for four years or 50,000 miles on Black Label models
TOKYO/SAN FRANCISCO — Tesla's stock surged 20% on Monday in its largest one-day gain since 2013, fueled by a quarterly profit at Panasonic's battery business, with the U.S. car maker and an investor report predicting its shares would rise more than ten-fold by 2024.
Shares of Tesla have rallied by over 30% since the car maker run by Chief Executive Elon Musk posted its second consecutive quarterly profit last Wednesday, which was viewed as a milestone for the company competing against established heavyweights including General Motors Co and BMW.
The stock is up over 300% since early June, helped by Tesla's better-than-expected financial results and ramped up production at its new car factory in Shanghai.
Monday's rise came after Panasonic Corp reported the first quarterly profit in its U.S. battery business with Tesla, which followed years of production troubles and delays.
"We are catching up as Tesla is quickly expanding production," Panasonic Chief Financial Officer Hirokazu Umeda told an earnings briefing, referring to battery cell production.
"Higher production volume is helping to push down materials costs and erase losses."
Musk last April said that battery production had become a constraint on output of Tesla's Model 3 sedans.
Adding to jubilance around Tesla, investment management firm Ark Invest, in a note dated Jan. 31, said it expects the company's stock to hit $7,000 by 2024, compared to Monday's record high of $780. It based that prediction, which would put the company's market capitalization at $1.3 trillion, in part on Tesla launching a fleet of profitable "robotaxi" autonomous cars.
Musk told investors last April that robotaxis with no human drivers would be available in some U.S. markets in 2020, a claim met with skepticism by experts who said the company's technology was nowhere near ready.
Tesla is Wall Street's most shorted stock, and its recent rally has pummeled traders betting against it. Short sellers on Monday suffered paper losses of over $2.5 billion, bringing their losses in 2020 to more than $8 billion, according to S3 Partners, a financial analytics firm.
Panasonic first invested in Tesla in 2010 and announced its partnership in building the U.S. firm's Gigafactory plant in Nevada in 2014 as part of its strategic shift from low-margin consumer electronics to automotive components.
But as its $1.6 billion Gigafactory investment failed to produce solid returns, Panasonic has grown cautious about its battery business with Tesla.
It chose not to build a new battery plant for Tesla in China, ceding its battery cell monogamy as Tesla entered into a partnership with South Korea's LG Chem Ltd and China's CATL.
"We will focus on demand at Gigafactory for Model 3 and Model Y," Umeda said.
Panasonic is turning to Toyota Motor Corp for battery partnership, setting up a joint venture for electric vehicle (EV) batteries in April.
Panasonic said operating profit for the October-December quarter rose 3% to 100.4 billion yen ($915 million), beating analysts' estimates by 49%, thanks to the improvement at the Tesla battery business as well as cost cuts.
It maintained its profit forecast for the year through March at 300 billion yen, above an average estimate of 295.14 billion yen by 20 analysts.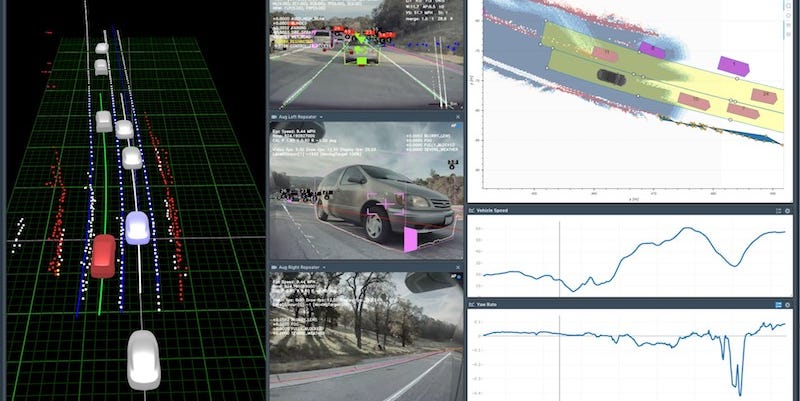 Tesla has posted a video on its Autopilot web page to explain what self-driving technology the company is working on and what kind of results it expects.
Full Self-Driving (FSD) was supposed to be deployed by the end of 2019.
The video doesn't show how the system tracks pedestrians and bicyclists.
Tesla's Autopilot plans are aggressive to say the least. CEO Elon Musk has noted that the company's current-generation vehicles already have the hardware for Full Self-Driving (FSD). The limiting factor, according to Musk, is the software. Clearly, the CEO wants self-driving, so to make it a reality, the Autopilot team is now recruiting via the Tesla website's landing page. Bonus: the public gets a peek into how the next level of Autopilot works.
The short video of a few driving scenarios illustrates how the system sees and annotates the world around it. In addition to the typical boxes that indicate different objects in the world, we can see the vehicle's speed, plus its interpretations of the weather and road conditions.
While the video loop is a great insight into the automaker's self-driving work, it's disappointing that the vehicle depicted doesn't encounter pedestrians, bicyclists, or others that share the road with cars. The car in question does drive into a downtown area, but the only pedestrian it registers is walking along the sidewalk.
The new Autopilot page went live after the company missed a Full Self-Driving release target set by Musk. At an investor event in 2019, Musk said he expected the feature to go live by the end of 2019. The deadline, of course, has come and gone without autonomy being deployed to owners' vehicles.
Typical of Musk's unorthodox approach to R&D, he announced via Twitter over the weekend that he's going to invite coders and AI experts to a house party to do a little work on Autopilot.
During the company's 2019 fourth-quarter earnings call last week, Musk said FSD might be "feature complete" in a few months. But he downplayed how well the system would work, noting that it might let Tesla drivers travel from home to work without intervention but clarifying, "That doesn't mean the features are working well."
For a successful and quick deployment of this technology, the company will likely need more people working on it—thus the use of the Autopilot landing page to tout what it's working on and generate interest in the talent needed to finally make Teslas truly drive on their own.
A nondescript white van rolls up beside my blue 2020 Porsche Taycan Turbo as I sit at a red light on the Pacific Coast Highway near Huntington Beach, Calif. The driver rolls down his window, gives a hearty thumbs up, and makes it clear via additional hand signals that he wants to see me stand on it. His grinning passenger leans forward and seconds the motion with an enthusiastic nod.
I roll down my own window. "Sorry, but I'm in the middle of a range test."
They seem to understand. When the light turns green they hang back, content to snap pictures as I accelerate away at a prudent pace. Normal driving is the goal here. To do this right I can neither be hyperactive nor drive like a hypermiler.
That's because this test has two parts. The first is a controlled drive around a standardized test course I've used before. The second is a more freeform road trip to see friends in the isolated desert town of Borrego Springs, Calif.
At the end, I'm hoping to answer two questions we all have about the Porsche Taycan: Is the Taycan Turbo's 201-mile range achievable in the real world? Can you travel out of town and have a little fun along the way without fretting over range?
A lap of Orange County — or maybe two
I'm driving on what I call my "Lap of Orange County" test loop, an EV range test course of my own design. It's made up of suburban residential and arterial streets, along with a stretch of the Pacific Coast Highway. Speed limits range between 25 and 60 mph, with much of it in the 35-to-45-mph range. There are no outright freeways, but there are more than 100 potential stoplights and a couple dozen stop signs.
One lap of the circuit is 104.5 miles, which means that two laps would exceed the Taycan Turbo's rated range by 8 miles. I'm hoping for two laps, but if I make it, I won't keep going until the Porsche craps out along some random curb. That's not safe, and it's not a realistic reflection of how EV ownership works. Besides, no one wants to see the "winch of shame" onto a AAA flatbed.
Instead, I'll add the miles remaining, if any, to the number of miles driven. This "projected range" figure should be quite accurate because the distance-to-empty calculation should be mature after all that time. Then I'll plug it in and calculate consumption after it's full. The Taycan's consumption rating is 49 kilowatt-hours per 100 miles (kWh/100), which is frankly terrible.

Profiling in the O.C.
By my calculation, this is going to take nearly eight hours. But this course has enough to look at to keep things interesting. Along PCH there's sun, surf, and enough G-Wagens to equip a small army. Not to mention the stoned surfers in white vans looking for an Instagram fix.
I start out in Range mode instead of the default Normal mode because, well, this is a range test. This configures the Taycan to prioritize its front motor, and it also drops the air suspension to low mode regardless of speed. What it doesn't do is make the throttle pedal react like a dead fish. I usually won't use the Eco settings in other EVs and hybrids for this very reason, but I've got no complaints here.
The road surface varies significantly as I roll through some two dozen municipalities, from aging cracked concrete and baked coarse asphalt to mildly undulating paved ribbons draped over sagging seaside cliffs. The air suspension takes it all in stride, and low mode only seems to lack enough travel over one particularly nasty edge.
As morning turns to midday, the sun melts through the marine clouds. I've got the climate control set to 72 degrees in full automatic mode (my standard setting for EV tests), and I don't mind that Range mode engages the AC's Eco program because I'm driving solo. The Taycan's all-glass roof was a worry before I started, but its coating is proving more than up to the task of keeping the radiant heat at bay. Still, this isn't summer, and I'm not in Phoenix.
This is going to be easy
I begin to get optimistic about the Taycan's chances after about two hours. The number of remaining miles far exceeds expectations, to the point where the projected range works out to well over 260 miles. But I'm only about one-quarter of the way home. Too early to celebrate.
It's worth pointing out how I drive this course. The idea is to play it right down the middle, being neither too fast nor too slow, too aggressive nor too meek. Traffic is free flowing, but clustered packs of cars usually define the pace anyway. When it's more open and I can set my own pace, I'll limit myself to about 5 mph over, which slots me between the leadfoots and the slowpokes.
The numbers are even better as I make the turn to pass my home the first time. The Taycan's trip odometer indicates 104.6 miles driven and — get ready for this — 179 remaining. I marvel at the prospect of 284 miles as I begin lap two.
Traffic is slightly worse on the second circuit, especially as commuters start to mix in towards the end. My average speed drops a bit, but the gauge says I'm still pacing about 2-mph faster than my usual average speed on this course.
Lap two is much like the first, with my podcast backlog shrinking all the way. And then it's over. I roll into my driveway with 209.2 miles on the trip odometer. After two laps of Orange County, the Taycan has surpassed its rated range by 8.2 miles, and it did so with another 78 miles on the range meter. That's 287.2 miles of projected range, folks, some 43 percent better than the EPA rating.
For perspective, I have seen several other EVs — but certainly not all — best their rated range on this course by 20 percent or so. This result is significant because this is the first time I've seen a car crush it by over 40 percent. The mind boggles further when you consider that this particular Taycan Turbo rolls on massive Michelin Pilot Sport 4 summer tires instead of the workaday all-season rubber you normally see on EVs and hybrids.
Time to have dinner and recharge it for tomorrow.
Over the mountains from beach to desert
Phase two has no set speed, and I stick with the default Normal mode because this isn't my formal range test. There's also no standard route; I chose Borrego Springs because friends live there and the scenery is spectacular. It doesn't hurt that the roads that lead to it are some of my favorites, the sort that automakers choose when they invite the media to drive their newest toys.
There's some freeway mileage along the coast before the route turns inland, and here I let the Taycan run at the pace of the leftmost lane. I stop at a Cars and Coffee event for an hour or so, then head inland on a four lane with some stoplights. Then the two lane starts. My projected range hovers improbably close to yesterday's end result even though I'm running on faster roads and taking more liberties.
Tourists soon dictate a pace I don't like, and I make a snap decision to detour up and down Palomar mountain on S6 and S7, two of my favorite side roads. The way up is a sinuous hairpin-laden beast that would be in the Tour de France if this were France, but it settles for the Tour de California. There's no one in front of me, so I do what you would do.
The Taycan's fat Michelin Pilot Sport 4 summer tires produce immense grip as the electric Porsche leaps from hairpin to hairpin, utterly unfazed by the gradient. Tiny pebbles ting off the flat underbelly of the car as the dual motors noiselessly get down to business. The steering is even more precise and well-weighted than I remember it from an earlier drive in Europe, and there seems to be no end to what the brakes can do.
The more flowing road that leads back down reinforces a lament I've noticed before. I wish Porsche saw fit to enable a real lift-throttle regeneration driving mode that does more than merely simulate engine braking. I get it, it's a drivers' car. But one-pedal driving can be massive fun, too. Give us a choice.
The last miles
I check the range gauges at the end of my 20-minute detour. The blast up and down the mountain cost me, but with 113.6 miles driven, the car says it still has 132 miles left in it. That's still 245.6 miles of projected range. I'm impressed.
I'm even more amazed when I realize that there's still another significant downhill stretch between here and my destination. Borrego Springs lies at a similar elevation to my starting point but, relatively speaking, I'm still in the highlands. Up ahead, highway S22 dives off the side of a mountain of boulders through dozens of coiled corners before delivering me smack into town.
The Taycan generates electricity all the way down, but the brake pedal feel is so outstanding that it's unclear which percentage of the slowing is coming from the motor's magnetism or the massive 10-piston Akebono front calipers. The regenerative system can generate as much as 0.4g, so I'd guess that even here the motor's doing more than the rotors.
The numbers seem to bear that out. Once I'm at the bottom, I meet up with my friends, drive to the far edge of town to take some sunset pictures of the car, then go out to dinner. Finally back at their place, the two meters read 167.5 miles driven and 86 miles to go. That works out to 253.5 miles of projected range, otherwise known as 7.9 more miles than I had at the top of S22.
Bottom line: Stop worrying about the Taycan's range
I've taken numerous trips in many different electric cars, so I was never concerned about the Taycan even if its range did prove to be "just" 201 miles. But it's now abundantly clear to me that the Taycan Turbo's real world range is easily better that the number the EPA gave it.
My result of 287 miles of projected range in around-town driving shows that there's ample cushion if you drive normally. It took 72.9 kWh to replenish the battery afterwards, and the math works out to a consumption rate of 34.8 kWh/100. That's fully 29% better than the EPA rating of 49 kWh/100.
It's true that most EVs can exceed their rated range when driven prudently, but I've never seen this much margin on this course. Still, an EV's published range is conservative by design, the result of lopping 30 percent off the number generated by the EPA test protocol. As it happens, 201 miles is exactly what you get if you take 30 percent off my 287-mile result. I'm not saying that my course mimics the EPA EV test pattern exactly, but maybe this result says something about the by-the-book nature of Porsche's numbers in the context of the EPA procedure.
Better still, the numbers didn't plummet on a more spirited road trip. Higher speeds and a bit of light hooning up a mountain had an effect, but it was nothing like I expected. My projected range was still more than 50 miles better than its official rating after all that. So let's agree to stop wringing our collective hands about the 2020 Porsche Taycan Turbo's range. It's more than fine.
Contributing writer Dan Edmunds is a veteran automotive engineer and journalist. He worked as a vehicle development engineer for Toyota and Hyundai with an emphasis on chassis tuning, and was the director of vehicle testing at Edmunds.com (no relation) for 14 years.
Related Video:
Directors of Tesla Inc settled a shareholder lawsuit over the company's 2016 acquisition of SolarCity Corp, leaving Chief Executive Officer Elon Musk as the lone defendant facing claims that Tesla paid $2.6 billion for a worthless solar energy system installer, according to court documents.
The $60 million settlement comes as a 10-day trial is scheduled to start on March 16 in Delaware in which shareholders seek $2.6 billion in damages, the entire cost of the SolarCity deal.
A lawyer for Musk and a spokesman for Tesla did not immediately respond to a request for comment.
Tesla shareholders have alleged Musk breached his fiduciary duties, squandered Tesla's assets and unjustly enriched himself by pushing to buy the money-losing solar company in which he was the biggest investor.
The settlement covered five current directors: Robyn Denholm, Ira Ehrenpreis, Antonio Gracias, Stephen Jurvetson and Kimbal Musk. Brad Buss, who was a director at the time of the SolarCity deal, was also part of the settlement, which was paid from insurance policies, according to court documents.
"Plaintiffs probably think they have a cleaner shot on the merits if the only issues they have to raise are with Elon Musk and Elon Musk's actions," said Brian Quinn, a professor at Boston College Law School.
The case was brought in the Court of Chancery in Delaware, where Tesla is incorporated, by an individual investor and five investment funds.
Tesla said in a statement to Reuters in September the allegations were "based on the claims of plaintiff's lawyers looking for a payday, and are not representative of our shareholders."
The suit represents another legal headache for Musk, who in the past two years has settled a lawsuit by securities regulators over his use of Twitter and won a defamation trial brought by a British cave explorer.
Musk and the Tesla board also are scheduled to defend Musk's pay package at a trial in Delaware next year.
At the heart of the current case are allegations that Musk and the other board members did not fully disclose the depth of SolarCity's problems, or their own conflicts.
SolarCity was founded in 2006 by Musk and his cousins, Lyndon Rive and Peter Rive, who were the company's CEO and chief technology officer as well as directors. Musk was SolarCity's chairman and largest shareholder, and five of Tesla's directors were direct or indirect owners of SolarCity stock.
Entering 2016, SolarCity's stock was on a sharp downward trajectory and the company was slashing its workforce and bleeding cash.
Tesla touted synergies of combining the companies in the all-stock deal, which was approved by Tesla shareholders.
After the deal closed, Tesla slashed its solar sales force and ended a solar marketing deal with Home Depot Inc. Quarterly solar installations plummeted and are well below levels SolarCity enjoyed in its heyday.
Tesla has said Musk's involvement in deal discussions and all other material information were accurately described to shareholders in public filings before the deal closed.
On Wednesday, Tesla reported its second straight quarterly profit, sending its stock surging to an all-time high.
I finally went to a Formula E race. The series, if you're not hip to the international open-wheel electric racing scene, is like Formula 1 only slower. Yet every year, the cars improve and the races get more interesting. For the 2019–20 season, the cars max out at 335 horsepower in qualifying trim, but don't let that Camaro V-6 number fool you. The cars weigh less than a ton, run zero to 60 in a claimed 2.8 seconds, and top out at more than 170 mph. Formula E isn't in the perform­ance realm of F1, but the cars are quick enough to put on a good show on the streets of Brooklyn.
The New York race, like all the races on Formula E's international schedule, is overseen by the FIA. Which, in case you didn't know, stands for Fédération Internationale de l'Automobile. As you may have inferred, that is an outfit of the French variety. The FIA differs from, say, NASCAR in that it operates on the premise that you are lucky to attend the race, you swine. The Brooklynites working the gates were invariably friendly and courteous, but once you're inside, you're in the FIA's world—a world of bracelets and badges and people frowning at your various bracelets and badges and telling you that you need a new bracelet and possibly another badge if you want to walk over there. At one point, Jaguar (which runs the I-Pace eTrophy support races and fields its own Formula E team, Panasonic Jaguar Racing) invited me to a paddock tour, but the FIA said I couldn't go because it hadn't issued me the proper badge, for which I'd dutifully applied in advance. In another case, there were two routes to a fan zone—one though an air-conditioned hallway, another outside in the merciless sun—and the route you took depended on your badge. Good thing I brought sunblock.
Because I have this strange fetish for race cars that are actually relevant to something you can buy, I was more interested in the I-Pace eTrophy cars than the open-wheel spec racers. The I-Pace is a fantastically weird starting point for a race car. The race version has slammed suspensions and a gutted interior, but it uses the same battery, motors, and inverter as the street car. One major difference: The Jag's air-conditioning system is repurposed to provide extra cooling for the battery. In that way, and in probably no other way at all, the I-Pace eTrophy is like a Hellcat Redeye with the Power Chiller.
The eTrophy races are entertaining because they pit pro drivers like Katherine Legge and the excellently named Cacá Bueno against amateur drivers. To score a seat as an amateur driver, you have to have skills and passion. And you have to have $662,000. That last part is important, because that's what it costs to run an I-Pace for 10 races. That includes unlimited charging, though.
This was only the third year for the Brooklyn race, but you get the sense that Formula E has momentum. More carmakers have joined (this season has teams from Audi, BMW, Jaguar, Mercedes-Benz, Nissan, and Porsche), and it's becoming a destination to flaunt your new electric hotness. Harley-Davidson showed off the LiveWire, and Porsche ran a few laps with Taycans. I caught a ride around the circuit in an Audi e-tron, which didn't tell me much about the e-tron but did show me the tightness of the track.
Before the race, I met with Michael Perschke, CEO of Automobili Pininfarina, to discuss the upcoming Battista, the company's 1900-hp electric car. "The only way to do a car like this now is by going electric," said Perschke. "If you tried to do internal combustion, you could spend $100 million and end up with the same performance as everyone else. This is something else. We're doing zero to 60 in 1.9 seconds. In a straight line, it's quicker than any Formula 1 car."
Wrap your brain around that. We're nearing the point where if you want ultimate performance, the only affordable path forward is electric. Formula E isn't going to surpass Formula 1. Eventually it will be Formula 1. Check it out while it's still funky.
From the December 2019 issue.
Car audio equipment was getting better and cheaper in a hurry, as our current century dawned, especially compared to the stuff you'd get in the bad old days, when a factory AM radio might cost you hundreds of dollars and a lot of aftermarket car-sound gear was both expensive and terrible. Ford's marketing wizards hoped to lure in some younger buyers for the 2002 Focus — those that didn't snap up mountain-bike-included Kona Edition Foci a couple of years earlier, that is — by partnering with Mach Audio to build some Focus ZTS sedans with thumping sound systems optimized for listening to the latest Juelz Santana tracks. Here's a genuine Focus ZTS Mach Audio Edition that I found in a San Francisco Bay Area yard a couple of months back.
Other Ford models, including the F-Series pickups and Mustangs, could get the Mach Audio package during this era.
Naturally, some lucky Focus-owning junkyard shopper (or maybe a fortunate eBay seller) grabbed the Mach Audio gear out of this car before I got there.
The ZTS trim level included a 130-horsepower DOHC Zetec engine (instead of the ordinary 110-horse SOHC unit). Those who sprang for the '02 Focus SVT got the 170-hp plant.
This car would have been a lot more fun with the base five-speed manual transmission, but the original buyer opted for the automatic.
Built at Wayne Stamping & Assembly in Michigan, sold new at Fenton Motors in Texas, made its way to California… where it will be crushed.
It's hard to imagine these Junkyard Gems as shiny new cars, treasured by their loving owners and protected at all costs, but that's how they all started out.
Related Video: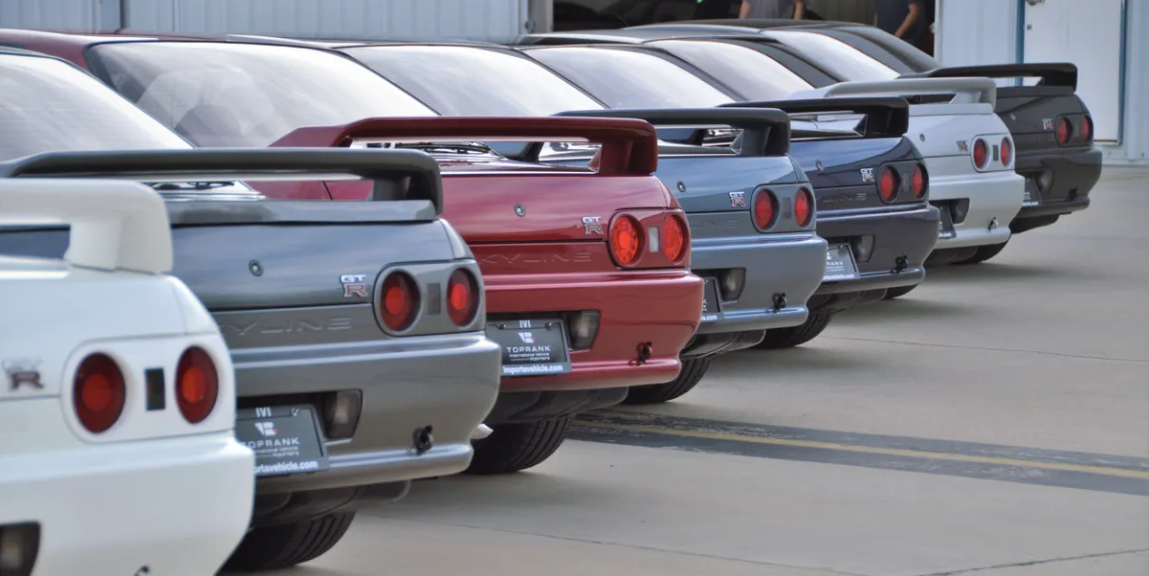 Thinking about buying the Japan domestic market (JDM) car of your dreams? Well, unless you've spent time in Japan driving it, it's likely you'll have to buy and import the car sight unseen. Now, thanks to this new rental company in Las Vegas we learned about through Grassroots Motorsports, you might be able to try out some of your favorite JDM cars before committing to a purchase.
RentJDM, a rental company located in southern Vegas, will offer a swath of different JDM cars from the 1990s that weren't originally sold in America, according to its website. Among the cars set to be available at the company's early 2020 launch are a Suzuki Cappuccino, a Nissan Pulsar GTI-R, a Mazda RX-7, a Mitsubishi Lancer Evolution II, and a handful of different Skylines.
Exotic-car rentals are a dime a dozen in Vegas, but this is the first we're hearing of a proper vintage JDM rental company anywhere in the United States. It's pretty genius considering the explosion in popularity that JDM cars have seen here recently. Now, there's finally going to be a place where people can drive them without having to go through the whole process of buying one. We're stoked to try it out sometime.