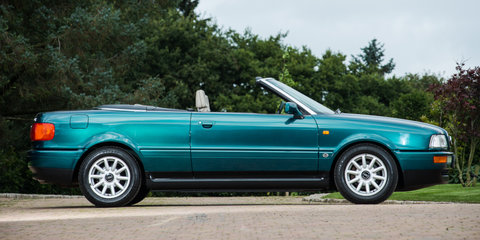 Everyman Classic Car Auctions
The late Diana, Princess of Wales, was often photographed in 1994 at the helm of her Audi 80 cabriolet, which is now set to roll across the auction block.
The right-hand-drive Audi 80 is painted dark green with a white interior and shows 22,000 miles on its odometer.
The car, which has gone through several other owners, is expected to sell in the range of $46,000 to $52,000 at the Practical Classics Classic Car and Restoration Show.
In this week's edition of British royal family news, we're not going to be discussing the dramatic exit of Harry and Meghan from their official duties, but something far more interesting: the news that the 1994 Audi 80 cabriolet that once belonged to Diana, Princess of Wales, is going up for auction in March.
In the summer of 1994, the tabloids frequently featured pictures of Princess Diana motoring around London in the green Audi 80, occasionally with Prince William and Prince Harry sitting in the back seat. The photo above, showing the late princess getting into the Audi, was posted on an Audi 80 cabrio fan page on Facebook. That same Audi is going to roll across the auction block in March at the Practical Classics Classic Car and Restoration Show 2020, taking place in Birmingham, England, the weekend of March 27–29.
Diana returned the vehicle to the Audi dealership that had gifted it to her when it had only 4000 miles on the odometer. In driving an Audi at all, she bucked the trend of British royalty driving British luxury cars—Land Rovers, Jaguars, Aston Martins. Her choice of vehicle caused sales numbers for the Audi 80 to jump at the time; such was the popularity and influence of the woman known as the People's Princess.
Diana's specific model was painted in a dark green called Gomera Pearl, with a Parchment leather interior, and despite passing through a few different owners, it appears to have aged gracefully. It is powered by a naturally aspirated 2.3-liter inline-five that produces 131 horsepower and 137 lb-ft of torque; shifting duties are handled by a four-speed automatic transmission. As it was sold in the United Kingdom, this model is a right-hand driver.
The next owner after Diana was was conservative political commentator Iain Campbell-Dale, and after his tenure with the car, it spent time in various private collections. The odometer currently says the car has been driven 22,000 miles.
This little piece of British royal history is expected to sell in the range of about $46,000 to $52,000. Having been built in 1994, the Audi 80 cabriolet is more than 25 years old and is therefore eligible to be imported to the United States.
You surely know that riding with feet up on the dashboard is unsafe. The injuries in a crash could be severe, and even a minor accident in which airbags deploy could have dire consequences. But if you can't convince the person who rides shotgun with you, this image should do the trick.
The X-ray, which, understandably, is careening around the internet today, shows the aftermath of a car crash in which a young woman in Wales was riding with feet up. One femur is snapped, while one hip is broken in the socket and the other has been dislocated far from where it should be.
Police who released the X-ray described the woman's injuries as "life changing."
The Daily Mail's account of the X-ray mentions that Audra Tatum, of Chickamauga, Georgia, was permanently disabled in 2015 by a minor accident. Everyone else in the car received minor scratches and bruises. But the deploying airbag threw her foot into her face, breaking her nose, femur, and her ankle in four places.
"Basically my whole right side was broken, and it's simply because of my ignorance," Tatum said. "I'm not Superman. I couldn't put my foot down in time."
A sad irony is that Tatum was herself an EMT, a job that, two years after the accident, she could no longer do.
The Chattanooga, Tenn., Fire Department issued a vivid Facebook post years ago that has been widely shared. It said in part: "Airbags deploy between 100 & 220 MPH. If you ride with your feet on the dash and you're involved in an accident, the airbag may send your knees through your eye sockets."
So: Seatbelt on. Sit up straight. Feet on the floor. That's how you car will best protect you.
We spotted the 992-generation 911 GT3 in Porsche's Super Bowl commercial, which showcases the Taycan Turbo S electric sedan.
We know it's a GT3 because it's fitted with a large rear wing and center-lock wheels. Porsche even told us to look for a "surprise car" in the commercial.
The new GT3 will be powered by a naturally aspirated 4.0-liter flat-six.
The last time Porsche had a Super Bowl commercial was in 1997. Back then, Brett Favre and the Packers were playing Drew Bledsoe and the pre–Tom Brady Patriots, and the halftime show featured Dan Aykroyd, John Goodman, and Jim Belushi performing as the Blues Brothers with special appearances by ZZ Top and James Brown. This year, however, as the Chiefs take on the 49ers in Miami, Porsche will air an ad showcasing the new electric Taycan sedan ,with special appearances by a 917, a 918 Spyder, and, yes, the 992-generation 911 GT3.
Porsche told us to keep an eye out for a "surprise car" in the commercial. We didn't miss the other legendary Porsches racing through this ad. However, at around the 43-second mark, when two of the commercial's characters are fighting over a yellow 911 GT2 RS, we spotted a special-looking light blue 992-generation 911. It's no ordinary 992-gen 911. It has a big ol' rear wing, a signature for the GT3, and center-lock wheels.
We've spied the 992 GT3 testing outside the Nürburgring in Germany, and after hearing its ferocious shriek, we are certain that the high-revving naturally aspirated flat-six is here to stay. And a manual transmission could be an option, too, because standard 992 911s were just given a manual option.
Expect the 992-generation GT3 to make its debut sometime this year after we see the 911 Turbo and Turbo S, and a race-ready GT3 RS version will surely follow. Pricing is expected to remain close to the 991.2 GT3's $144,650 base price.
If you're a regular reader of Autoblog, you know that for a long time we've liked Fiat Chrysler's Uconnect infotainment system for its bright, clear, responsive touchscreen interface. Now, according to the company, it will be better than ever with Uconnect 5, the latest iteration of the system. It has upgraded hardware and a revamped graphic user interface (the stuff on the screen).
Looking at sample screens shown above, there are characteristics shared with the old system, such as the time, status and shortcuts at the top and the menu icons at the bottom. In the middle, the major change is the addition of home screens that can be customized with favorite menus and readouts that are always available. Each of these home screens can have up to four functions and you can have five pages to flip through. The graphics themselves feature more legible fonts and updated icons. Each car brand will get its own set of icons, colors and textures to help create unique experiences. And while each Fiat Chrysler product will be able to have Uconnect, including Alfa Romeo that has until now lacked Uconnect, each brand has the ability to make small tweaks including the screen orientation. The system will support displays in landscape, portrait or square, so different brands may choose different shapes.
Powering Uconnect 5 is a processor Fiat Chrysler says is six times more powerful than what's in current systems. It features 6 gigabytes of RAM and 64 gigabytes of internal storage. The processor also supports screens as large as 12.3 inches with as many as 15 million pixels, or nearly twice that of a 4K resolution TV. The system can display information on up to four screens, too. Uconnect 5's firmware is built on Google's Android operating system, joining a few other automakers in using Android as a base for their infotainment systems.
Uconnect 5 brings with it a number of new features. It brings full Alexa integration, so you can use it just like you do at home, provided you have a data plan for the car. Apple CarPlay and Android Auto continue to be standard, but now they can be used wirelessly. You can also now connect two phones via Bluetooth wirelessly so you can access content from both. Navigation gets real time information and updates from TomTom. Users can create five profiles with unique climate, radio and instrument settings, plus one for a valet. Also, the voice control system has been updated and will respond similarly to how you speak to Alexa, Siri and other voice assistants.
Uconnect 5 will be available later this year. Fiat Chrysler hasn't officially said which cars will get the system first, but expect it to become equipment on virtually every product from the company.
Lego Ideas is a platform where fans can submit new models in the hope that it will some day be sold as an official company set.

As the first Tesla Cybertruck on the site, this model by BrickinNick got its first 1000 votes in just three days.
Reaching 10,000 does not mean Lego will automatically release the Cybertruck, but its chances are higher now.
Tesla's Cybertruck may be controversial, but at least 10,000 Lego fans agree that there should be a buildable version made out of plastic bricks. That's the vote threshold that a fan-made concept model has reached on Lego Ideas, the company's official channel through which anyone can submit proposals that, perhaps, could someday be turned into actual Lego sets.
While reaching 10,000 votes is not a guarantee that the model will ever be produced and sold, it does mean that Lego employees will now take a closer look at the submission and decide internally if the company will produce and sell it.
The model itself is the work of a well-known Lego builder who calls himself BrickinNick. He currently has another Lego Ideas project in the works featuring Winnie the Pooh and Tigger. That one has received 1700 votes of support since going live last June. Compare that rate of attention with the Cybertruck, which got its first 1000 supporters in just three days.
"The Cybertruck reveal generated a crazy amount of hype and discussion, and having the project built and posted within just a week and a half of the reveal helped a bunch," he told Car and Driver.
BrickinNick said he's long been a fan of Tesla and cyberpunk aesthetics, and built and rebuilt his original Cybertruck model over the course of a 24-hour live stream on his Twitch channel. The area around the headlights went through almost 10 iterations before he was satisfied with the design, he said.
"Funnily enough, there had actually been several moments where I had wanted to give up on the build entirely due to its difficulty," he said. "Unlike metal, you can't bend Lego into any angle you like, and figuring out the right combination of pieces and build techniques to match the shaping of the Cybertruck proved to be incredibly challenging."
There are other Cybertruck proposals percolating on Lego Ideas, but BrickinNick said he thinks that being first was only one reason his model garnered so much attention.
"The scale of my build, which is larger than any other project on the platform, allowed me to better capture the shaping, details, and features of the Cybertruck," he said.
As his model rose in popularity, BrickinNick added clever bonus features to his idea, like minifigures of Tesla CEO Elon Musk and designer Franz von Holzhausen, who is holding both a sledgehammer and a metal ball. BrickinNick also built a small version of Tesla's CyberQuad ATV.
Whether the Ideas Cybertruck is ever released as an official set or not, the good news for those of you with a pile of Legos at home is that Nick has released a video showing how to build a miniature version of the Cybertruck.
Or, if you like paying close attention, you can try to follow along with the original time-lapse video of him building his model. That should take less time than waiting for an actual Cybertruck.
I have reached the point in this series when I need to fill in some blank spots in junkyard automotive history. In this case, I have been remiss in documenting discarded BMW 5 Series and 7 Series cars. So, to follow up the 1998 E39 528i we saw recently, we've got this 1998 E38 740iL in the very same Northern California yard. Who knows, the two arkitssilber-metallic 1998 Bavarians may have sat side-by-side in the very same dealership, more than two decades ago.
Well-heeled North Americans — of which there were many in 1998 Northern California, thanks to the soon-to-pop Dot-Com Bubble — could choose from three 7 Series models that model year: the short-wheelbase V8-powered 740i, the long-wheelbase V8-powered 740iL, and the long-wheelbase, V12-powered 750iL that Pierce Brosnan famously drove as James Bond in 1997. We're looking at the 740iL car here.
The MSRP on the 1998 740iL stood at a daunting $65,020, or about $103,500 when adjusted for inflation. Compare that to the the $47,900 Infiniti Q45, the $52,900 Lexus LS400, the $65,000 Audi A8 Quattro, or the $87,500 Mercedes-Benz S500 to get a sense of just how high up on the Plutocracy Pyramid this car stood.
Power came from a super-smooth 4.4-liter V8 with dual overhead cams, rated at 282 horsepower. The V12 in the 750iL made 322 horses, but the price tag on that car was a breathtaking $91,320 ($145,700 bones in 2020). An update late in the 1998 model year added an extra 15 pound-feet of torque to the V8; this car's build tag shows it coming off the Dingolfing assembly line in December of 1997, so it has the still-impressive 310 lb-ft rating.
All that sounds great, and this car looks to have been in decent condition when it got thrown away at age 21. What gives? Well, technologically-advanced European luxury iron depends on attentive owners doing all maintenance when needed, and the third and later owners of older swankmobiles tend to cut corners in that department. Something that will cost $1,100 to fix correctly goes bad and that's all she wrote for a car like this one. I see A8s (and even S8s), S-Classes, even much newer 7 Series cars in the big U-Wrench-It yards all the time.
The German-market TV commercials for the E38 were full of futuristic imagery and special effects.
Over here, the same cars got much less inspiring promotion on the small screen.
It's a measure of how far construction has progressed at the Berlin Gigafactory 4 site (pictured above) that construction workers have found unexploded bombs on the site.
Locating unexploded bombs from past wars is not unusual in Germany, apparently, as it happened in Cologne this week as well; experts will safely explode them.
The Gigafactory 4 will start building the Model 3 and Y at some point in 2021.
Tesla has been moving ahead swiftly with plans to open Gigafactory 4 in the Berlin area, where it plans to build the Model 3 and the future Model Y for the Europe market. It wouldn't be terribly shocking, given the history of that part of Europe, if artifacts from World War II were to be found on the property.
That's what happened to Tesla this week, when workers who were clearing the site (shown above, when the project was announced in November 2019) uncovered seven unexploded bombs left over from the 1940s. According to the Associated Press, the bombs are unexploded ordnance (UXO) the U.S. dropped on the area during World War II. The find could add up to nearly 200 pounds of ammunition and 25 unexploded bombs, the AP said, citing local media.
UXO is regularly found in Germany and other former war zones. In 2016, Smithsonian magazine reported that more than 2000 tons of UXO are removed from German soil every year. As if to prove that Tesla is not in any way unique here, an 1100-pound bomb was found in Cologne just this week.
The first bombs discovered on the land that will make up the new Gigafactory each weigh 110 pounds, and the plan is to have explosives experts deal with them by exploding them safely in the near future. People on the scene told local media it's possible more could be found as more land is cleared.
Tesla CEO Elon Musk announced in November that Tesla will build its first European factory in Grünheide, Germany, outside Berlin, and that the facility will include a nearby engineering and design center. While Tesla's new Shanghai Gigafactory went from ground-breaking to a production-ready state in just 10 months, it looks like the European factory may need a bit more time to get up and running. The ground-clearing work is happening now, and in Tesla's report to investors for the third quarter of 2019, the company said it expects to start production of both the Model 3 and Model Y at the European factory sometime in 2021. The European factory's annual capacity is expected to start at 150,000 and grow to 500,000.
Beyond his universe-beating basketball talent, LeBron James is associated with an innumerable number of things and interests. He's a Hummer representative (old and new), an actor, a media entrepreneur, a controversial taco enthusiast, and generally one of the greatest role models the sports world has ever had. He's also a bicycle nut (as Miami Heat fans know), and he believes manual two-wheelers can make a major positive impact on society. Not everybody has access to one, however, a problem he hopes to address as part of a new initiative called LyftUp.
In partnership with James, his company Uninterrupted, and the YMCA, transportation company Lyft is aiming to provide free bicycle access to select teenagers. The ultimate goal is to ensure transportation for everybody, but one thing at a time. Lyft says it already offers discounts to people in low-income areas, which make up more than 40% of Lyft rides, and this is the next step in lowering the barrier of entry to mobility. The LyftUp initiative covers bike access, as well as aiding the less fortunate with job, grocery, and voting access, as well.
So where does the YMCA come in? Lyft is working with the Y to help identify certain 16-20-year-olds who need the help the most. Thousands of kids and young adults will be given free one-year bikeshare memberships that can be used with any Lyft-associated bike programs. Lyft will use a variety of methods to raise funds for the free memberships, but the public will also be able to round-up their own rides and donate to the cause.
The first pilot test of the program will launch in New York City in the spring of 2020 with Citi Bikes. If all goes well, the program will launch with Chicago's Divvy bikes and the Bay Area's Bay Wheels. For more information on the program and how to help, visit Lyft.
Every day or two, we learn new fun facts about the eighth-generation, mid-engine Chevy Corvette — just this week, for example, we've learned that if you park it on the street, it won't all be there when you come back; that Chevy's first-year production is going to be down by 20%, given that its first production year is just a few months long; that C8 Numero Uno is worth $3 million when you pack a Barrett-Jackson auction hall with rich folks ready to give that entire sum to charity; and that what is potentially the Z06 with a flat-crank V8 sounds oh-my-God awesome.
Now we've learned the C8 Corvette's fuel economy numbers. And they're impressive.
Our Joel Stocksdale is at a dinner this evening with Chevy folks down at Daytona, where Ed Piatek, the Corvette's chief engineer, revealed that the car's EPA fuel economy numbers will be 15 mpg city, 27 mpg highway. The EPA is expected to release the official figures next week. We won't know a combined mileage number until then.
This, from the 6.2-liter naturally aspirated V8 that produces 495 horsepower and 470 pound-feet of torque.
By way of comparison, the most economical C7 Corvette Stingray got 16 mpg city, 25 highway, 19 combined. That's with a 6.2-liter V8 and a seven-speed manual transmission. (The C8 is automatic only, of course.) And that powertrain on the outgoing model was less powerful than the C8's, at 455 horsepower and 455 pound-feet of torque.
So we'll see all of that confirmed next week. And who knows what else next week brings.
Related Video: