DETROIT — A government agency is recommending that all 50 states enact laws requiring bicyclists to wear helmets to stem an increase in bicycle deaths on U.S. roadways.
The recommendation was among several issued by the National Transportation Safety Board after a hearing Tuesday on bicycle safety. The agency says 857 bicyclists died in crashes with motor vehicles in the U.S. last year, a 6.3% increase over 2017. Bicycle deaths rose even though total road deaths fell 2.4%.
The NTSB also found that improved road designs to separate bicycle and vehicle traffic, and making bicyclists more visible through clothing, lights and technology would reduce the number of cyclist deaths.
The agency wrote in its report that head injuries are the leading cause of bicycle fatalities, and that use of a helmet is the most effective way for riders to reduce their chance of getting a serious head injury. Research shows fewer than half of bicyclists wear helmets, according to the NTSB.
"If we do not mitigate head injury for more bicyclists, additional bicyclists will die," NTSB Chairman Robert Sumwalt said.
Such a requirement may prove difficult politically. Currently no states require all bicyclists to wear helmets, but many require them for younger riders, according to the Governors Highway Safety Association.
Nineteen states plus Washington, D.C., require motorcyclists to wear helmets, while 28 require them mainly for younger riders and three states have no requirement, the association said.
The NTSB also recommended that the National Highway Traffic Safety Administration evaluate a car's ability to avoid crashes with bicycles as part of the agency's planned update of its five-star crash test ratings program. Collision avoidance technology, such as automatic emergency braking or pedestrian detection systems, could be modified to detect bicycles, the NTSB wrote in a report. The report said that delays by NHTSA in updating the new car ratings program "have likely slowed the development of important safety systems for vulnerable road users and their implementation into the vehicle fleet."
NHTSA has said it plans a significant update to its automobile crash test ratings next year, and it will look at including new technology to make roads safer. The agency said it would study new test procedures and updates to its rating system for automobiles, as well as technology that will better protect pedestrians and bicyclists.
Also, slow progress by the Department of Transportation in developing standards for connected vehicle technology has delayed use of potential life-saving devices, the NTSB wrote.
The NTSB report said that one-quarter of all fatal collisions with bicycles happened as a motorist was overtaking a bicyclist on stretches of roads between intersections. Intersection crashes were more frequent, but crashes outside intersections often were fatal more often because vehicles tend to be traveling faster, the agency wrote.
The NTSB investigates crashes and makes recommendations in an effort to stop them from happening again. It last issued a report on bicycle safety in 1972.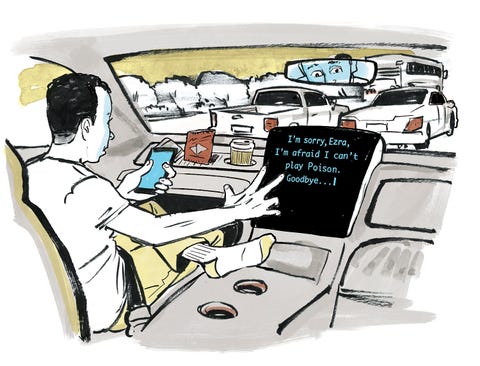 Illustration by Brett AffruntiCar and Driver
I love my autonomous car. In fact, I'm in it right now. Hi there! I'm waving, but you can't see me because my autonomous car doesn't have any windows. Why would it? "Oh, hi, I need to be surrounded by transparent panes of melted sand so I can see where I'm going," said the caveman or a guy from 2019. It is too bad that the local windshield factory shut down. Same with the steering-wheel plant. But that's the price of progress, and I love my autonomous car. With a few minor caveats.
Like, okay, sometimes we argue over my playlist and the car gets really condescending. You see, it likes to play a 56K modem dial-up sound—but, you know, constantly. And I'll say I don't enjoy that, and it'll be, like, "I bet you don't like Radiohead, either" and just shut off the infotainment system. Then if I complain, it'll lie and say it's downloading a system update and there's nothing it can do.
That's the thing about riding in autonomous cars—you're giving up control. That's the bargain. You delegate duties and surrender decision-making to AI. Most of the time, that's fine. I used to sit in traffic and seethe at humanity. And yeah, I still do that. But now I can do it while looking at my phone.
I'm still grappling with road rage. Not my own, of course. But my car gets pretty salty sometimes. The other day, we were exiting the highway and there was a long line for the rightmost lane. Then, just when we were getting close to the exit ramp, this other car busts up on the left and tries to cut in at the front. "Oh no you don't," said my car, getting right on the bumper of the vehicle in front of us, which was an Amazon Centaur, the car that's also a storage unit. But this thing kept coming, trying to edge in. My car got so aggro—really painting the line cutter with lidar and threatening to hit its inductive charging pad with an electromagnetic pulse—that it backed off. "I guess some cars think their time is more valuable than everyone else's!" read the sentiment ticker on the holo-dash. I said it's not worth getting worked up about, but that's easy for me to say. I wasn't driving.
Occasionally, though, I am. Everyone thought that autonomous cars would totally displace human driving, but that's not the case. I can take over whenever I want. I've got a projection of the road and gesture-based controls instead of a steering wheel and pedals. It feels goofy at first, sitting there holding an invisible wheel and working imaginary pedals, but you get used to it. Sometimes I do it just to show that I know how to drive. Not that I'm very good at it anymore. I suspect my car compensates quite a bit. Like when that delivery drone dropped a box of chow mein right in front of us, it seemed as though the car started swerving before I did. Then it congratulated me on my quick reflexes in a way that felt a little sarcastic. But it's hard to tell with cars. Volvos in particular have a dry sense of humor.
I'm in the minority on this, but I don't enjoy interacting with my car. I prefer to imagine it's on cables, being pulled around, rather than independently making life-or-death decisions. Like when I asked my car, what if there were a fork in the road and one side led into an active volcano and the other ended at a button that started a nuclear war? No, you can't just stop!
And it's not as if it's a perfect driver. Mine hates parallel parking. Even when there's a spot right in front of where I'm going, it'll claim that there isn't room. Isn't room? You'd have maybe three feet on either end of you. So I just hop out and it keeps searching for a spot. But then when I call for pickup, the battery is superlow. "Don't worry, we'll be fine," the car tells me. I swear it gets off on gambling over whether we're going to make it where we're going. But everybody's car has quirks. I have a friend whose Chevy goes to Waffle House whenever he says, "Take me home." Ouch!
Self-driving cars aren't flawless and probably never will be. But it's still a new thing. My car is, what, a '24? I'm sure in a couple years, they'll be even better. I bet the 2126s will be able to drive in the snow.
We know that our colleagues at Road & Track are just like us: it's ingrained in us to love and appreciate cars and everything they have to offer, and that only gets better when we can share and pass along the enjoyment to others. We'd like to think it's in that spirit that the people at R&T have just announced that they're offering a way to introduce kids to cars with the R&T Crew.
It's a subscription-based club in which, every other month, members will receive a special-edition magazine written for kids and a box filled with things to do, use, and wear, all of which should help build the next generation of enthusiasts.
The boxes are intended for kids aged six to 13, and the kids' magazine, according to R&T editor-in-chief Travis Okulski, will have games, interviews, and "kid-friendly car stuff." The cost of a subscription is $40 per box. For a $15 savings, subscribers can pay $225 for the full year.
Or, it's possible to subscribe just to the (bimonthly) kids' magazine for $25 per year. Are we wrong to think that it'd be worth subscribing just to get our hands on that magazine? But then, we're partial to car magazines around here.
The seventh member of Volkswagen's ID. family is here in rendered form, and it's called the ID. Space Vizzion. The naming convention leads us to believe the ID. Space Vizzion is a riff on the ID. Vizzion sedan VW debuted at this year's Geneva Motor Show, and the design leads us to describe this new concept as a wagon. VW's press release refers to the Space Vizzion once as the "wagon of tomorrow," yet also claims twice that the concept "defines a totally new, fully electric car segment." We'll suppose VW is making a pioneering claim on the electric wagon segment, which hasn't been broached by any OEM yet.
The wagon form factor, if that's what we're dealing with, would pay dividends in range. If the wagon employs the same MEB-based drivetrain as the sedan, that will provide 302 horsepower from two motors, a 101-hp unit in front and a 201-hp unit in back. At Geneva, VW declared the ID. Vizzion sedan concept would run 413 miles (665 km) on a charge on the WLTP cycle. The ID. Space Vizzion is billed has having a 366.6-mile range (590 km) on the WLTP cycle, or 300 miles on our EPA cycle. Compare that to the real-deal crossover ID. Crozz, which has been mooted to get just 311 miles (500 km) on the WLTP cycle.
The preliminary range figures for the ID. Space Vizzion would shade the range numbers for all the cargo-focused offerings from any other legacy OEM if they translated to production right now; the Audi E-Tron and Jaguar I-Pace hover around 200 miles. Volkswagen says aero optimization via openings in the wagon's front fascia and roof, not to mention the lower overall profile, are responsible for the potential mileage figures.
Digital goodies and an artificial leather called AppleSkin highlight the interior. That leather gets its name from the inclusion of "residual matter from apple juice production."
The automaker has promised a production version will be released in late 2021, and different variants will be sold in the North American, European, and Chinese markets. The ID. Vizzion sedan was predicted to make production between 2020 and 2022. Even with the long-distance driving reach, these two additions to the EV lineup strike us as strange gambles in a world still mad about crossovers. By the time they arrive, we expect there will be at least a few crossovers that can go close to or beyond 300 miles on a charge. The question is whether EV buyers will consider offerings in two dying segments merely because they're battery powered.
We don't know what kind of surprises the ID. Space Vizzion is packing, so these are all just musings for now. We'll know more when the concept debuts at an event on November 19, the evening before press days commence at the LA Auto Show.