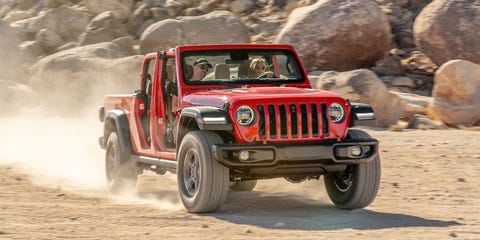 Marc UrbanoCar and Driver
Thanks to dealer incentives, rebates, and a nationwide $2000 dealer bonus, the 2020 Jeep Gladiator is currently available with up to $9000 in discounts through February 3.
The discounts can be found on all 2020 Gladiators except the highest-level Rubicon trim.
We found the Gladiator Sport S at our local Jeep dealership with up to about $7000 in discounts.
Customers looking to buy a 2020 Jeep Gladiator could get one at up to a $9000 discount because of dealer incentives and rebates, CarsDirect reports. A nationwide $2000 dealer discount is available on all trims except the highest-level Rubicon through February 3.
C/D gave the Jeep Gladiator, an all-new nameplate this year, our highest honor: a 10Best award. We called it "a convertible pickup wagon dreamed up in the vein of an 83-function Swiss army knife for the road."
At our local Jeep dealership in Saline, Michigan, the 2020 Gladiator Sport S, which starts at $38,240, are for sale with as much as $7000 in discounts. In some parts of the country, including this dealer in Northern California, discounts have approached up to $9000. The Gladiator is cheap to lease in California, too. One is listed at $259 for 36 months with $3970 at signing, or $369 per month, according to Cars Direct.
Last summer, shortly after Gladiators started arriving on dealer lots, they were being marked up by as much as $20,000. The now cheap Sport S trim on smaller tires were listed at up to $70,000, and the base Sport trim listed in the $50,000s.