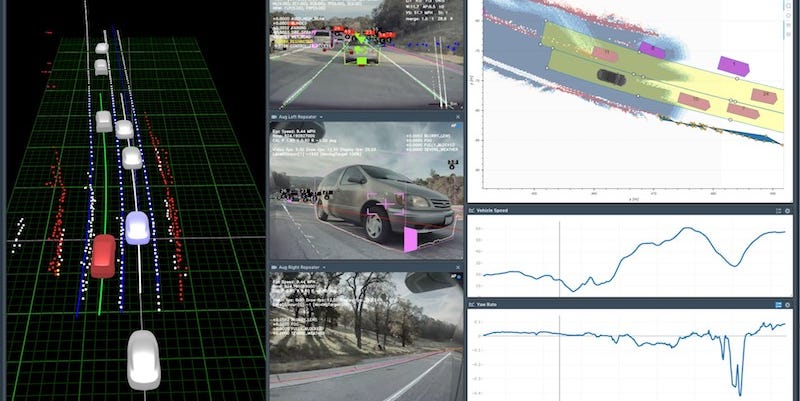 Tesla has posted a video on its Autopilot web page to explain what self-driving technology the company is working on and what kind of results it expects.
Full Self-Driving (FSD) was supposed to be deployed by the end of 2019.
The video doesn't show how the system tracks pedestrians and bicyclists.
Tesla's Autopilot plans are aggressive to say the least. CEO Elon Musk has noted that the company's current-generation vehicles already have the hardware for Full Self-Driving (FSD). The limiting factor, according to Musk, is the software. Clearly, the CEO wants self-driving, so to make it a reality, the Autopilot team is now recruiting via the Tesla website's landing page. Bonus: the public gets a peek into how the next level of Autopilot works.
The short video of a few driving scenarios illustrates how the system sees and annotates the world around it. In addition to the typical boxes that indicate different objects in the world, we can see the vehicle's speed, plus its interpretations of the weather and road conditions.
While the video loop is a great insight into the automaker's self-driving work, it's disappointing that the vehicle depicted doesn't encounter pedestrians, bicyclists, or others that share the road with cars. The car in question does drive into a downtown area, but the only pedestrian it registers is walking along the sidewalk.
The new Autopilot page went live after the company missed a Full Self-Driving release target set by Musk. At an investor event in 2019, Musk said he expected the feature to go live by the end of 2019. The deadline, of course, has come and gone without autonomy being deployed to owners' vehicles.
Typical of Musk's unorthodox approach to R&D, he announced via Twitter over the weekend that he's going to invite coders and AI experts to a house party to do a little work on Autopilot.
During the company's 2019 fourth-quarter earnings call last week, Musk said FSD might be "feature complete" in a few months. But he downplayed how well the system would work, noting that it might let Tesla drivers travel from home to work without intervention but clarifying, "That doesn't mean the features are working well."
For a successful and quick deployment of this technology, the company will likely need more people working on it—thus the use of the Autopilot landing page to tout what it's working on and generate interest in the talent needed to finally make Teslas truly drive on their own.